Tips for Helping Kids Enjoy the Great Outdoors
How to keep "theme park mindset" from ruining a day in the forest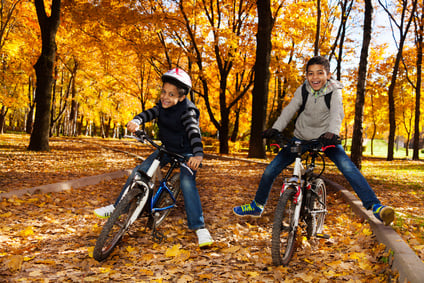 I just spent a marvelous weekend in Transylvania County, home to over 250 waterfalls. I came home refreshed and full of joy.
I saw lots of families enjoying their visits with varying degrees of ease and togetherness (that's a nice way of saying some looked happy and others looked miserable).
Since we are now in peak leaf season I sat down with Page Crawford of Fox 46's Good Day Charlotte to talk about my itinerary. Be sure to scroll below the video, where I share tips for enjoying the great outdoors with your kids.
Shed the "Theme Park Mindset"
Sometimes it's hard to realize the ways that "consumer culture" and a "theme park mindset" creep into our everyday lives. Since I was hiking by myself I was able to see it everywhere.
For example, I was heading down a slope at DuPont State Forest when someone on the path below asked, "Is there anything to see up there?" I assume they didn't want to hike for the sake of being in nature; that they wanted to know what "attractions" were to be seen if they expended the effort to climb.
Let that sink in. It's "theme park mindset."
I also witnessed parents wrangling whiny kids whom I could tell hadn't spent much time "being"outdoors (as compared with "doing stuff" outdoors.) The kids would say, "There's nothing to do" when there was very clearly plenty to tune into in addition to seeing the magnificent waterfalls and beautiful leaves.
Parenting can be tough. It nearly killed me at times. I am here to help, not to judge.
Generally speaking, kids will begin tuning into the world around them when the adults are willing to let them work through their initial agitation at not being constantly "entertained." The agitation will pass. If you practice yoga, you know what I mean; your instructor will tell you the same thing when your muscles begin screaming during a long hold.
Tips for enjoying the great outdoors with kids
1. Outdoor BINGO.You can help everyone tune into the natural world by playing "Outdoor BINGO." Before you know it the kids will see their world with different eyes (and so will you).
2. The visitor center or ranger office is hands-down the place to start your visit. As I showed in the video above, DuPont State Forest offers kids a Smoky Bear swag bag, including an activity book, stickers, and pins.
3. Check the website of your destination for navigation terms like "education," "events," "programs," and "activities." Many state and federal properties offer PDFs designed for teachers that are terrific tools for parents to use with their kids.
4. Download my camping guide. Even if you're not camping, it includes lots of outdoor games and activities.
5. Download my guide to the Blue Ridge Parkway for mile-by-mile suggestions and attractions.
Ask yourself these questions before you leave
A little bit of planning goes a long way. Ask yourself these questions:
Is the place you're headed bike friendly? If so, bring them.
Is there a disc golf course? Pack the Frisbees and outdoor equipment like a ball or kite.
Is there food nearby? Pack some anyway—road food is usually junky.
Is there a visitor center? Check in there first. See the section above.
Are there ranger programs? Plan your schedule accordingly.
Will there be a big change in altitude? Pack layers of clothes and make one of them a rain layer.
Have you checked the weather forecast? Even with a clear forecast, pack just in case.
Is there a festival nearby? Plan your schedule accordingly.
Is your family pet welcome there? Bring the pet or get a pet sitter so you don't have to scramble home.
As a culture we have drifted away from the natural world. If you didn't spend much unstructured time outdoors when you were growing up, it's going to be a learning curve for you as well as your kids.
Fortunately it doesn't take long to fall in love with Mother Nature.