Thrifty Near 30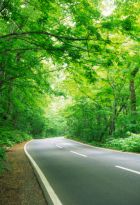 Toyota Prius ($22,160/ 48 city/45 hwy/ Safety:4-5 stars)
More than a status symbol among environmentalists and celebrities, the Prius is also a very accommodating passenger car.
Honda Civic Hybrid ($15,480/ 40 city/45 hwy/ Safety:4-5 stars)
The Civic Hybrid is just about as comfortable and stylish as a compact sedan can be, with little sacrifice in drivability.
Nissan Altima Hybrid ($26,140/ 35 city/33 hwy/ Safety:4-5 stars)
The Altima employs technology developed by Toyota – the solidly-proven Hybrid Synergy Drive. It's only available in eight states.
Toyota Camry Hybrid ($25,860/ 33 city/34 hwy/ Safety:4-5 stars)
The best-selling car in America is also available as the most fuel-efficient mid-size sedan on the road.
Ford Escape Hybrid, also the Mercury Mariner and Mazda Tribute hybrids ($28,140/ 32 mpg/ Safety:3-5 stars)
If cars like the Prius and Civic Hybrid are too small for your daily needs, the Escape Hybrid may be the solution to your problem.
Mini Cooper Clubman ($26,100/ 26 city/34 hwy/ Safety: NA)
In place of a hatchback, it has rear side-hinged "barn" doors that open wide to swallow cargo.
Mercedes E320 BlueTec (clean diesel) ($53,025/ 23 city/32 hwy/ Safety:4-5 stars)
The E-Class lineup gets cleaner, sportier and more powerful to better compete in what has become one of the most competitive segments in history.
Kia Rio ($13,540/ 27 city/ 32 hwy/ Safety:3-5 stars)
Frugal-minded buyers should be impressed by the Rio5, which yields a good balance between fuel economy and performance.
Ford Focus ($15,425/ 24 city/ 35 hwy/ Safety:4-5 stars)
Comprehensive restyling and retuning give the Focus a more contemporary flair and even better handling.
Toyota Matrix ($16,170/ 26 city/ 33 hwy/ Safety:3-5 stars)
If you're on an economy-car budget, but you want something sporty and versatile, the 2008 Toyota Matrix deserves a good long look.
Chevrolet Malibu Hybrid ($24,545/ 24 city/ 32 hwy/ Safety:4-5 stars)
The Malibu's bold, attractive sheet metal and stylish interior touches are backed by confident handling, a quiet ride and an overall level of refinement competitive with the category's best.
Saturn Vue Green Line ($26,270/ 25 city/ 32 hwy/ Safety:4-5 stars)
The Vue Green Line features a hybrid system that puts more emphasis on power enhancement than fuel economy.
Saturn Aura Green Line ($24,550/ 24 city/32 hwy/ Safety:4-5 stars)
Even as Saturn begins unleashing its most appealing cars ever, the automaker has committed to maintaining its popular "no haggle" pricing policy.
Lexus RX 400h ($42,345/ 27 city/24 hwy/ Safety: 4-5 stars)
Better fuel economy, better performance and an even tidier carbon footprint than an RX 350 help make the RX 400h a popular pick with individuals who demand practical justifications for raising their social consciousness.
Toyota Highlander Hybrid ($34,885/ 27 city/ 25 hwy/ Safety:4-5 stars)
The Toyota Highlander Hybrid is the only fuel-sipper to offer families three-rows of seats that fold flat to accommodate the extra cargo that typically accompanies fun-loving families.