Thrifty Ideas from Local Families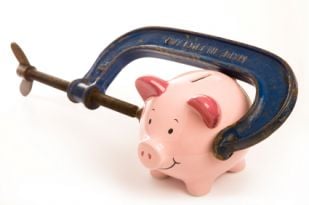 Moms who hand over $40 in the fast-food drive through twice a week to feed a carload of hungry youngsters are now a minority. Money is tight with families everywhere — whether you are a single mom of two, who works two jobs, or a stay-at-home mom of four, whose husband has a stable job … for now.
Many parents are discovering new ways to keep spending under control, and in the process, they're breaking old habits of wasteful living. Charlotte Parent recently heard from several local mothers — dollar divas, who delighted in telling us how they avoid doling out the dough everywhere they go. Here's a look, along with some tips and a list of books to help you and your family save money in these uncertain times.
Around the House
Getting ready for school and work doesn't have to mean watching money go down the drain. There are plenty of ways to save cash in the bathroom. Juawana Colbert, the single mother of an 11-year-old boy, says she has placed a timer outside her and her son's showers. "We only spend six minutes in the shower every day," says Colbert. "When my son is playing sports, and he has practices and games, I cut down on my showers. If he takes two showers, I skip a day taking a shower."
Rhonda Schiano doesn't let cleansers and lotions — which can be very costly — go to waste. "Something as easy as cutting off the bottom of (toothpaste) tubes helps kids get at (the toothpaste) that's stuck down at the bottom for valuable savings," says Schiano.
Tresandra Hopper's family often takes baths instead of jumping in the shower. "I love the results when I get my water bill," says Hopper.
The Hoppers also play board games, like Monopoly, Trouble, Scrabble and Connect 4, to have fun and save money.
Julie Tringali is the mother of two girls, 2 and 4, and she's expecting her third daughter any day. "Saving money in our house is a priority — it has to be. My husband is self-employed, and I am a stay at home mom."
What to do with all those birthday and holiday gifts that seem overwhelming at the time? Like many parents, the Tringalis put some aside for disbursement later. They keep a big bin full of toys in their garage.
"When our girls get bored with the toys they have, we pull out a 'new' toy to replace one they've stopped playing with," says Tringali. "We rarely buy new toys for them — when we need gifts for birthdays, Christmas, or their friends' birthday parties, we shop at consignment sales." Many times, she adds, she finds books and toys in perfect condition — some even still in the box — for a fraction of the cost.
"We also give our time away as presents, instead of spending money," says Tringali. "I will give a friend a night of free babysitting or a day of helping her organize her home."
Art entertains the Tringali girls and can be less expensive. "Instead of going to a craft store to buy supplies, I keep and recycle everything I come across that can possibly be used for art," says Tringali. "Some things I've kept in the past are egg cartons, pieces to a game I found under the couch (that already had been thrown away), scrap paper from mail, magazines, ribbons from gifts, extra hardware we've come across (make sure it's safe!) and beads from a broken necklace."
The family has saved about $15 a month by turning off lights and switching to the new energy-saving light bulbs. In addition, Tringali takes her children's pajamas off before breakfast, so the clothes don't get so grimy. "It saves on the wear on the clothes from the washing machine, as well as the actual energy and water used to wash them."
Tanya Walter, the mother of four and a teacher at Mint Hill Middle School, says she and her husband, Donald, save money in lots of ways. "Buy in bulk," is Walter's motto, she says, noting the family bought a supply of wrapping paper in 1997 and just ran out last year. They also make good use of loose change. "Once, we saved enough pennies to purchase our patio furniture."
She also takes advantage of off-season sales. Walter says the shorts she bought her kids on sale last fall are now on the racks at stores for twice the cost.
On the Town
Schiano says the public library is a mom's best friend. "In addition to the vast book collections, there are magazines, CDs and DVDs — all for free!" Throughout the Charlotte region, local libraries also host family movie nights and various programs for school-age children and teens.
Tringali says a gift membership every year from a grandparent to Discovery Place and the Charlotte Nature Museum provides the family with hours of "free-to-us fun" every month. "We pack a lunch and have a picnic at the park if it's a nice day," she adds, which saves them even more money.
Also, Tringali says parents should check into free days at local museums. "The Mint Museum of Art is free on Tuesday nights from 5 to 9, and the Museum of Craft + Design is free on Tuesdays from 10 a.m. to 2 p.m., as well as on the third Thursday of the month from 5 p.m. to 8 p.m." She also takes her daughters to Lakeshore Learning in Matthews for free crafts on Saturday mornings.
And, ImaginOn in uptown Charlotte offers hours of enjoyment for children of all ages. Make it a more exciting outing, by taking the Lynx Blue Line into town and getting off near The Green to enjoy a snack brought from home.
Walter says she and husband Donald are teaching their kids to save money — but still have plenty of fun. "We enjoy the time we spend together as a family … being in each other's presence and enjoying a good laugh, TV program or just being outside in the sunshine," she says. "While the children enjoy these activities, as well, often they want to go, go, go and spend, spend, spend."
The Walter family often waits until first-run movies come to the $1.50 movie theater in Matthews. And, when it comes to booking a vacation, the Walters like to stay at timeshare rental properties.
She offers this advice for families starting to plan for their summer vacation. "Even if you don't own your own time share, there are properties for rent in most destinations," she says. "It is less expensive than staying in a hotel, and you have a full kitchen so you can stock up on groceries and cook your own meals. Then, dine out with the family for just one or two special meals."
Editor's Top 10 Ways to Save
10. Collect your loose change. Get a large, clear container and label it according to whatever the family has voted on to save for, such as, "The Graysons Get Guitar Hero!" or "Miller Family Mint for Movies.
9. Shop at consignment sales, consignment shops and thrift stores. Find a list of these mom-friendly retailers at www.CharlotteParent.com.
8. Purge unwanted toys and household items from overstuffed closets for a spring garage sale. Families often pocket $100-$400 or more when they share their "treasures" with others.
7. Use grocery store circulars and plan weekly dinner menus based on what's on sale. Stock up on "buy one, get one free" items, and purchase meats on sale in bulk and freeze.
6. Be mindful of your pantry and produce — don't be wasteful by purchasing groceries, allowing food to spoil or expiration dates to pass by and then throwing stuff away. Look at what you have in the pantry when you plan menus and make shopping lists.
5. Buy colorful gift bags and tissue paper at the dollar store, and find lots of other items at a fraction of the cost sold at other retailers.
4. Stock the car with healthful snacks and bottled water when you know you have a marathon afternoon running from school to the orthodontist to soccer practice. Bypass the fast-food drive thru and keep your money in your wallet.
3. Get speedy. Make it a contest with the kids to see how quickly you can get in and out of the store (dilly-dalliers spend more!). Let one child hold a stopwatch, and for every minute you exceed the time you allotted, a penny goes in the loose change container — a dime for 10 minutes, etc.
2. Go back to the store right after Easter, Fourth of July, Thanksgiving, Christmas and other holidays to buy items at a 50-percent discount.
1. Clip 'em out of the local newspaper and go online to print 'em: coupons, coupons, coupons! They are free money for the taking. Go online to Coupon.com and CouponSuzy.com.
BONUS CONTENT
Books about Thrifty Living
• "The Frugal Duchess: How to Live Well and Save Money," by Sharon Harvey Rosenberg (DPL Press, 2008, $14.95)
• "The Ultimate Cheapskate's Road Map to True Riches: A Practical (and Fun) Guide to Enjoying Life More by Spending Less," by Jeff Yeager (Broadway, 2007, $12.95)
• "Live Your Life for Half the Price: Without Sacrificing the Life You Love," by Mary M. Hunt (DPL Press, 2005, $23.99)
• "Frugal Living for Dummies," by Deborah Taylor-Hough (For Dummies, 2003, $16.99)
• "The Complete Tightwad Gazette," by Amy Dacyczyn (Villard, Random House, 1998; $18.99)
Lee McCracken is an associate editor at Charlotte Parent magazine.