Thrifty Halloween Costume Ideas for Kids
Save money and have fun making creative costumes.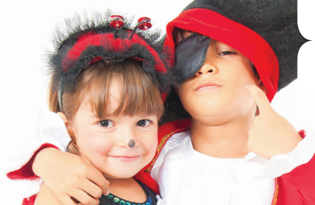 Halloween is just around the corner, which means it's time to start thinking about costumes. Kids' costumes can cost more than $50 if you buy a specialty or character costume. For something that will be worn once or twice – and probably smeared with chocolate – that's a lot of money. With a little planning, your kids can dress well with little cost. Here are a few ideas:
---
1. Buy
If you want to buy, try consignment, thrift shops or websites such as eBay or Craig's List first. You can find used or even new costumes for much less.
---
2. Use what you have
Look around the house. Try a sports theme with an old karate or baseball uniform. Or last year's dance recital costume can be recycled for Halloween. A gypsy costume can be put together out of scarves plus lots of mom's makeup and jewelry. Does Grandma still have her poodle skirt? What about Grandpa's old bowler hat? Teens can raid a parent's or even a grandparent's attic for old clothes and dress as a teen from decades past.
---
3. Create
Create a costume from dollar- and thrift-store finds. Dollar stores are also a great source for accessories. Start with a pirate's sword or great hat and use that as a jumping-off point for creating a unique costume.
Crown your daughter as a fairy princess with a fancy dress from the thrift store plus a tiara and scepter from a dollar store. Your son could be the Incredible Hulk by wearing torn thrift store clothes, green face makeup and spray-on hair color.
To sew or not to sew?
You can sew beautiful costumes from patterns, but with the cost of material, it isn't the most frugal option. Felt by the yard can become the base of several costumes. Plus, it's inexpensive and requires no hemming.
Buy a length; fold in half and cut a half-circle for a neck hole in the center. Trim or fold the sides in to fit the child. Put over the head like a tunic and cut a jagged edge at the bottom. Try green for Robin Hood or black for a pirate costume. Tie another piece of felt around the waist for a belt, preferably in a contrasting color. Then slide your dollar store dagger or sword underneath the belt in the front. Or try a longer length of felt in red or purple and use a glue gun to embellish with glittery trim to make a king or queen. Put a sweatsuit underneath and they'll be warm, too.
Felt isn't your only no-sew option. Check out the fabric store for other ideas. Armed with a glue gun and iron-on seam tape, there is no limit to what you can do with fabric and trim. Search the Internet for homemade costume ideas. Familyfun.com has more than a hundred costume ideas from easy to difficult.
Don't forget that the most important ingredient for a great Halloween costume is imagination. Get older kids involved in the process; they will be more pleased with their costume if they helped to create it. If you have little ones, remember for whom the costume is intended. Is it for other parents to admire or for the kids? Don't get caught up in the madness and think you need to spend a lot of money or wear yourself out sewing the perfect costume for your kids to have fun on Halloween night.
Tiffany Doerr Guerzon is a freelance writer and mother of three children who will use a glue gun on just about anything.