Three Road Trip Destinations for Holiday Cheer
Take the family for food, lights, and laughter on these day trips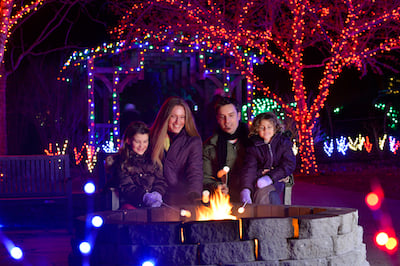 It's easy to get swept away in the consumerism of the holiday season, but when you think back to your own childhood, isn't it the THINGS YOU DID that stick with you?
Maybe one of those things was decorating the house or cruising through the neighborhood looking for knockout holiday displays. Here are some attractions even Griswolds couldn't pull off.
Pile the kids in the car and go for a drive to the North Carolina mountains or South Carolina coast.
Aluminum Christmas Tree Museum
1. Brevard's Transylvania Heritage Museum transforms into the Aluminum Christmas Tree Museum Wednesdays through Sundays through Christmas Eve. Each year Brevard residents pitch their ideas for a themed tree and it's my favorite year-end destination for laughs.
Who knew that aluminum Christmas trees were patented by over 50 manufacturers in five colors? I do now and you will too. The museum has ties to Charlotte, as I explain in my TV interview below.
Winter Lights at the NC Arboretum
2. The NC Arboretum in Asheville hosts "Winter Lights" and other programs including an optional trolley ride from Asheville and Hendersonville Friday and Saturday nights. If you take the trolley you'll get to drink hot chocolate on the way.
Walk through a winter wonderland and enjoy uniquely-lit displays and landscapes composed of nearly 500,000 energy-efficient LED lights.
New features for this year's event include interactive motion sensor games and light activities, as well as more lights, music and nature-themed displays added throughout the garden areas.
IMPORTANT: All Winter Lights tickets are date-specific and must be purchased in advance; tickets will not be sold at the gate. November 17 – December 31, 2017.
Nights of a Thousand Candles
3. In SC I recommend Brookgreen Gardens' Nights of a Thousand Candles, which has plenty of live entertainment in the gardens and great Lowcountry food. Located south of Myrtle Beach in Murrells Inlet, it's worth the drive.
The gardens are decorated with more than 5,500 hand-lit candles and countless sparkling lights from 3 – 10 p.m. Why they don't call it "Nights of 5000 Candles" is probably just humility!
The 80-foot-tall fir tree decorated with 70,000 lights will be lighted in ceremonial fashion at 5:45 p.m. every night. It's stunning.
IMPORTANT: Advance tickets only and the number of tickets sold each night will be limited.
November 30, December 1-2; December 7-9; December 14-17
New Year's Eve 'Garden by Candlelight' Pre-Party December 31, 6-9 pm