This Year's Best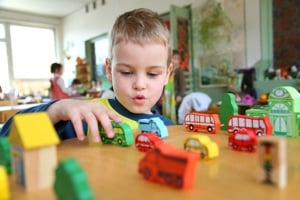 The Siblings' Busy Book: 200 Fun Activities for Kids of Different Ages
By Lisa Hanson and Heather Kempskie; Meadowbrook Press, 2008; $9.95; www.meadowbrookpress.com.
Ever wonder how to simultaneously engage two, three, or more children of different ages without cloning yourself? This book offers slews of imaginative activities that really work: each starts with a useful chart specifying what you'll need for each child by age, from infant through school age, and then provides variations for doing the activities with different ability levels.
Video Game Play and Addiction: A Guide for Parents
By Kourosh Dini, M.D.; self-published, 2008; $15.95; www.videogameplayandaddiction.com.
How much video game time is too much? Child psychiatrist Kourosh Dini, M.D., an avid gamer himself, addresses this question in this thoughtful, balanced book. He explains the allure of games, describes the potential benefits of gaming, and offers guidelines to assess an overuse problem.
All Ages
Encore winner
Autism Asperger's Digest, Future Horizons Inc.; $49.95 annual subscription; www.autismdigest.com.
Whether you're new to an autism or Asperger's diagnosis, or a veteran looking for the latest research, this bi-monthly magazine is a lifeline. It acknowledges the challenges of autism spectrum disorders for those diagnosed and their families and focuses on the strengths and positive aspects of not being neurotypical. It inspires and guides readers to build the best lives for their families.
Early Intervention & Autism: Real-Life Questions, Real-Life Answers
By James Ball, Ed.D., BCBA; Future Horizons Inc., 2008; $24.95; www.FHautism.com.
This book covers everything a parent should know about autism as soon as it's diagnosed. The format follows a family from medical confirmation through the stages of grief, the confusing meetings, the many options of care, and the transition to public school. Our testers appreciate how the book acknowledges the different ways that moms and dads respond in parenting crises and offers strategies to work through those crises to stay focused on the child.
Ex-Etiquette for Parents: Good Behavior After a Divorce or Separation
By Jann Blackstone-Ford and Sharyl Jupe; Chicago Review Press, 2004; $16.95; www.chicagoreviewpress.com.
Behold an indispensable guide to parenting after divorce, especially when step-parents and step-siblings are involved. One judge brought this book home on a lark, amused by the fact that it was written by two female friends who are the ex-wife and current wife of the same man. As our judge read sections aloud to his family, everyone laughed and nodded in agreement; then they adopted the book's suggestion to use "bonus-family" to replace the emotionally loaded word "step."
Refuse to Say Cheese: Capture the Story
– and –
Beyond the Green Box: Understanding Your Digital Camera 2-DVD Set
Me Ra Koh Photography Inc., 2007; $29.99 individually or $49.99 set; www.refusetosaycheese.com.
Prominent photographer Me Ra Koh offers great visuals and easy-to-follow exercises in her DVD series for parents, Documenting a Child's Life. The first DVD, Refuse to Say Cheese: Capture the Story, explains how to use photography to say more than fake smiles and stiff poses ever could. The second DVD, Beyond the Green Box: Understanding Your Digital Camera, shows users of digital, single-lens reflex cameras how to turn off the "auto" button and use manual settings to create mood, depict action and more.
What to Read When: The Books and Stories to Read with Your Child – and All the Best Times to Read Them
By Pam Allyn; Avery, 2009; $16.95; www.penguin.com.
While this book contains great lists of books, both by age and theme – including such topics as "A Bad Day," "Feeling Silly" and "Your Body" – it's also a wonderful guide to reading aloud. The book suggests, for example, that parents and kids warm up to reading aloud by making predictions about a particular book, based on the title or first line, and then wondering together about the author's personal dedication lines.
2009 NAPPA Honors Winners
Pregnancy & Birth
• Organic Preggie Pop Drops, Three Lollies; $4.95 for box of 12; www.threelollies.com.
Baby
• AimeeJ Baby Days Keepsake Album, AJ-Hutson Group Inc. dba AimeeJ Keepsake Albums; $60; www.aimeej.com.
• Baby Smarts: Games for Playing and Learning, by Jackie Silberg; Gryphon House Inc., 2009; $12.95; www.gryphonhouse.com.
• The Babytalk Insider's Guide to Your Baby's First Year: Expert advice that tells it like it is – plus the secrets that nobody else reveals, by the Editors of Babytalk Magazine; Grand Central, 2008; $15.99; www.hachettebookgroup.com.
• HALO® SleepSack? Wearable Blanket, HALO Innovations Inc.; $24.99 and up; www.halosleep.com.
• Zip Sheets®, Zip Sheets®; $79-$119; www.zipsheets.com.
Health & Skin Care
• Johnson's Head-to-Toe® Foaming Wash, Johnson & Johnson Consumer Products Group Inc.; $4.89; www.johnsonsbaby.com.
• Lil Adventurer Travel & Gift Set, oopsydaisy! beautiful baby; $26; www.oopsydaisybb.com.
• Method Baby Squeaky Green Diaper Cream, Method Products Inc.; $7; www.methodhome.com.
• Safety 1st ProGrade? Complete Family Thermometer, Dorel Juvenile Group USA; $39.99; www.djgusa.com.
Baby & Toddler Gear
• Beco Baby Carrier – Butterfly 2, Beco Baby Carrier Inc.; $140; www.becobabycarrier.com.
• Bumbleride Indie Twin, Bumbleride; $659.99; www.bumbleride.com.
•Hunter Douglas Duette® Architella® Honeycomb Shades with Literise® Cordless Lifting System, Hunter Douglas; approx. $190; www.hunterdouglas.com.
• Techno XLR, Maclaren USA Inc.; $360; www.maclarenbaby.com.
The Toddler Years
• Baby Tama the Tortoise, Zoobies; $25; www.zoobies.com.
• KinderKord, KinderKord; $19.99; www.kinderkord.com.
• Mommy! I Have to Go Potty! A Parent's Guide to Toilet Training, by Jan Faull, M.Ed. and Helen F. Neville, B.S., R.N.; Parenting Press, 2009; $14.95, www.parentingpress.com.
• Smart Steps Kid-Tensils, Evenflo; $4.99; www.evenflo.com.
Preschoolers
• Disney Princess Costume Organizer, Delta Children's Products; $59.99; www.deltaenterprise.com.
School-Age & Older Kids
• Competing With Character: Let's Put Sportsmanship and Fun Back in Youth Sports, by Kevin Kush, M.A., with Michael Sterba, M.H.D.; Boys Town Press, 2008; $12.95; www.boystownpress.org.
• I'll Hold Your Hand So You Won't Fall: A Child's Guide to Parkinson's Disease, by Rasheda Ali, Foreword by Muhammad Ali; Merit Publishing, 2005; $19.95; www.meritpublishing.com.
• Kajeet, the Cell Phone Service for Kids
Kajeet Inc.; $39.99-$169.99 phones, service starts at $4.99/month; www.kajeet.com.
• Oobleck, Slime & Dancing Spaghetti: Twenty Terrific At-Home Science Experiments Inspired by Favorite Children's Books, by Jennifer Williams; Bright Sky Press, 2009; $14.95; www.brightskypress.com.
• Outsmart Your Worry Tool Kit for Kids? – Elementary School and Middle School Editions, Tool Kits for Kids; $39.95; www.toolkitsforkids.com.
• Sylvan Learning Super Reading Success Workbook – 4th Grade, Sylvan Learning Inc., 2009; $18.99; www.sylvanlearningbookstore.com.
• What to Do When Bad Habits Take Hold: A Kid's Guide to Overcoming Nail Biting and More, by Dawn Huebner, Ph.D., illustrated by Bonnie Matthews; American Psychological Association/Magination Press, 2008; $15.95; www.maginationpress.com.
General Parenting
•AudibleKids Web Site, Audible Inc.; download children's books starting at 99¢; www.audiblekids.com.
• The Busy Mom's Guide to a Happy, Organized Home: Fast Solutions to Hundreds of Everyday Problems, by Kathy Peel; Tyndale House Publishers, 2008; $16.99; www.familymanager.com.
•Late, Lost, and Unprepared: A Parents' Guide to Helping Children with Executive Functioning, by Joyce Cooper-Kahn, Ph.D. and Laurie Dietzel, Ph.D.; Woodbine House, 2008; $19.95; www.woodbinehouse.com.
• OneToughJob.org, Massachusetts Children's Trust Fund; free; www.onetoughjob.org.
• Open It!, Zibra Company; $12.99; www.enjoyzibra.com.
• rentAtoy.com Intro Gift Plan, rentAtoy.com; $49.99; www.rentatoy.com.
• Rosetta Stone® Version 3 Personal Edition (Spanish), Rosetta Stone®; $259-$549; www.rosettastone.com.
• Smart Steps Magic Label, Evenflo; $6.99 for 50; www.evenflo.com.
• Understanding Death and Illness and What They Teach About Life: An Interactive Guide for Individuals with Autism or Asperger's and their Loved Ones, by Catherine Faherty; Future Horizons, 2008; $24.95; www.FHautism.com.
More Info on Honors Winners …
To see more detailed descriptions of the 2009 NAPPA Honors-winning Parenting Resources, check out www.NAPPA.Parenthood.com.