There Are No Shortcuts To Success
Opting to take the stairs instead of the elevator.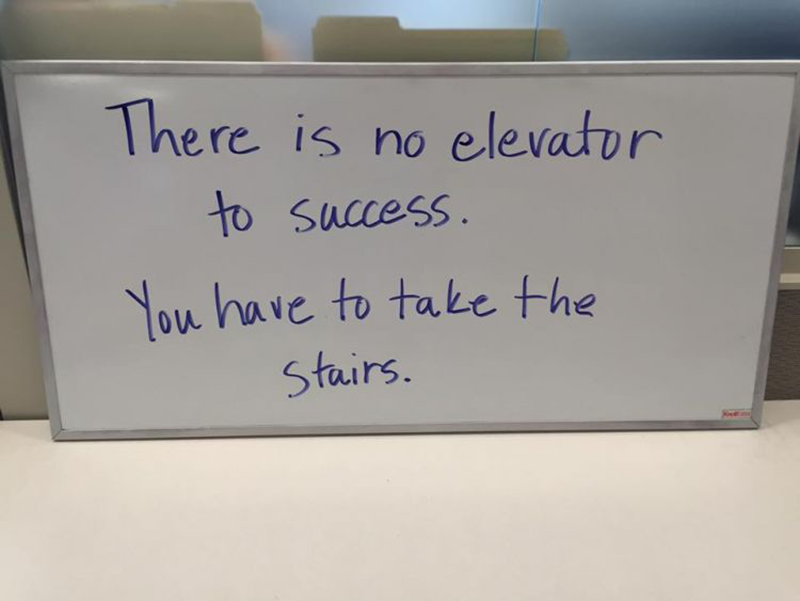 I always take the elevator at work. I am on the fourth floor and I don't even consider walking up the stairs. I have convinced myself that there is something more soothing about the beeping as you reach each floor than the echo of your shoes on the staircase. OK, I am just in a hurry, a little lazy and like to walk into the office breathing normally, not huffing and puffing. I take the elevator.
When I arrived at work last Thursday, there was a bus full of high school students waiting for the elevators. I knew it would take a while to catch one, as there are only three of them, so I decided to take the stairs. It is only four flights and I am in better shape now than I have been in a long time. Of course the day before was leg day at Burn Boot Camp and I was a little sore, but that's OK. No pain, no gain. Up the stairs I went. When I arrived on the fourth floor, I was breathing a little heavy, but at least I wasn't sweaty.
As I was walking to my desk. I noticed someone had put a new quote on the office whiteboard. It said, "There is no elevator to success. You have to take the stairs." How ironic and fitting. Not only did I giggle, but I started to reflect about what our family has accomplished so far during the Fit Family Challenge, now that we are almost halfway through.
Every day hasn't been easy on this challenge, but it has been worth it. Some nights we would rather reach for a cookie instead of an apple slice, and some mornings I would rather stay in bed when the alarm goes off at 5 a.m. than get dressed and head to Burn Boot Camp. A piece of meat lover's pizza would have hit the spot while watching the season finale of "Scandal," and the kids would love to go through the Cook Out drive thru for a Snickers shake after baseball practice. Those things are like taking the elevator and we need to focus on conquering the stairs.
Here are some of our stairs:
The whole family has been drinking lots of water.
The kids order water when we are out to eat, ask for it at friends' houses and prefer it with dinner at home. A container of apple juice now lasts for two and a half weeks instead of one week. Partly due to Todd's illness early in the challenge, but also because of a lot of will power, he is only drinking one cup of coffee a day.
Molly asked if she could join the neighborhood swim team.
This is something she has wanted to do for a while. I watched her jump into the pool last night and swim across it for the first time. She was shivering when she was done and her goggles were crooked, but she was smiling. Boy, I wish I had had her confidence and determination when I was 6 years old. So I am gladly adding "Swim Mom" to my other titles. Go Wynfield Waves!
Tyler is allowing vegetables to take up space on his plate.
I even caught him licking one the other day. He didn't think I was looking. I am a mom. I have eyes behind my head. I put four small pieces of pineapple in his lunch box yesterday and the container came back empty. This kid can't tell a lie without breaking down, so I know he was telling the truth about eating them.
I am learning to prep food ahead of time.
I spent an hour on Sunday washing and cutting up fruit and vegetables for the week. I am making lunches at night, so our mornings can be more relaxed. I am no longer rushed and raising my voice. I have even had time to sit and eat my breakfast, instead of taking it with me.
We have been doing online grocery shopping.
This has saved us both time and money. Amazingly, the grocery store only gives you what you order. They are not mind readers and they are not impulse buyers. Molly said the other day, "looks like they forgot to put Oreos in the bag again." I shook my head and said, "I guess they did." No need for her to know just yet that I am the one who didn't order the cookies. At least they remembered the strawberries she loves so much.
We are no longer using food as an incentive.
Pre-challenge, we would offer the kids a trip to the ice cream shop if they would eat their salad. No more. Now we celebrate successes with family activities. We have had family movie night, we have played board games together and last weekend we went to see the Mooresville Community Children's Theatre production of "You're a Good Man Charlie Brown." It was excellent and we had a great time. We did stop for frozen yogurt after the show, but we used self-control in the amount we dished out and in the toppings we chose. The difference here is that it was truly a treat and not an expectation.
We have ridden the elevator as a family many times before. I will be the first to admit going through the motions of our everyday activities, feeling exhausted and overwhelmed. The Fit Family Challenge has made us pause, take stock of things and commit as a family to be better. To be healthier in mind, body and spirit. We are no longer going through the motions. Todd's illness last month has also contributed to our new mindset. We are now enjoying being together and are appreciating what we have. This has lent a breath of fresh air to our 12-year marriage and nine years as parents.
I truly can't wait to see what the rest of the challenge has in store for us. One thing I do know, is that from now on, we'll be taking the stairs.
---
Jennifer Howe and her husband Todd, and children Tyler, 9 and daughter Molly, 6, are participating as one of our 2016 Fit Family Challenge spotlight families. Learn more about their healthy family journey here, and follow along with Jennifer as she updates us this Spring and Summer in the Fit Family Challenge Blog.