There Are No Minion Costumes (BEE-DO BEE-DO BEE-DO!)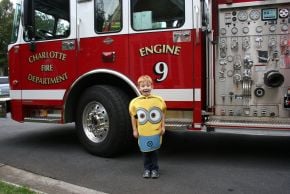 As Halloween approaches I've learned a few things. I now understand how booing neighbors works, that pumpkins get more expensive every year and most importantly, don't expect to get the year's most popular Halloween costume three weeks out. Apparently, minion costumes are far and few between and should have been picked up in September. Google and Yahoo say it's the most searched costume of the month. If you have no idea what a minion is, you either don't have kids or you are Amish. About a week and a half ago, we went to five different stores in search of a minion costume for my oldest son Tyler (5). All sizes were sold out. I asked one sales associate if he knew when more might come in and he started to laugh at me.
Tyler has been counting on a minion costume for months. We weren't going to let him down. My wife thought maybe we could make our own. Come to find out no one sells plain yellow long sleeve t-shirts. Hanes, Fruit of The Loom, Jerzees, Gildan. My wife googled all of them. Nothing. The closest color was more orange than yellow and we'd still have to buy suspenders, a hat etc. Once we totaled up all the separate parts it was actually cheaper to order a minion costume online and pay $8 for shipping.
When I went trick or treating in the 80s every store had what you needed. Every cartoon character imaginable in a full face mask (with a thin rubber band stapled to it to keep it on) and a plastic smock with the picture of the character on it. Granted you couldn't see out of it, but you got to be He-Man or G.I. Joe or a Pound Puppy and it even said what you were on the smock so no one ever asked, "What are you supposed to be?" If you grew up somewhere cold, you could wear the smock and mask over your coat so you didn't freeze while going door to door. It was better than walking up as a Transformer covered by a puffy coat.
Our minion costume came in the mail this past Friday allowing Tyler to wear it to a fall festival in my in-laws neighborhood on Saturday. He was very happy to be the only minion of the bunch. His 2-and-a-half-year-old brother Chase has no idea that he will wear the same costume in 2 more years whether he likes it or not. I'm going to get my $40 out of that costume if it's the last thing I do. Heck, my wife is small enough; I might suggest she wear it next year.
WCCB News Rising Co-Host Derek James balances a full-time job in the glamorous world of television news (including a 2:30am wake up and stale coffee) along with managing chaos every afternoon for five-year-old Tyler and two-and-a-half-year-old Chase.