The Virtual Playground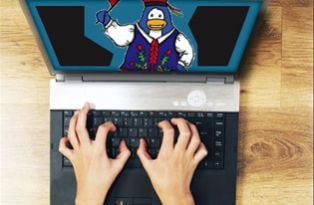 Webkinz. Whyville. Club Penguin. Poptropica. These virtual worlds, and many others like them, create simulated environments for kids to interact with other online kid users or to create imaginative worlds of their own online. Many are based around toys or connected to educational concepts, each suited to different age groups. It's a modern version of playing house or school in front of computer rather than in the backyard or on the playground. These sites encourage elementary-school aged children to engage in their own forms of social networking. Inherent to these sites are pros and cons, but how much is too much?
Savvy Students
Virtual worlds and interactive websites are colorful, hip and engaging places that spark kids' curiosity. More often than not, kids venture into the online worlds created by toy manufacturers and become curious about other sites they can easily navigate. Children are savvy when it comes to learning how to navigate computers, and some parents fear that playing on some of the safer sites for young children, such as Club Penguin or Fantage, will lead to an unhealthy curiosity with more grown-up social networking sites such as MySpace and Facebook. It is the role of parents to lead children to safe sites that offer quality content and educational value.
Mandeep Dhillon, a father of three, founded Togetherville, a social networking site for kids ages 6 to 10. Although kids under the age of 13 aren't allowed on Facebook, many set up accounts on the site anyway by either lying about their age or getting their parents to sign them up. With Togetherville, children's accounts must be created by parents using their own Facebook logins. Because of this, parents can approve or reject their children's online friends. Kids have separate logins to Togetherville, their version of the site contains safe games, and prescreened YouTube videos.
Potential for Predators?
Regardless of how much a parent thinks his or her child knows (or doesn't know) about the inner workings of the Internet, it is ultimately the responsibility of the parent to educate his or her children about the dangers of spending too much time online. While some of these toy-based virtual worlds may seem harmless at first glance, others may include opportunities for players to chat online with each other, which can open doors for predators to invade a child's life.
"The kids know more about the computers than the parents do," says Dallas Stout, a clinical psychologist and professor of child and adolescent studies at California State University Fullerton. "They can often figure out passwords and be doing things online that they are not supposed to be doing. Some often do it right while their parent is in the same room."
Cody Mills, a Mooresville mom of three, allows her kids to play on websites like Starfall.com and Barbie.com where they aren't exposed to other players in a virtual reality, but doesn't feel they should engage in social networking until age 12 or older.
"When the time comes and they are on (adult) social networking sites it will be monitored by my husband and myself, with surprise inspections often," says Mills.
Nix Naiveté
Leslie Petruk, a family therapist and director of Stepping Stones Counseling and Consulting in Charlotte, advises parents to use common sense when it comes to a young child's online habits, just as you would with other aspects of his or her life.
"Have open conversations with your child," she says. "Talk to them about how people can be deceitful. Let them know that if someone knows you, there's no reason to give out personal information on the computer," she says. She advises parents to keep the conversation lighthearted, so it's not scary to children. Petruk is also a fan of role-playing with children. She suggests asking what they would do during a gaming session where someone they were chatting with asked for a home address or phone number.
Technology, and plugging into the fantasy and fun of virtual worlds, is a reality in kids' lives today. Experts agree, however, that playing with animals and creating avatars should not outweigh indoor and outdoor games with real-world friends.
Renee Roberson is a freelance writer specializing in parenting and pop culture. She lives in Huntersville with her husband and two children.
Top Virtual Worlds for Kids
Following are some of the top online playgrounds as reviewed by Common Sense Media.
• Littlest Pet Shop VIPs (www.hasbro.com/littlestpetshop) — A virtual world created to support Hasbro's Littlest Pet stuffed animals, kids are required to use the code from a purchased "VIP" at $15 in order to enter the site. Access is then granted for one year.
Chat feature: None.
A word of caution: Promotes consumerism; must purchase a product to participate in site.
• BuildaBearville.com — Created by the retail store, Build-A-Bear Workshop, this virtual world requires the purchase of some stuffed animals in order to access certain parts of the site. Many of the games on the site test children's abilities in math, problem solving and social studies.
Chat feature: Safe, but open filtered chat.
A word of caution: Promotes consumerism; must purchase a product to participate in site. Also has open chat feature.
• WebKinz.com — This site allows kids to "adopt" their plush animals and care for it online for a year. This site can be especially addictive because daily and hourly events can cause kids to feel they might miss out on something if they aren't online constantly.
Chat feature: Yes; pre-scripted chat that prevents kids from sharing personal information.
A word of caution: Promotes consumerism; must purchase a product to participate in site.
• ClubPenguin.com — This site, owned by Disney, is a virtual world where children ages 6 to 14 can play games and interact with friends disguised as colorful penguin avatars. Parents are also able to set up a special Club Penguin Timer that can limit the total amount of time a child plays on the site. Membership is free, but you can upgrade your child's account and enable additional perks for varying monthly fees.
Chat feature: Yes; monitored by Club Penguin employees.
A word of caution: Children are motivated to upgrade to a paid membership in order to have access to more clothes and accessories for their avatars. Also has open chat feature.
• Fantage.com — Another site geared to younger computer users, Fantage.com gives players a chance to earn "virtual bucks" through game play, or upgrade to a paid membership starting at $5.99 a month. Avatars wearing distinctive clothing and hairstyles explore the island on hoverboards in a 3D world.
Chat feature: Yes; monitored by Fantage employees. Parents can choose "no chat" setting.
A word of caution: Children are motivated to upgrade to a paid membership in order to access extra features. Chat, e-mail and instant messaging are available.
• Poptropica.com — Poptropica is a virtual world where kids can travel, play games, collect objects and compete with other players in head-to-head competition. They use their avatar to explore Poptropica, a safe environment where visitors are never asked to provide or share any personal information. Kids can play for free but upgrade to a paid membership for additional access to games and Poptropica store items.
Chat feature: Yes; pre-scripted chat.
A word of caution: Children are motivated to upgrade to a paid membership in order to access extra features.