'The Star:' What Parents Need to Know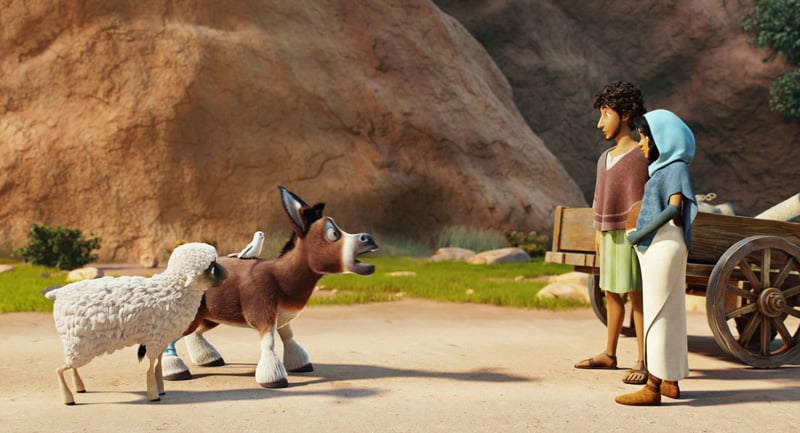 "The Star" is an animated adventure that re-tells the story of the first Christmas from viewpoint of the animals. If you're looking for family-friendly holiday entertainment, you'll love "The Star."
I attended an advance screening of the film, along with a little girl in kindergarten, plus her mother and grandmother. We were delighted at what a clever movie this turned out to be. It's respectful of the original nativity story, and the animation is breathtaking, especially how it uses light to enhance the setting. The human and animal characters are amusing and heartwarming.
The soundtrack is so compelling that the kindergartner got out of her seat and started dancing in the aisles. The title track is sung by Mariah Carey, and Fifth Harmony joins with "Can You See." Kirk Franklin performs a reinterpretation of "We Three Kings," Casting Crowns turns in "His Eye is on the Sparrow" and Yolanda Adams sings "O Holy Night." The music is mesmerizing, although in many instances, just a snippet is given, and then the story progresses to the next scene.
The story begins with a bright light appearing to Mary (voiced by Gina Rodriquez.) A mysterious voice prophesies that Mary will bear a child, and he will be called Jesus. Mary is astonished and believes, but is concerned about telling Joseph (voiced by Zachary Levi).
Meanwhile, a donkey named Bo (voiced by Steven Yeun) is frustrated by the monotony of grinding wheat at the mill. He dreams of having freedom and no longer being tied to a yoke and forced to do manual labor. Bo wants to do something more important and noble with his life.
Bo manages to escape from the mill, but trips and sprains his leg. Bo runs into Mary and Joseph's yard. Mary affectionately cares for Bo and helps bandage his sprained leg. Finally, Bo feels loved and cared for, but the mill owner is in hot pursuit and wants to bring him back to the grain barn.
Consequently, three Wise Men follow the Star in search of a baby who will one day become King of the Jews. The Wise Men ride camels named Deborah (Oprah Winfrey,) Cyrus (Tyler Perry) and Felix (Tracy Morgan.) The camels joke and make wisecracks, but humans can't understand them. What the animals say is only understood by other animals.
King Herod (played by Christopher Plummer) summons the Wise Men and demands to know where baby Jesus is. King Herod sends his armored guard and two fierce dogs to track down and destroy the baby Jesus. This armored guard turns out to be the villain of the film, as he desperately searches for baby Jesus with a spear in his hands and two ferocious dogs on a leash.
Without giving too much away, the dogs are ultimately given their freedom and end up repenting of their ways. They vow to be nice from now on. The kindergartner who watched "The Star" with me said this was her favorite part of the movie. She liked the character transformation of the guard dogs.
As the story continues, Bo the donkey teams up with Ruth (voiced by Aidy Bryant,) a loveable sheep who guides them to the city of Bethlehem. Of course, Bo's reason for going to Bethlehem is to warn Mary and Joseph about King Herod's guard, who wants to destroy the newborn Jesus and ruin Christmas. Another animal friend is Dave the dove (voiced by Keegan-Michael Key) who loves to dance and tell jokes. Bo and his new friends follow the Star and become accidental heroes in the greatest story ever told, the first Christmas.
---
Final Take
Overall, "The Star" is an amusing and heartwarming re-take on the nativity story. The cinematography is very well-done and puts you in a Christmas mood. Indirectly, the movie encourages us to treat others with kindness, because hatred can poison your life and enslave you. If you're a person of faith, you will appreciate the allegory and symbolism of this film.
"The Star" is rated PG for some thematic elements. There are chase scenes, but very little violence. King Herod's guard is depicted as an angry, armor-clad solider with glowing red eyes, consumed by hatred. His guard dogs growl, bear their teeth and threaten to destroy anyone who gets in their way. Some characters are hunted down and become frightened. There is no foul language in the film. Overall, "The Star" is suitable for children in elementary school and up.