The Power of Food for Children with Special Needs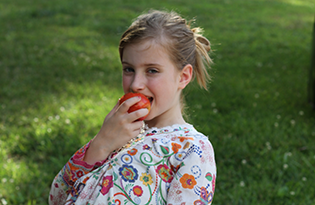 When a child is diagnosed with special needs, parents are introduced to an array of therapies to help improve the child's life. Determining a treatment plan can be overwhelming and typically includes routine interventions like physical, occupational and speech therapy, and medication.
Recently, nutrition has made its way to the forefront as another method to aid the development of children with special needs. "Good nutrition is fundamental to healthy growth and change, which is the essence of childhood. This is true for all children, special needs or not," says Dr. Paul Smolen, a 32-year veteran of pediatric medicine in Charlotte.
A Wholistic Approach
The benefits from implementing a nutrition plan are varied and depend on the individual, but can be life changing. "It is like putting together a puzzle to figure out the child's biochemical individuality – what deeply nourishes them and what depletes them," says Tracy Fox, nutritional consultant with Neurology Wellness. Benefits may include controlling weight gain; decreasing constipation; changing a child's energy level, focus and attention; improving behavioral problems; decreasing seizure activity; and even lessening the amount of medications a child may have to take.
Doctor Jean-Ronel Corbier is passionate about his quest to include nutrition in improving the lives of children with special needs. When he started as a pediatric neurologist 14 years ago, he knew that nutrition was integral to brain function. He saw first-hand how the ketogenic diet — a high-fat, adequate-protein, low-carbohydrate diet — was successful with some patients with untreatable epilepsy. His current practice in Charlotte, Neurology Wellness and the Brain Restoration Clinic, reflects a different approach to serving patients, giving nutrition priority along with therapies and medication. "When other realms in treatment are expanded, like nutrition, it opens doors in an amazing way," says Corbier.
A few of the popular diets include gluten-free, casein-free, ketogenic, elimination/provocation and targeted supplementation. Some nutritional plans are closely recommended for a specific disability, such as a gluten-free diet for children on the autism spectrum and for those who have a digestive-tract disorder. Children who have Down syndrome, epilepsy, CHARGE Syndrome, ADD/ADHD, cerebral palsy or a combination of disorders may likely see positive results from a change in nutrition.
"Nutrition is just as important as taking my daughter to therapy and putting on her orthotics each morning," says Valerie Rompa, whose 7-year-old daughter is diagnosed with cerebral palsy and ADHD. "Although it takes diligence, nutrition is a priority because her sleep patterns and behavior improve when a special diet is followed," she says.
Staying the Course

A nutrition plan is unique to the individual and involves consulting with a team of medical and health professionals including nutritionists, physicians and registered dieticians. Using lab results, medical history and a diet diary, a plan is put in place that may include vitamin and mineral supplements, food exclusions or inclusions. According to Dr. Sheila Kilbane, an integrated pediatrician with Infinite Health in Charlotte, says the overall goal in creating a nutrition plan is to optimize vitamin, mineral and nutrients, and minimize pro-inflammatory food.
Results vary depending on the individual, and certainly may change if the plan is not implemented consistently and for a considerable amount of time. Getting off the plan or having "treat" days can wreak havoc. Cost of special foods or supplements, cooking for one versus entire family, shopping at specialty shops and fighting a picky eater can sometimes make it hard to stay the course, but over time the results prove worth it to most parents.
Annie Beth Donahue saw the difference in her 6-year-old son, who is on the autism spectrum, and 9-year-old daughter, who has Spina bifida and ADD after implementing a nutrition plan. "We saw positive results, then not-so positive results when we strayed from it, so we are back on the wagon," she says. A dietitian or mom who has been through the experience can offer advice on meal plans, and even grocery store tours, to help you stay the course.
Paulette Kelly, a Huntersville mom, whose son is on the autism spectrum and has Crohn's disease, says they tried a gluten-casein-free diet in 2000, but due to the difficulty in finding the variety of gluten-free foods, they stopped the plan. Now, her son is on a strict gluten-casein-free diet and also avoids corn, soy, dyes and preservatives. Foods are better labeled and now more abundant in the stores and with some pre-planning for parties, travel and eating out, her son has improved health, behavior and is much happier.
Vanessa Infanzon is a Charlotte mom to Ben, 11; Logan, 9; and Sean, 6, and writes about adventures with Ben at eSpeciallyBen.com.
SIDEBAR
True Story …

When I began researching this story, we were at the three-month mark of my 11-year-old son Ben, who has epilepsy and cerebral palsy, not responding to his usual sleep aids. Throughout the evening and into the night, he was laughing loudly, crawling around the house, waking up his brothers and needing constant supervision. Never did I imagine that writing this article might change the course of our family's life.
After two days of reading articles, speaking with other moms who had success stories, and talking with doctors and nutritionists, I was sold on the benefits of a nutrition plan. Within days of doing the research, Ben was on a four-week casein-elimination diet. His new plan includes a probiotic, spinach or kale, avocado and chia seeds in his once-a-day smoothie. We substitute milk products with almond milk and coconut yogurt. Other than avoiding dairy, his diet for the rest of the day remains the same.
After three days of implementing the diet plan, Ben's constipation was gone and his hyperactivity in the evening diminished. His ability to fall asleep in his room at a regular bedtime without any sleep aid was absolutely amazing. In addition, without so much milk during the day, Ben was hungrier for other foods, expanding his once limited diet.
Our next step is to visit with a nutritionist for an evaluation of Ben's vitamin and mineral levels. Armed with information and questions, I am now willing (and excited) to proceed with nutrition as part of Ben's treatment plan.
— Vanessa Infanzon, local mom and author of this story
Read more:


View all articles in the 2014-15 Exceptional Child Guide