THE PINT-SIZED FOODIE: An introduction to Emmy Squared Pizza
The latest from our kid food critic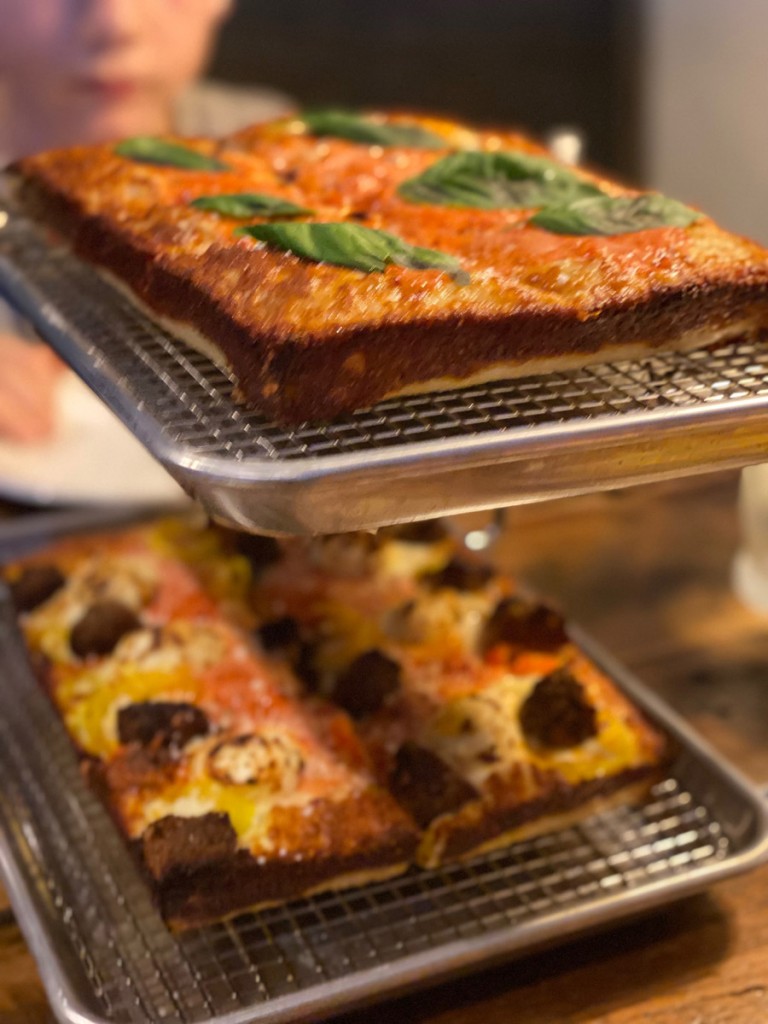 Each month, our 8-year-old resident foodie visits a different Charlotte-area restaurant that's kid-friendly—but not a kid-topia. He orders something he's never tried before and reports back with his recommendations for kids and their parents. Here is his review of Emmy Squared Pizza in Plaza Midwood:
What we ordered:
Me and Mommy got the Roasted Cauliflower ($12.50) and my sister got the Waffle Fries ($10.50) with hamburger pieces on top (read: grass-fed beef, queso, and pickles). Then we got two pizzas: the Vodka ($14) and the Big Ang ($20).
How it works:
You can sit inside at a table or a booth. There's a room in the back with a bar and more tables and TVs, and a patio with some more tables too. But those were all taken, so we sat at a booth in the front room. Oh, and our server brought us crayons so we could color on our kid's menus.
Why I liked it:
The pizza was sooooo good! It was square-shaped, not a circle like regular pizzas, and the crust was really thick—like bread, only better. They put in on metal racks in the middle of the table because it's super hot when it comes out so they tell you not to touch it for a minute.
What I didn't like:
We had to park kind of far away because Mommy couldn't find a parking space on the street. Also, the cauliflower had raisins and nuts in it, which was kind of weird.
What I tried for the first time:
Um, the pizza that was from a city they told us…not New York, but which one was it, Mommy? (Editor's Note: Detroit) They said it was special because it had those crunchy edges that tasted kind of like burnt cheese. But in a good way.
Why other kids should try it:
I think every kid will like this pizza because it's really bread-y and you don't have to get the fancy toppings. They have just, like, plain cheese and pepperoni too. And there's other stuff like burgers and wings and garlic sticks. Or those fries my sister got, like the Chick-fil-A kind (read: waffle) but with cheeseburger pieces on top. That was her whole dinner!
What I liked best:
The Vodka pizza! It was a little different than regular red sauce pizza and they put huge green basil leaves on top! Bigger than the ones in our garden!
Why parents will like it:
The pizza, Mommy. Everybody likes pizza.
Why I would come back:
For more pizza, duh. —T.B.