The Pint-Sized Foodie: An introduction to Brewers at 4001 Yancey
The latest from our kid food critic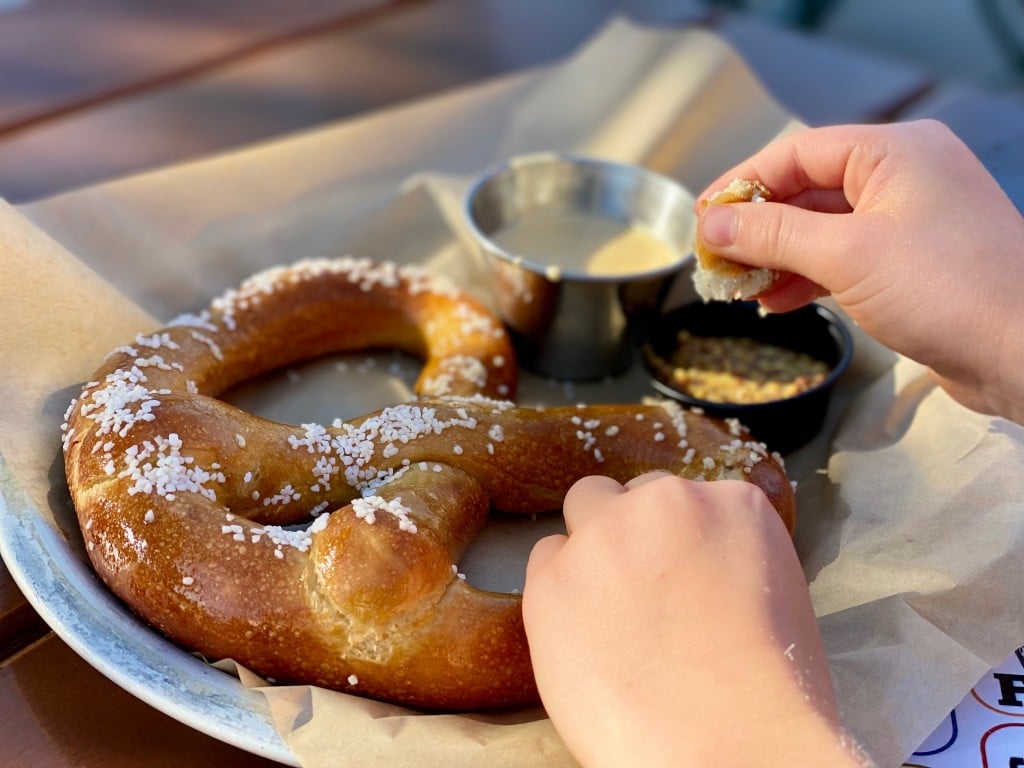 Each month, our 8-year-old resident foodie visits a different Charlotte-area restaurant that's kid-friendly—but not a kid-topia. He orders something he's never tried before and reports back with his recommendations for kids and their parents. Here is his review of Brewers at 4001 Yancey:
What we ordered:
We ordered a LOT of apps because me and my sister were starving. We got that gi-normous pretzel (read: Victory Pretzel) with the cheese sauce ($8) and the Buffalo Wings ($14). Mommy got the Flash Fried Cauliflower ($10) and Daddy got the Brisket Meatballs ($12). My aunt and uncle got there a little later and ordered the Smoked Chicken Nachos ($12) and another pretzel 'cuz me and my sister destroyed the first one.
How it works:
You can sit inside or on the patio out front so we got a table outside. There's a place on the side with those big chairs (read: Adirondack) and a place where you can play cornhole.
Why I liked it:
It was like a big snack dinner. Also, they let you bring your dog if you sit outside, so me and my sister got to go pet people's dogs while the grown-ups drank their beer.
What I didn't like:
Um…I think I liked everything. Except you guys took forever to finish your beers when I wanted to go play cornhole!
What I tried for the first time:
I think I've tried cauliflower before but not like that kind with the crusty part on the outside. It was really good in the garlic sauce.
Why other kids should try it:
I think every kid would like the big pretzel. Plus, you get to play cornhole and bring your dog!
What I liked best:
The cornhole! I beat Daddy three times!
Why parents will like it:
There's, like, 17 different beers on the menu and the food is really good.
Why I would come back:
Yappy Hour! Our waitress told us everyone brings their dogs to the brewery on Sundays, so me and my sister want to come for that. So now can we get a dog, Mommy? —T.B.