The Pint-Sized Foodie: A Visit to Felix Empanadas
Our 7-year-old foodie with his latest Charlotte review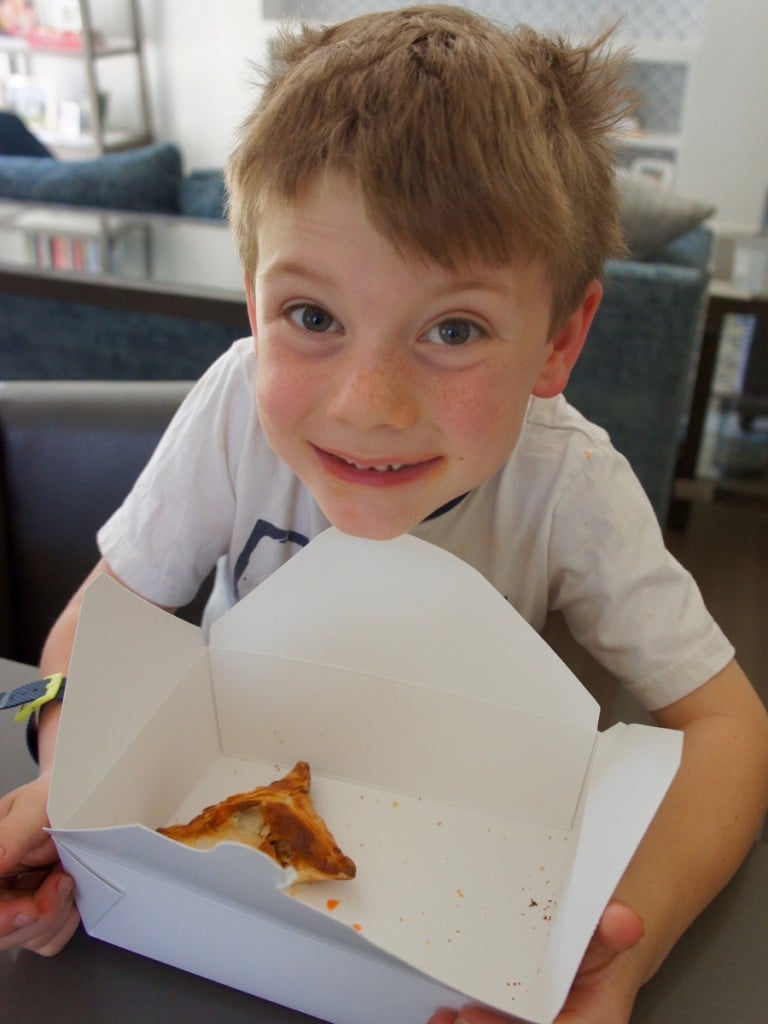 Each month, our 6-year-old resident foodie visits a different Charlotte-area restaurant that's kid-friendly—but not a kid-topia. He orders something he's never tried before and reports back with his recommendations for kids and their parents. Here is his review of Felix Empanadas:
What we ordered:
We got one big box (read: a dozen) so we could pick a bunch of empanadas to try ($35). We got some with chicken, steak, and one had pepperoni pizza inside. Mommy let us get two dessert 'nadas for after ($3.50 each). One had nutella and one had cheese and fruit (read: guava).
Why I liked it:
We got to get in the car to drive somewhere! Mommy ordered our food online before we left, and when we got to Optimist Hall a lady with a mask brought our bag of food to the car. I wanted to stay there to eat it, but we had to take it home and clean everything with wipes first because of the coronavirus.
What I tried for the first time:
I'd never tasted an empanada before. Mommy said it was like a Mexican dumpling, and I loooove dumplings. A lot of them look the same on the outside so I just took bites to see what was inside. I liked the one that tasted like sausage (read: pulled pork chorizo) because it was kind of spicy, and I dipped it in both the red and green sauces but I liked the red sauce better.
Why other kids should come here:
Because you get to leave your house and go somewhere! It's funner when you can stay there to eat it because there's tables outside and me and my sister don't have to stay in our seats the whole time. Also, you can eat empanadas with your hands! Kids like food you can eat with your hands.
What I liked best:
I liked the pepperoni empanada because it tasted like pizza. That was my sister's favorite, too. And the one with nutella and bananas was really yummy for dessert.
Why parents will like it:
Everybody's lunch comes in one box, and Mommy didn't have to clean up very much. She said empanadas are good picnic food. Mommy and Daddy liked the spicier chicken and steak 'nadas and they fought over the nutella one. We should have ordered more of those because grown-ups can eat them in two big bites.
Why I would come back:
We got to pick up lunch in the car! But next time I want to take the light rail there.—T.B.