The Pint-Sized Foodie: A Visit to Capishe: Real Italian Kitchen
Insights from our 6-year-old food critic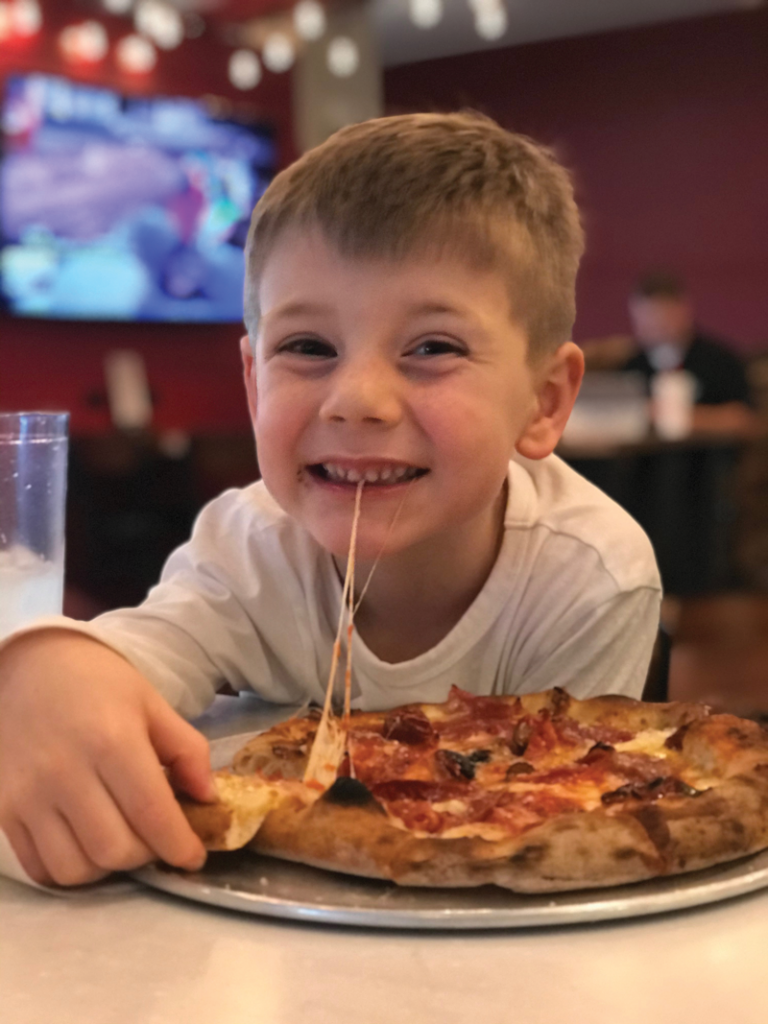 Each month, our six-year-old resident foodie visits a different Charlotte-area restaurant that's kid-friendly—but not a kid-topia. He orders something he's never tried before and reports back with his recommendations for kids and their parents. Here is his review of Capishe:
What I ordered: We got the Meatballs & Sauce ($7) to share while they cooked our pizza in the big oven, and Mommy and I split the Calabria Piccante Pizza ($11) because we both like spicy stuff.
Why I liked it: I thought the pizza would take a long time to cook like it does at home, but it came out super fast—before we finished our meatballs! I liked the little pieces of bread I could dip in the meatball sauce. My pizza had red sauce and not too much cheese with the spicy salami I like, and it was huge! Mommy and I split the smaller (10-inch) size, and we still couldn't finish it!
What I didn't like: The peppers on my pizza were spicier than I thought, and they weren't cut up—they still had stems on them. I picked them off with my fingers.
Why other kids should come here: You can watch the pizza bakers throw dough in the air, and then they let you watch your pizza bake the humongous ovens. We sat at the super-tall tables (read: high tops), and I got to fill my cup with lemonade all by myself at the drink station. They have a kids' menu, too. My sister ordered the Bambino Pizza ($7), but it was the same size as the grown-up one! Mommy had to ask for a box to bring the rest home.
What I liked best: My sister and I both got the special ice cream (gelato) behind the glass ($3), and we got to eat it at the counter. I got mint chocolate chip and she got strawberry. (Insider tip for parents: An order of gelato comes with two scoops, but you can ask them to put a single scoop in two separate cups for the kids and they'll still charge you $3.)
Why mom and dad liked it: They can order wine and beer, and there's TVs on the walls. I had to clear my own place and bring my dishes back to the counter like at home, so Mommy liked that.
Why I would come back: I don't have to sit at my table the whole time, and it's fun to watch the cook throw food in the kitchen. —T.B.