The Multicultural Classroom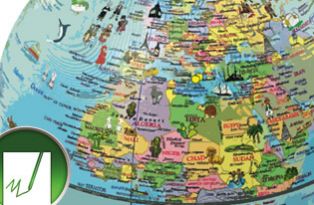 Back to school means back to the basics, and in Carolina classrooms today, this means more than just reading, writing and arithmetic. Schools across the region increasingly are recognizing the importance of a multicultural education, with teachers educating students about our global society. Additionally, parent-teacher associations are involving parents in the process, and families are bringing home the lessons of diversity and inclusion.
Gilmara Johnson, an English-as-a-Second-Language teacher at University Meadows Elementary in Charlotte, has strong feelings about why multiculturism is a valuable part of education. "Cultural content helps (students) review their preconceptions about a certain culture and hopefully treat everyone the same," she says.
Johnson says she believes teachers should be aware of the nationalities represented in their classrooms in order to share knowledge and to prevent misunderstandings that may arise from language barriers or the expression of varying customs. In her classroom, new students are encouraged to present information about their home countries to their classmates. Johnson also frequently incorporates activities about her own home country — Brazil — into her lesson preparations.
"I usually make a compare-and-contrast activity, especially about holidays and monthly events," she explains. "I also have a world map on the wall and the name of each student on an index card with a thread linking to the country where the student comes from."
Nurturing Open Minds
Technology enables children today to live in a global society, where they can view and communicate instantaneously with others around the world, says Roanne Ornelles, director of diversity at Summit School in Winston-Salem. "However, children cannot truly understand, appreciate and communicate with others unless they have experienced the culture in an authentic way." Ornelles says she believes schools often are surrogate families for children and have a responsibility to provide character education that enables children to be productive citizens in today's global society.
Carnette Debella, a teacher who heads up the multicultural fair at Pearsontown Elementary in Durham, agrees. "A student's knowledge base is increased by learning about different cultures," she says, citing lessons in world geography and history, national flags and languages.
Debella also says current events and international disasters can be used to teach kids about other societies — from government and economics to family structure and housing. Through studying disasters, such as the earthquakes in Chile and Haiti, and famines in Africa, children's minds are open to lend a helping hand when others are in need. "If our young people have been taught about different cultures, as adults they will be more willing to help in times of need," says Debella.
Parents understand the importance of multiculturalism, too. Tuyet Huynh, a Raleigh parent of three children, appreciates that her kids were exposed to different cultures at an early age. She says she feels her children, as a result, will grow into open-minded citizens who will more easily work and live within a global society.
Celebrating Diversity
As students move beyond high school and college into the workplace, they will be entering jobs that require not only critical thinking skills but also acceptance of others' differences, as corporate offices, retail centers and manufacturing plants are hubs of people from all over the world. In order to translate academic achievement into a successful career, today's children need to graduate with a different set of skills than their parents.
"Students who learn to accept others of different cultures will have success in the diverse workforce they will find themselves in as adults," Huynh says. "They'll be open-minded, productive team players."
Beyond English, math and science, Ornelles says children must also learn "adaptability, effective communication, problem-solving and collaborative working skills for them to work well with others."
School communities that foster acceptance and inclusion among families are paving the way for the next generation of do-ers and leaders. Providence Day School in Charlotte held a Global Day last fall, which was an outreach event from the school's Global Studies Diploma program. More than 600 faculty, staff, students, families and community members attended. Every region of the globe was represented, with exhibits featuring indigenous crafts, regional cuisine and facts addressing issues ranging from poverty and disease to economic development.
"The children really enjoyed learning about the cultures of some of their friends and experiencing some of their traditions," says Lisa Sicard, a Providence Day parent. "They particularly enjoyed watching the Indian dancing, playing backgammon in the Middle Eastern tent and trying out some fencing moves."
Many schools hold similar events, such as International Education Week at Charlotte's University Meadows Elementary, which last year featured such highlights as a student who sang in Hebrew and a boy who dressed in the cultural attire of his home country of Burma.
At the Pearsontown Elementary Multicultural Fair, children share art they create based on their impressions of the countries they study. Members of the community also are invited to participate.
"This year we had Chuck Davis and his famous African Dance Ensemble." explains Debella. "Previously, we had representatives from a local Turkish Cultural Center."
At Cary's Davis Drive Elementary, the PTA supports the cultural arts program, which offers performances that expose students to different cultures and forms of arts, such as the Liang Chinese acrobatic show
Frank Porter Graham Elementary in Chapel Hill holds family focus nights in an effort to strengthen the school's connections with minority families. During Latino Family Night and African American Family Night, families are invited to bring foods that are reflective of their cultures.
"Each event offers brief presentations by the staff and the community regarding opportunities available for families and children," says Susan Pegg, interim principal at the school. "The main goal is to reach out and say, 'We are here for you and your children. Please let us know how we can help.'"
Finally, at Summit School in Winston-Salem, multicultural education is a way of life. From junior kindergarten through ninth grade, students routinely learn about other countries, cultures, languages and different holidays.
Taking Global Awareness Home
Whatever the format of a school's multicultural efforts, one of the ultimate goals is to encourage further exploration at home and within the community.
Scouting organizations provide excellent opportunities for students to gain a global awareness. Cassie McGowin, a Fort Mill, S.C., mom of twins, says Girl Scouts World Thinking Day promotes girls and their families getting together to learn about traditions in other countries. This spring, McGowin's daughters' troop chose to represent Mexico and participated alongside nearly 300 other girls.
And in addition to watching cultural programs on television (even sporting events), families can visit museums and attend local festivals that celebrate cultures from around the globe.
Ornelles says the best way for parents to teach children to empathize with others is to model acceptance through their own interactions with others. "It is absolutely true that children learn by what respected adults do as much as by what they say," she says.
Lee Rhodes is a freelance writer in Waxhaw.