The Importance of Pediatric Dental Care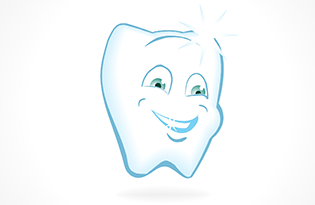 ——— A D V E R T I S E M E N T ———
February is when we celebrate National Children's Dental Health Month. As pediatric dental specialists, two important questions we are often asked are "Why are baby teeth important?" and "When should a child start visiting the dentist?". 
Primary (baby) teeth play a crucial role in dental development. Without them, a child may not be able to chew food properly or may have difficulty speaking clearly. Primary teeth are vital to development of the jaws and for guiding the permanent teeth into place.  Also, dental decay (cavities) in primary teeth can cause many problems for your child including pain, infection and damage to the developing permanent teeth.  Dental decay in children is a preventable disease that can begin during the first year of life.  We believe that it is important to establish excellent oral hygiene habits early in life to have the best chance of avoiding this disease.  Therefore, we support the American Academy of Pediatric Dentistry recommendation that all children have a dental home by the age of twelve months.
During the first dental visit, we offer counseling and information for parents to help them get ahead of the disease process in young children. This includes a discussion regarding medical and dental history, daily oral hygiene, fluoride exposure, nutritional habits that can affect oral health, habits such as thumb and finger sucking or use of pacifiers, and injury prevention. We also perform a thorough dental examination to determine the present condition of the teeth and mouth, and the risk that your child has for developing oral and/or dental disease.  Based on this examination and risk assessment, we recommend subsequent visits according to individual needs.
With dental care starting at such an early age, parents are often concerned that their child may be anxious or afraid about visiting the dentist. Our pediatric dental specialists and staff are experienced and well trained in helping all children have a pleasant dental experience.  We are sensitive to the emotional needs of our patients and parents, and we work toward establishing a great rapport with them.  Our pediatric dental team will help your child in their personal growth, and will teach and motivate them toward positive dental visits and excellent dental hygiene habits. The friendly, open, and fun pediatric environment also helps to allay fears and anxieties in kids of all ages.
The best way to ensure a lifetime of positive dental experiences is to make an early commitment to the prevention of tooth decay.  As your child matures, our pediatric dental team will continue to help your child develop and maintain healthy oral hygiene and dietary habits.  The pediatric dentist will monitor your child's facial growth and development and provide intervention when needed to guide the permanent teeth into proper alignment.  Also as specialists in dental trauma, we advise our patients how to protect their mouth and teeth in all situations. Should an accident occur, we work with parents and patients emotionally and clinically to repair fractures and other dental conditions that may result.  Working together, parents, children and the whole pediatric dental team can ensure great dental experiences, excellent oral health, and beautiful smiles.
C. Marshall Long, DDS, MS
Specialist in Pediatric Dentistry
Laxer, Long & Savage
Specialists in Pediatric Dentistry and Orthodontics