The Hidden Benefits of Dance For all Ages
From growing poise and confidence to building agility and strength, there is much more to dance than learning first position.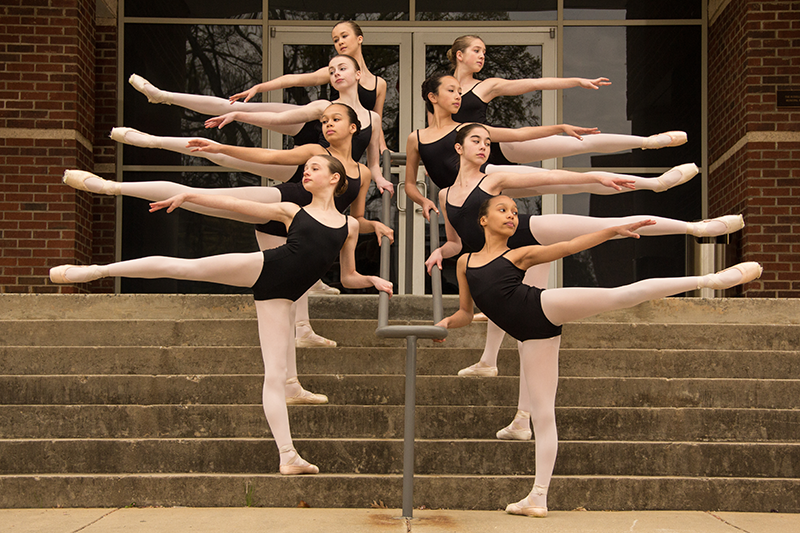 Enrolling your child in a dance class doesn't mean that they're destined to be American Ballet Theatre's next Misty Copeland. It doesn't mean they'll become a Rockette. And it doesn't guarantee that they'll land the lead in a Broadway musical one day. But it does mean that they'll get a leg up on coordination, exercise, leadership skills and more.
"In dance you have to have a lot of self discipline," says Terilynne Knox, who opened Dance Davidson 35 years ago. "I just see dance carrying over with my students into their schoolwork and other aspects of their lives. It's not a team sport, but you have to work with others."
An added benefit of working together is self-confidence. When you're dancing a core number, meaning you don't have a solo, you have to be confident of where you're supposed to be and what you're supposed to be doing. Performing on a stage in front of an audience furthers that confidence.
---
Dancing to Learn
"Dance really enhances your brain," says Barbara Eaves, owner of Rhythm Dance Studio in Matthews. "It's a huge tool for growth, just to move."
Eaves, who opened her dance school in 1985, has also worked with autistic children through dance and says that they too benefit from the movements, as well as the socialization of the art form.
"Dance is for everybody," she says. "This is the best thing they can do."
If your child shows an interest in dance, you can enroll them in a creative movement class as young as 3. In these types of classes, students work on muscle strength, coordination, balance, muscle tone, flexibility, posture, rhythm and musicality.
"They're actually learning dance steps," says Knox of Dance Davidson's Creative Movement classes, "but instead of using the French terminology, you know instead of saying, 'let's do a grand jeté,' we're saying, 'let's leap over the river.'"
Caroline Calouche, artistic and executive director of Caroline Calouche and Co., agrees that creative movement is the way to go for young children.
"I started at the age of 8, and I'm glad I didn't start any sooner," Calouche says. "I took a little gymnastics, but I was very much into climbing trees, and playing soccer and basketball with brothers. So being active at a young age I think is helpful."
If your child develops a stronger interest in dance once they're in elementary school, you should sit down with their instructors and discuss which classes are appropriate for developing their skills.
"You really start to kind of grow and understand the dance technique around 6 or 7," says Calouche, who offers ballet, contemporary and hip-hop classes, as well as circus arts, which includes aerial arts, silks, acrofitness and tumbling.
"We encourage people to take both [dance and circus arts classes], especially when they're young so they can develop certain skills that each art form has to offer because they are very different."
---
Setting the Foundation
Regardless of which type of dance your child wants to pursue, Eaves, Knox and Calouche agree that ballet is the foundation of it all.
"Even if when they get older and they don't love it [ballet], they still need it if they're going to be jazz dancer, if they want to excel in tap or modern," Knox says.
"That's what's going to give you the very best technique."
That said, when selecting a dance school for your child, it is imperative to check out the credentials of the instructors, as well as class size and the facility. First and foremost, you want to make sure that the instructors understand how to protect the students from injury, a common result of bad training. You also want to make sure your child is being taught proper technique from the beginning so that if he or she decides to seriously pursue dance, he or she has the correct training in place.
"I feel like if you're going to learn something, you need to learn it the right way, even if you have no desire to make a profession out of it," Knox says. "You never know when they're going to get that spark and say, 'Hey, I want to get serious about that.'"
---
Poise and Confidence
Dance can be a wonderful focus for students, especially when they're going through adolescence. When they're preparing for a performance or an audition, they're too busy to become involved in the mischief that often accompanies the teenage years. More importantly, they're developing strong self-esteem.
Eaves says that she sees self-esteem translating through all facets of her students' lives and careers.
"I've had some take their love of dance and use it as a speech therapist," she says. "I've had some on Broadway and some perform on cruise ships."
Even if your child decides that dance isn't his or her thing, there is still much to be gained by exposing them to dance classes.
"We try to instill an appreciation of dance in our students, so they'll understand what it takes to become a Misty Copeland or a dance artist," Calouche says.
"We want them to appreciate all forms of dance through our studio so the art form can live on, and they'll want to attend shows in Charlotte and elsewhere in the vicinity."
---
Lori K. Tate lives in Cornelius with her husband, John, and their 6-year-old twins, Graydon and Margot. Margot performed in her first dance recital this past spring.
---