The Fitness Remix: Choosing to Adapt to Life's Changes
Turning what could be negative into a positive experience.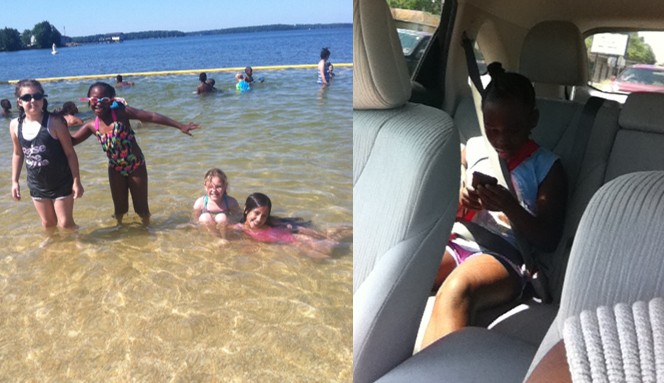 This is such a bitter-sweet time of year for me. Lena just left to spend the summer in Ohio, and I'm still adjusting to her being gone. Before she left, we made sure to spend some fun, quality time together. We spent our weekend with a few of her friends indulging in all sorts of fun stuff, including dinner, movies, Ramsey Creek Beach and 3D black light mini-golf. Everything was awesome!
Ramsey Creek Beach is the new swimming beach that Mecklenburg County created off of Lake Norman. It's a quaint little beach, not too far away, and a parent's dream because they have lifeguards on duty. Lena and her friends racked up tons of fitness points with all of the swimming they did. They didn't want to leave. I only swam for about five minutes before I was ready to get out and just lay in the sun. I have this thing where I sometimes get the heebie-jeebies about about being in a lake or pool water. I know, it's weird.
Regardless, the girls had me beat. I desperately need to increase my fitness points! As of today, Lena has over 1,000 points more than I have, and she'll continue to get plenty of exercise in her summer camp and playing with friends. I could easily use this break as an opportunity to gain points on my little one, but I decided to play fair. I showed Lena how to use a cell phone or tablet to log her Fit Family Challenge points while she's away. And I'll be sure to follow up behind her, of course.
Now it's my turn to collect some major fitness points. I've given myself a new goal for this summer: to move beyond the very comfortable plateau that I call my fitness home, and push myself to do more intentional and more rigorous fitness, more than I've ever done before. And, hey, it'll be so much easier with Lena gone because I can do whatever I want, whenever I want! This is definitely one of the few perks of this whole shared custody thing.
The plan is to continue with all of my normal activities — hiking, walking, healthy eating — but to also add a new fitness routine to my day which I'll do at home (lots of cardio-type stuff) and to attend one class each day at the YMCA. Though I haven't been there in a long while, my favorite branch is the Stratford Richardson Y on West Boulevard. I'm eager to catch up with the staff and blow the cobwebs off of my member pass.
I get so excited looking at the Y's Group Fitness schedule that I don't know where I'll begin, but since my goal is to move beyond my comfort zone, I'm going to skip past the class I've tried in the past (yoga) and go for something totally out of character for me — cycling! I'm even going to try and toss some meditation into the summer mix, just to see how closely I can get to reaching my goal of reducing my stress levels.
Maureen, our Fit Family Challenge wellness expert shared a lot of great tips on managing/reducing stress, meditation and increasing self-awareness. I want to incorporate those as a part of my wellness makeover. Maureen had us do a meditation exercise, which I really enjoyed. I've attempted to meditate in the past, but never really committed to practicing it. So, to make it a little easier on myself, I found a website, calm.com, which I'll use to help me get back into it. I love this website because it offers all sorts of tranquil, moving screen savers with audio to match and it even leads you through guided meditation if you choose. It's really neat.
Many of my previous posts and activities have been organized around my child, so we'll see how disciplined I am without her. If next week's post is about my ramen noodle soup recipe again, you'll know I slipped, but I have high hopes for myself!
---
Ami Hill, 35, and daughter Lena, 9 are participating as one of our 2016 Fit Family Challenge spotlight families. Learn more about their healthy family journey here, and follow along with Ami as she updates us this Spring and Summer in the Fit Family Challenge Blog.