The Finish Line Is Just the Beginning
Digging in deep to exceed our Fit Family Challenge goals and keep the momentum going.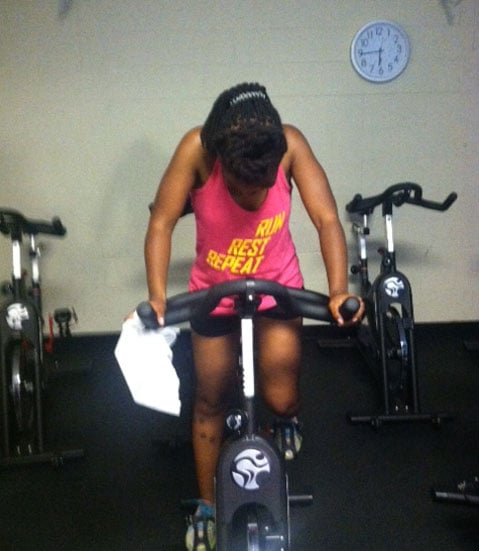 Girls on the Run has a tagline they use to describe their program experience for the girls …"The finish line is just the beginning." I am truly having one of those graduating moments this week as I reflect on my recent fitness activities and the outcomes I've seen as a result.
Last week I committed to staying as active as I could. My daughter was enjoying herself at camp in Ohio, so I had nothing holding me back. The plan was to reintroduce myself to my favorite YMCA location, the Stratford Richardson branch on West Boulevard. While I've been enjoying the hikes, bike rides and swimming activities that Lena and I discovered during the Fit Family Challenge, I really wanted to push myself beyond that very obvious comfort zone. You see, I've never been the athletic type, but I have always had a desire to play sports, any kind of sport. I always wondered if I had what it took to be an athlete. As a young girl, I admired the way my athletic peers were disciplined enough to balance schoolwork, socializing and whatever club sport they were into. Watching some of my friends at their practices and seeing just how physical these activities got made me feel exhausted for them, but I was intrigued by their involvement in the sport despite the struggles and physical pain that their activities sometimes brought them. Were they having THAT much fun? Did they enjoy the sport THAT much? What kept them motivated? I would soon find out the answers to all of these questions and more.
---
Monday – Cycling
I had two main concerns on this day: 1. Making sure that alarms wouldn't sound when I entered the front doors of the YMCA. It's been a while since I'd been at the Y, so I had no idea what the status was of my membership. When I decided I would attend a group class on Monday, I had to make sure that I arrived at the Y early enough to get that squared away so I wouldn't be late for the class. 2. What kind of people would be in this group cycling class? And would I feel comfortable? I had this silly idea that everyone who frequents a gym or attends group classes must be some sort of elite, super athletic and muscular person who'd have no time to slow things down for someone like me during class because they were probably training for some sort of 'atholon'… marathon, triatholon, octo-atholon.
Of course I was wrong, especially considering that I was taking classes at the good ol' Y. The cycling class wasn't overly crowded, which felt nice on my first day. The instructor, Rhonda, as well as the other class participants were so friendly and down-to-earth. Everyone was pretty attentive, making sure that my bike was adjusted properly and that I knew how to adjust the resistance on the bike as I rode during the class.
The 45 minutes went by quickly. The music that the instructor, Rhonda, played was on point – very motivating, so the class was over before I knew it. I felt so accomplished when the class ended. I broke a good sweat and also broke in my bottom (getting used to that seat is no joke). I even ran into some old acquaintances from previous visits to the Y who recognized me. They asked about me and my daughter and when Lena would return. It was great feeling. And there were no loud alarms or funny stares.
---
Tuesday – Cycle Fusion
Come Tuesday, I knew that I was already hooked. I really liked cycling. The Cycle Fusion instructor, Keisa, added to my enjoyment of the bike because she made certain that I understood how to maximize my workout while on the bike; she showed me how to engage my core as I transitioned from a seated to a standing position when pedaling. Keisa even sat on a bike next to me rather than in front of me so she could keep a better eye on my form. I happened to be the only participant in class on this day so I got 1:1 training – and I loved it.
With Cycle Fusion, we spent a portion of the class on the bikes then transitioned to the track for a walk or run. I found the class to be a really nice continuation of the cycling I started on Monday and I learned a lot from the instructor. Keisa even suggested I consider following up the class with yoga or swimming. She explained that although our class concluded 30 minutes into the yoga course, the yoga instructor would happily welcome late-comers to the class for the duration of the session. I thought that was really nice.
---
Wednesday – Strength Training
I was truly riding a wave by Wednesday. I had gotten to a point where I had a little bit of a routine going…I had my workout clothes ready to go in the mornings so that I could leave directly after work and make it to class on time.
I found that I was trying to talk myself out of going to the strength-training class, just because it was new to me – and, again, I was a little worried about what I might be getting myself into with this class…weights and stuff. But alas, I was proven wrong again. This class was just as inviting as the cycling classes, and I noticed how comfortable the participants were going between classes to get the workouts they wanted; a little bit of Zumba, then to weight training, and back to Zumba. It's like their own custom workout.
---
Thursday – Cycling
This was the second session of Monday's two-day cycling class, and man did I enjoy it. Once Rhonda had the class in a good rhythm she served as our own private DJ, asking us what songs we wanted to hear. I was in a zone and when it was my turn to offer up a song, I asked to hear some of my nostalgic 90's music; Rhonda new exactly the type of records I wanted to hear. I was even singing while pedaling, but let's be clear, my legs were feeling it!
I had been tracking my fitness time and was feeling pretty darn proud of myself … four consecutive days of break-a-sweat fitness! I happened to have a physical earlier in the week and the first thing my doctor said was, "You've been working out haven't you?" I was shocked that she was able to make that observation because, before that day, I had only been doing the moderate workouts while hanging out with Lena and her friends. But to hear that the choices I've been making, to keep moving no matter the activity, was noticeable by my physician and actually had an impact on my health was so incredibly encouraging.
I'm fully aware that I won't be able to maintain this four-day workout regimen when Lena returns, but I really do look forward to the challenge of creating the best routine for Lena and myself so that we can keep this fitness thing going in a way that works for both of us.
As I look back on this experience, I realize how much this challenge, and many challenges in life, are truly mind over matter. I became aware that I had preconceived notions about what it would be like to start working out. I realized that, in my mind, I had people divided into two categories; those who worked out incessantly and those who didn't. I feared that I wouldn't necessarily "belong." On the contrary, people are all just doing their very best to be healthy and there's room for everyone to be involved however they decide, in fact, its that self-discovery part that makes this so much fun.
As I watched the Cleveland Cavs bring a long-awaited NBA Championship to my hometown, I couldn't help but think about all that their team went through over the years to get to that point. It definitely was no easy ride, but with true dedication to the process and to their team, step by step they prevailed. There's a significant life lesson here. I'm now aware of the strength that can come from an individual when they surround themselves with a sturdy foundation of support. I feel connected to Charlotte in a way I didn't before and I am more open-minded about the people I see and where I might belong in the health and wellness "arena." I appreciate the Charlotte Parent Fit Family Challenge team for being such great stewards and rolling out the red carpet for those of us who may not have seen ourselves as a part of the health and wellness community. And I appreciate the gentle nudges they gave, pushing each of us across our own "beginning lines."
---
Ami Hill, 35, and daughter Lena, 9 are participating as one of our 2016 Fit Family Challenge spotlight families. Learn more about their healthy family journey here, and follow along with Ami as she updates us this Spring and Summer in the Fit Family Challenge Blog.