The Ever-Evolving Life of a Working Mom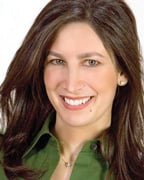 In 2005, Wendy Sachs was the mother of a toddler and an infant. Having worked as a public relations executive, congressional press secretary and television producer, she cherished motherhood but also relished the excitement of her career in the media. As she struggled to find a balance between being a mom and a working professional, she wondered if it was possible to really have it all – happy, well-adjusted children and a fulfilling career.
Her quest led her to interview more than 100 women, and as a result, write "How She Really Does It: Secrets of Successful Stay-At-Work Moms" (De Capo Press 2005). Charlotte Parent recently caught up with Sachs, who will be speaking at the magazine's annual Moms@Work Luncheon on Sept. 17. Now a vice president at a public relations firm in New York City, Sachs shared how life for working moms continues to evolve, as well as some tips on how she really does it.
Q. How has your life changed since your book was published in 2005?
Things constantly change. When I was writing the book, I was in the thick of having a toddler and a baby. The angst and the issues have changed. … A lot of things get easier – my youngest is going into first grade, and I feel like I can breathe again. No sippy cups and diapers is huge!
Q. Do you think a lot of companies have adapted their policies to make life easier for working moms?
The burden is still on the mom to carve out something for herself in order to create some sort of flexibility and balance. There are companies that are giving more flexibility, creating telecommuting relationships. But for most people in a mid-size company, if a lot of working moms start getting more flexible schedules, other employees will expect the same in return. And having flex schedules makes it hard for a woman to say "no" to extra work when you're not there.
Q. In interviewing women for "How She Really Does It," what insight did you gain?
To know that what you're feeling at the moment isn't forever. Thinking about whether you are working or not working is so huge, and that you are going to destroy your children if you make mistakes. There's no such thing as the "perfect mom." You'll be able to rev up eventually – there's no balance. Some weeks you may feel like a great mom, but you're slacking off at work and vice versa. Know that it's going to pass.
Q. What advice would you give women who are expecting their first child and trying to figure out if they will return to work?
Surround yourself with a network of supportive people. Find people who will help support your decision. Know that you have really good childcare. You can't go to work unless you have really fabulous childcare. Your mind has to be at ease. Figure out how the division of labor is going to be at home when you return to work. Have that conversation with your spouse. CP
Renee Roberson is a freelance writer based in Huntersville.