The COVID-19 Legacy: Navigating the Effects With Your Family
How will this generation-defining event affect our children?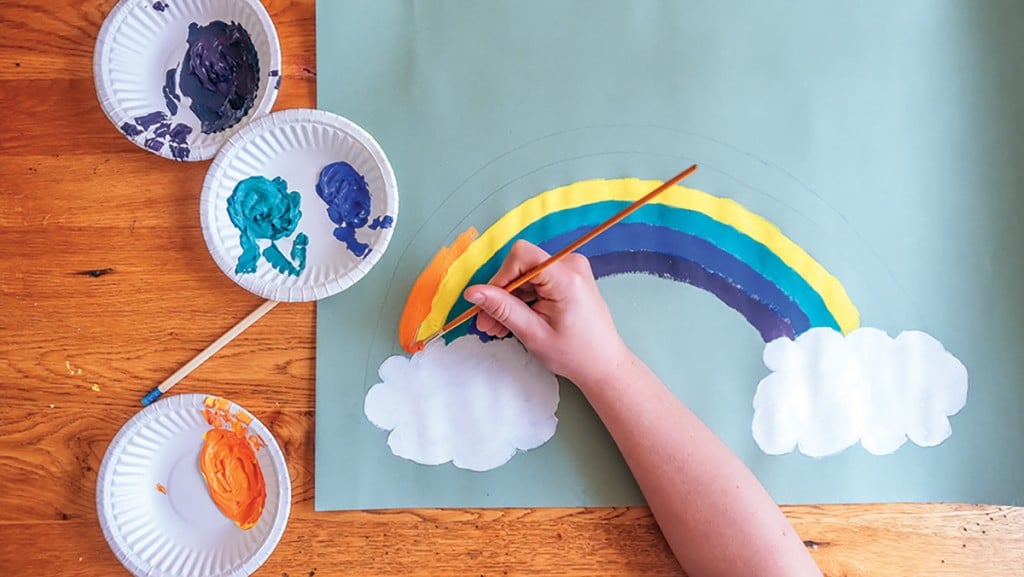 In a typical year, the spring season is packed with baseball games, dance recitals, proms, and graduations. Not this year. The COVID-19 pandemic brought life as we know it to a halt, forcing children to finish the school year from home and forgo most of their extracurricular activities. It's difficult to anticipate what the long-term impact of this crisis will be on children, but our experts agree this COVID-19 lockdown will be etched in their memories for years to come.
"All children will be moving forward with a great deal of uncertainty and caution," says Dr. Gail Saltz, Associate Professor of Psychiatry at the NY Presbyterian Hospital Weill-Cornell School of medicine and host of the podcast Personology. "They will be dealing with disappointments. For those who have lost a parent or family member to COVID-19, the grieving process will be longer."
But there will be plenty of positive memories they'll have from this experience, too. A deeper appreciation for essential workers and family connections are just a few of the things Generation COVID could take away from this uncertain time.
Coping Skills
The Stay-at-Home order has caused children to miss out on big events they'd looked forward to. "I was supposed to play at Cooperstown with my baseball team and possibly California and now it looks like those could both be canceled," says Jake Oland, 13. Other kids have missed their chance to star in the school play, go to prom, or participate in high school graduation.
While no parent wants to see their child disappointed, these experiences may help develop stronger coping skills. "Helicopter parents have bubble wrapped their kids' childhoods to avoid experiencing hurt and disappointment," says Dr. Michele Borba, an educational psychologist, author and parenting expert. "But this is a situation that parents cannot 'fix' for their kids and that's a good thing. It empowers kids to figure things out for themselves and to develop the life skills necessary to cope for when plans get canceled, or things don't go their way."
The hardest part for parents may be letting their children grieve what they've lost. "Parents need to allow children to express their feelings without judgment," Borba explains. Avoid minimizing their feelings (i.e., "People were very sick, so you shouldn't complain that about a canceled soccer tournament") or giving false hope that events will be re-scheduled. Instead, Borba encourages parents to listen and be empathetic. Rather than saying, "We'll make an even bigger party," let the child decide how they want to move forward and celebrate any missed milestones.
Real Life Interaction
Technology has been a lifeline during this pandemic, allowing remote learning, socialization, and entertainment to continue while children are at home. But after years of being told limit their screen time, kids finally want to get off technology and interact with peers in real life. They crave the chance to go outside, be with friends, and play together in person.
While most kids say they can't wait to spend time with their friends in person, some may need help from their parents. They may be anxious about leaving home after months of being told this is the only "safe" place for them. "Technology and social media have allowed kids to stay connected," Borba says. "But remember, this generation was already more comfortable communicating by text than in person, and now it's all they have done for months. Some children may need a push to re-engage in healthy, face to face relationships with their peers."
Appreciation for Essential Workers
"One of the positives of this experience is that kids see a shift in who is valued in our society," Saltz says. "Before the pandemic, there was an emphasis on financial success and celebrity. Now we are celebrating health care workers, teachers, essential workers, and strong authoritative leaders that are trustworthy." New York City mayor Bill de Blasio has even promised to celebrate these heroes with a ticker-tape parade, usually reserved for athletes who win championships.
Online learning has made kids (and parents) more appreciative of teachers. Shawn Solomon, 7, says, "It's hard for my teacher because we used to all be together in school and now, she has to make everything work online." Zack Oland, 9, adds, "My mom is a teacher and I see how much work she is putting in to help her kids. I know my teacher is doing the same for me."
The Joys of Slowing Down
Before quarantine, many kids were overscheduled and rarely sat down to a family meal. But thanks to the Stay-at-Home order, families have no choice but to slow down and embrace the downtime. "I like that I have free time to do whatever I want," says Sarah Eilenberg, 9. "I like making obstacle courses in my backyard and drawing and reading a lot." Adds Michaela, "Every day I learn something new and I have much more free time to do fun things. Her brother, Morgan, says, "It's like the world stopped… it has given me more time to spend time with myself, doing things I like and being with my family."
Parents also see the benefits of a slower pace. Michaela's mother, Danielle says, "It's been nice to have such great quality time and not have to rush everywhere all the time. This experience has made me realize how important downtime is for curating creativity and how it helps with my children's mental states."
Family Connection
Years from now, kids may look back at these months and remember this time they spent with their parents, siblings, and pets. "Quarantine wasn't all that bad because I had a lot of freedom during the school day to do a lot of fun things like FaceTiming my friends, playing outside with my family, and riding my bike around the neighborhood with my brother," Oland says.
Many families have rediscovered activities they'd long forgotten like game nights, jigsaw puzzles, and cooking together. "Quarantine has provided kids with lasting memories," Borba says. "When they look back, they will remember the positives of eating together, game nights, and watching movies."
RANDI MAZZELLA is a freelance writer specializing in parenting, teen issues, mental health, and wellness. She is a wife and mother of three children. To read more of her work, visit www.randimazella.com. ​
---
Anxiety, Depression, and COVID-19
The months-long quarantine and aftermath of the pandemic can be stressful for both adults and children. Kids who experience a significant loss due to COVID-19 or those that had mental health issues before the pandemic may be especially vulnerable to anxiety or depression. "Unpredictability causes fear and stress to build," Borba says. "If your children have access to the internet, make sure they are getting their information from a reliable source such as the CDC." Encourage them to keep themselves and others safe by following guidelines like proper hand washing and maintaining six feet of social distance. If your child has trouble eating, sleeping, or has changes in behavior, contact a mental health expert.