The Changing Face of Camp Communication
Today's technology allows parents to unobtrusively check in on their child at summer camp.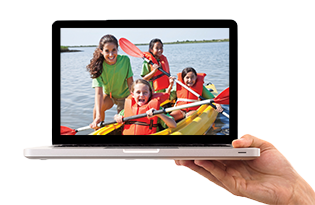 "Hello Muddah,
Hello Fadduh,
Here I am at
Camp Granada …"
This familiar ditty by Allan Sherman and Lou Busch, released in 1963, was based on letters of complaint that Sherman's son wrote from camp. The song told wild tales about outdoor life — lakes filled with alligators, bouts of food poisoning, a case of malaria.
Fifty years ago, parents' notions about their child's overnight camp experience were based on the occasional letter they received during the summer. Fast forward to 2013, and the camp communication picture looks vastly different — so different, in fact, that parents can log on to their computers and pull up photographs of the exact lake their youngster may claim is filled with wretched reptiles. Today's technology, whether it be websites, emails or other social media, allows parents a window to unobtrusively check in on their child, all while the child benefits from the experience of being on his or her own for the first time.

Before Your Camper Goes
For both child and parent, the camp experience begins long before the bags are packed. Technology plays a key role leading up to your child's first days away. Just about every overnight camp has a website, and it's a good place to begin. Log on and check out photo galleries and videos of past summers so you have an idea of what your youngster can expect — and show him or her so they can feel comfortable. Many websites provide links to YouTube videos as well, showing kids who are horseback riding, learning archery or gathering in cabins. Many camps also send out tweets and update blogs throughout the year, so families can "experience" camp life beforehand, all from the comfort of their own homes. In addition, most websites include links to apply, make payments and view financial information.
Before Laura Carey's son Will, now 12, began attending Camp Rockmont in Black Mountain three summers ago, Carey had the usual parental concerns. Would he be homesick? Get enough to eat? Carey had most of her answers long before Will left for his session. Through blogs and emails, Rockmont addressed all the typical questions, posting videos of what to pack and how to discuss dealing with homesickness beforehand.

And They're Off
When the day comes to say goodbye to your child for the first time, no parent is ever completely prepared. They want to know that their child is safe, well-cared for and happy. In the age of smartphones, texts and video chats, most parents can barely imagine going more than a few hours without communicating with their child, let alone a few weeks. Most camps, however, do not allow children to have communication with their parents beyond writing letters home.
"In this day and age, it's a beautiful thing to send a child to camp and have him have success away from Mom and Dad," says Dan Singletary, director of Camp Timberlake, a boys' residential camp in Black Mountain. "But that benefit doesn't come from talking with them every night."
Campers are encouraged to write letters home often, giving parents a reason to dash to their mailbox each afternoon. "Will did send letters to us, which diminished in both quantity and detail over the years he was there," says Carey. "My husband and I laughed when this past year, we got only one letter, which basically did not contain a single sentence, but was a list of his activities and what he ate that day." Carey knew that the lack of letters only indicated that Will was having too much fun to sit down and write.
On the flipside, families are allowed to email their children, and these emails are printed out and delivered to the kids each day. Traditional "snail mail" is also encouraged, so campers can receive cards and letters from aunts, siblings and grandparents.

One-Way Mirror
Camps like Timberlake and Rockmont use technology to show families exactly how their kids are thriving — even without having it come from the boys' mouths. Like many other camps, Timberlake uses CampMinder, a customizable, web-based camp-management program. Through a secure online parent portal, parents can type in their username and password to have access to one-way email, authorize point-of-sale purchases and view photo galleries. Often photos can be purchased and printed.
Many camps have teams of photographers and upload hundreds of pictures to their websites every day. Carey and her husband sat down at the end of each day and scrolled through the galleries, searching for pictures of Will and what he was doing. "I had a 'code' for Will, asking him to give me a thumbs-up to let me know that he was having fun. I got tears in my eyes and felt immediate relief and joy when I saw the first picture of him online with both thumbs up! Seeing pictures of him is very reassuring and gives us a lot of comfort."
Camp Ton-A-Wandah, a girls' camp in Hendersonville, is coming up with new ways each day to use technology as a means of communication.
"We want to communicate with campers the way they would at home, and technology allows us to do that," says director Garrett Graham. One way is a newsletter emailed to families each night. Counselors write about the days' activities, menu, awards and adventures, whether it be singing or learning to kayak. Parents can also follow Ton-A-Wandah on Twitter, giving them a real-time insight into their kids' days.
Ton-A-Wandah also posts pictures on Instagram, the online photo-sharing and social-networking service, and Pinterest, the content-sharing service that allows users to "pin" images. All are efforts to make families feel comfortable and connected to the camp experience, even when they are far away. "All these things offer parents opportunities to watch from afar," says Graham.

The Ends Justify the Means
Even though not being able to talk to your child for several weeks can be difficult, when the summer ends and campers return home, parents understand why it's such an important policy. "It was tough to let Will go, him being our only child," says Carey. "We were left at home without him for the first time, and it was a big realization that he was no longer a baby, and this experience was the first of many milestones to come when he'll leave us again. (But) we know he is having a wonderful, positive growing experience while he is there."
Timberlake's Singletary agrees that being "on their own" is what makes the camp experience so rich for youngsters. "At the end of the summer, parents see that they've given their child the ability to conquer their fears, learn to make friends, grow and mature," he said. "Camp is an investment in the growth of a child. And there's something about a camp kid that just makes him unique."
Amy Salvatore Reiss is a freelance writer who lives in Davidson and is the mother of two young girls, one of whom hopes to attend sleep-away camp for the first time next summer.