The Benefits of Music Lessons for Kids
Why the benefits of music lessons outweigh the costs.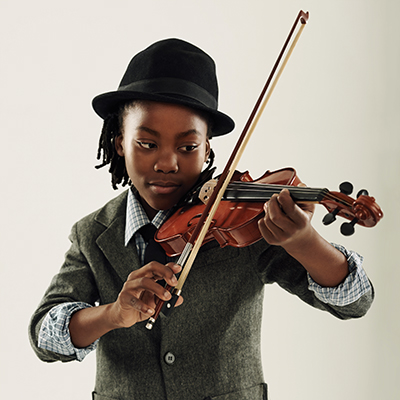 As a trained musician, my father insisted his four daughters start piano lessons at an early age. I didn't always enjoy it and often grumbled about the mandated practice sessions before and after school. My teacher was strict and had high expectations of his students, but as an adult, I'm thankful that piano lessons were a requirement my parents didn't budge on.
Music lessons compete with a host of other activities for children's time and parents' money. Is it really worth it?
---
More Than Just Making Music
Studying music encourages self-discipline and perseverance, along with time-management and organizational skills. Weekly lessons require students to prioritize their schedules to allow for regular practice time.
"Kids learn other things than just how to play an instrument from music lessons," says Randy Jones with Charlotte-based Allegro Studios. Children gain increased memory capacity, spatial reasoning skills, ability to process multiple things at once, learning how to stick with something to completion.
---
When Should You Begin?
Music lessons can begin as early as age 4, but Ashby Presley, co-owner and studio manager of Music Quarters, says it depends on a child's attention span.
"As a general rule with the piano, we suggest five years old." For guitar or drums, she recommends a child be at least 7 years of age. "Piano is a great instrument to start with to build foundation if interest is there," Presley says. She suggests students stay with one instrument for a minimum of three to six months before making a change.
---
The Student-Teacher Match
Finding a teacher and environment where your child feels comfortable is important. Some students prefer a home environment while others thrive at a music studio. Referrals from parents and students can help in the selection process. Ask your parent friends if they have a favorite teacher or studio. Music studios often have multiple teachers for the same instrument, and work hard to appropriately match students and teachers.
A student's specific interest also helps determine placement. Charlotte Music School offers a large variety of music lessons — from string instruments to percussion and accordion. It also has an online music lab. Owner and director Dr. Mark Norman says the state-of-the art music lab that includes theory, music history, sight singing, rhythmic analysis, fundamentals of music, and software for composing allows teachers to customize their teaching to the specific needs of a student.
---
A Family Affair
It's never too late to learn to play a musical instrument. As a former piano instructor, I loved working with adult students who were often more committed and disciplined in the learning process. Adults prioritize their lessons and practice time over other commitments, and have better focus and longer attention spans, allowing for faster learning and greater satisfaction with the process. Music lessons offer a new challenge for adults and can have therapeutic effects.
Learning to play a musical instrument is like earning an education — once you obtain the skill it cannot be taken away, and can provide a lifetime of enjoyment and satisfaction.
Gayla Grace is a freelance writer and mom to five children who have all taken music lessons.
---
Pitch Perfect Practice Tips
Make specific goals for the practice session.
Implement shorter intervals of practice time.
Allow a child to participate in choosing the music they play.
Use YouTube: pick a drumbeat for specific tempo of a song. The child then plays with a professional drummer, feels the rhythm easier, and can find the fun in playing.
Source: Randy Jones of Allegro Studios