Thankful Parents, Thankful Kids
Teaching our kids to be thankful is about more than manners and simply saying thank you.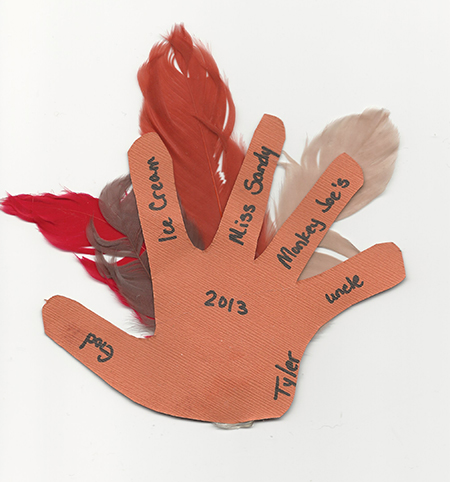 Thanksgiving is a close runner-up to Christmas as my favorite holiday. It has everything you would possibly want: family, food and football. For me, it also serves as a time for reflection. While Thanksgiving obviously isn't the only time we should be thankful, I like to use the holiday as a moment to celebrate all of the people and things that make life good as we approach the end of another year.
This time of year, I can also count on my sons, 7-year-old Tyler and 4-year-old Chase to bring home some kind of turkey or cornucopia project titled "What I'm Thankful For" at the top. It typically is a pretty good mix with the boys being thankful for video games, Monkey Joe's and ice cream while also writing their appreciation of God and family. I will say that I am a little disappointed when I don't get a mention and ice cream does.
It's just as important for you as a parent to be vocal for what you are thankful for your life. My wife and I try to "shout out" people that have helped us at work or casually mention how thankful we are for family members and friends who lend a helping hand.
Teaching our kids to be thankful is about more than manners and simply saying thank you. Our kids are smarter than we give them credit, and can sense when we are being insincere with our own thank-you's. Being truly appreciative of teachers, the server at McDonald's or the person bagging our groceries goes a long way. Chase occasionally is so appreciative of the pizza guy or the woman who delivers our mail that he not only thanks them, but also gives them a round of applause.
I've also noticed that handwritten thank-you notes have gone the way of dial-up Internet. I've often wondered if birthday and Christmas money sent to some nieces and nephews was ever received. The only notification is down the road when the check clears. Handwritten notes really stand out today and are a tradition that should be passed down. My wife has made sure that thank-you notes go out not just for those birthday and Christmas gifts, but also to teachers, coaches and anyone else who has been generous or helpful.
The kids are now at an age where they can make cards with just a little assistance from mom and dad. Now that we don't have dial-up, you can use Skype or FaceTime to supplement that written thank-you with a live, digital one. Family members love getting a video call with the kids wearing the clothes or showing off the toys they bought.
Another thing we can all do is model an overall "attitude of gratitude." As a long-time listener of "The Dave Ramsey Show," I'm used to hearing the phrase "better than I deserve" as it's always Ramsey's response to people asking him how he's doing. Think about that for a minute. How many great things do you have to be thankful for in your life? From good health to your family to the great opportunities still in front of you, odds are you've hit the jackpot in one if not all of those areas. That's something to be thankful for on Thanksgiving and every day.