Testing Preschoolers
What to know about testing for admission to private and charter schools, or early admission to kindergarten.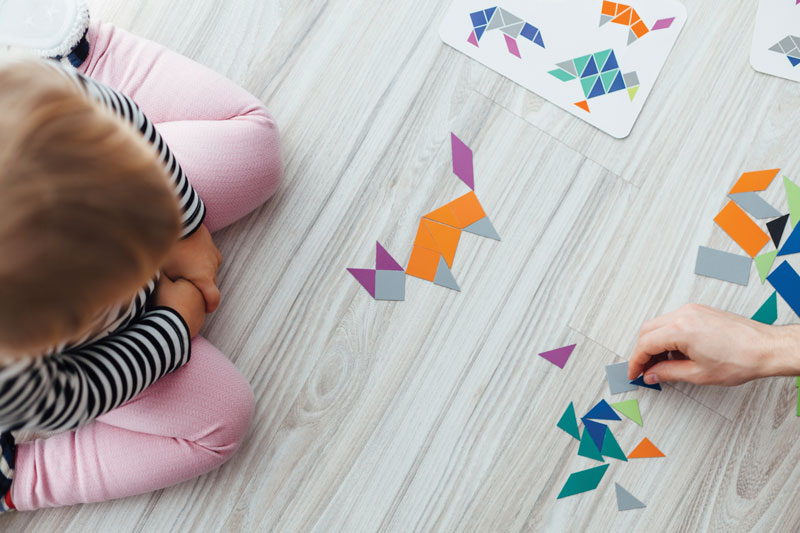 Testing has trickled down to the very youngest of students. While the process may involve blocks and pictures rather than pen and paper, tests for preschoolers still measure what a child knows.
The results may be required for applications to prestigious private or charter schools, or for early admission to public kindergarten. The most widely used early tests assess a child's IQ and early reading and math skills. Most schools require parents to have their child privately tested, which can cost up to $500.
Graham Hunter, who owns QC Psychology in Charlotte, says his office frequently receives calls from parents who want to have their preschooler tested. In these cases, a staff member administers the Wechsler Preschool and Primary Scale of Intelligence (WPPSI), which measures IQ, as well as math and reading aptitude. The test typically begins by asking the child to manipulate blocks to match patterns.
"If you do it right, it doesn't feel like an academic test," Hunter says. "It's more like playing a board game."
Public and Private School Requirements
In 1997, the North Carolina General Assembly passed House Bill 1099 recommending that 4-year-olds being considered for admittance to public school kindergarten score in the 98th percentile or higher on intelligence tests, function one or two years ahead of their peers, and be motivated and interested in kindergarten.
Local school systems also set their own criteria. The Wake County Public School System, for example, requires reading, writing and IQ tests; samples of the child's work; and two letters of recommendation.
Like public schools, private schools use test scores and other factors to determine if a child is a good fit for their program. At Charlotte Latin School, all kindergarten applicants must visit the school, as well as take the WPSSI and a play-based "readiness" assessment that shows the child's ability to complete a task, follow multistep directions and get along with others.
Mary York Oates, Charlotte Latin director of admissions, says the school looks for average to high-average intelligence on all WPSSI scales and a steady pattern of results on subtests. Charlotte Latin's year of entry is designed for 5-year-olds, and the first year of school is tailored for kindergarten-eligible children. Oates says the school likes to accept children when they have had preschool experience that prepares them for school.
"Time is one of the most precious commodities for our youngest learners, and we believe development cannot be rushed," Oates says.
The Benefits of Testing
Testing can be advantageous when children are highly intelligent, gaining them access to rigorous academic programs and other specialized educational opportunities. Jan Badger of Winston-Salem had her daughter, Maddie, tested for early admittance to public school kindergarten. By age 4, Maddie was reading, knew all of her numbers and was "very friendly and outgoing and socially older than what normal 4-year-olds were like," Badger says.
Maddie had attended preschool, but Badger felt that her daughter would be bored at home for another year. The school system required private testing by a psychologist, and the family had to submit the results and a portfolio of Maddie's work.
When Badger took her daughter for testing, which was done in short increments over two days, she told Maddie that a special doctor wanted to find out what she knew.
"I told her she wasn't going to be in trouble if she didn't do well," Badger says. "I didn't want to push her if she wasn't ready. I just wanted to know if she was ready."
As it turned out, Maddie tested successfully for early entry into kindergarten.
There are other benefits. Testing at any level, including preschool, also offers additional insight into a student's mind and personality that can be helpful to school admissions administrators.
"The testing often validates something else we see," Oates says. "A child with steady scores will often have an easy time transitioning during our visit. A child that is very shy might score higher in the nonverbal areas of the normed assessment."
A discrepancy in subtest scores may indicate that a child needs a little more time to mature, Oates says.
Think Before You Test
Hunter says staff members at QC Psychology, which offers a variety of psychological services in addition to early kindergarten testing, often try to talk parents out of testing for early admission if the child doesn't appear to be in the top 2 percent. He stresses that average intelligence isn't a negative.
"Average is good because everything is developing normally," Hunter says. "(But) it's not what the public schools are looking for (in early testing results)."
Before testing a child, Hunter recommends parents consider their motives and realistically look at their child's intelligence and social maturity.
Badger didn't take the decision to enroll Maddie in kindergarten early lightly. She talked to her sister-in-law, whose child also started kindergarten at age 4, and considered all aspect of her daughter's readiness for school.
"I've talked to other people who have perfectly smart kids who were not ready to enter school," Badger says. "Everybody thinks their kid's a genius, but they really have to have the personality for it, too."
Maddie is now 9 and in fifth grade. She takes advanced math, and schoolwork comes easy for her.
"I know it would have been even worse if we had waited a year," Badger says. "(Early testing) was worth it for us."
Marty Minchin is a freelance writer based in Charlotte, where she lives with her husband and two children.
---
EARLY TESTING Q&A
Before having your preschooler tested, consider these things.
When is the optimal time to test for admission to school? In the spring or summer before the start of the school year in which the child would enroll.
How much does it cost? Typically between $175 and $500. An IQ test can cost $300, and early reading and writing tests will add to that cost.
Can my child prepare for the test? No. But you can make sure your child is rested and has a good breakfast.
Can I sit in? No. The test takes less than an hour. Parents are typically asked to wait outside.
What does the test measure? The Wechsler Preschool and Primary Scale of Intelligence, which tests IQ, also measures visual-spatial processing, verbal reasoning and comprehension, fluid reasoning, memory, perception speed and concentration.
What does the score mean? A child who scores in the 75th percentile performed better than 75 percent of children of the same chronological age. Scores in the 50th percentile are average and age-appropriate.