Ten Steps To Financing And Buying A New Car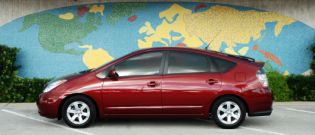 Buying a new vehicle for your family can be a stressful and confusing process. Kelley Blue Book helps families smooth out the process by offering the following 10 tips for financing and purchasing a new vehicle.
1) Determine what you can pay
Decide the total amount of money you can afford to spend before you start looking. You can measure the affordability of your vehicle purchase by using an online payment calculator.
2) Decide length of loan
Loans generally range from three to five years. You can usually lower your monthly payment with a longer term, however you may end up paying more financing costs in the end. Zero percent financing is usually offered in shorter term loans, making the payments higher.
3) Stay within your price range
Choose a vehicle that won't overextend you financially. Take a look at the J.D. Power Quality Ratings (www.jdpower.com) for the vehicle of your choice to determine how well it will retain its resale value down the road.
4) Don't forget extra expenses
Determine the additional costs of owning the vehicle, including projected gas, maintenance and insurance. Check www.intellichoice.com for a cost-of-ownership calculator to see the costs associated with a particular make and model.
5) Shop around
Check multiple dealerships and online financial institutions to secure the best deal available on both the vehicle and the interest rate on the loan. Going to a dealership with your own financing makes you a "cash buyer."
6) Know your credit
Get a copy of your credit report and be prepare to have your credit history searched. This puts you at an advantage when it comes to the finance rate.
7) Decide to sell or trade in your current vehicle
If your car is in extremely good condition and you have impeccable service records, it may be worthwhile to sell it on your own. On the other hand, if your car needs a lot of work, you may end up putting more money into it than you can recover. Get the realistic value based on the condition of your vehicle from Kelley Blue Book.
8) Choose a dealer
Today, there are many options for buyinga car. If you have a goo relationship with a trusted local dealer, that's a great place a start. If not, you may want to check out some "direct buying" Web sites that serve as brokers who will complete the entire transaction, including a delivery of the vehicle. There are also "dealer referral" sites that work with dealers who are willing to negotiate via e-mail.
9) Schedule a test drive
Once you've done your research, you are now ready to experience the vehicle first hand. Call ahead to schedule an appointment and let the dealer know that you are planning to test drive two or three vehciles and are still gathering information.
10) Stick to your plan
If you've done your research properly, you are ready to negotiate knowing that you have done everything to get the best deal in the vehicle that is right for your family.
For more information about buying a new or used vehicle, visit Kelley Blue Book at www.kbb.com.