Teens Working: Is it Worth It?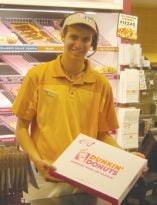 One afternoon during her senior year, Dawn sat in my (school guidance) office, tears streaming down her face. "I don't think I want to enter my work in the competition after all," she told me. "When would I get it done?"
"But Dawn," I sputtered. "You've been talking about this competition since freshman year. This could be such a great opportunity for you."
"I'm sorry, Ms. Slaughter, but I'm totally stressed out. Half the time, I don't even finish my homework until 2 in the morning, and then I get up at 6 to start all over again. I feel like I hate everything! I never have a minute to myself."
As Dawn and I started to talk more about her schedule, I realized she wasn't simply juggling a busy load of classes and after-school activities. She also was working on school nights and weekends at a neighborhood coffee shop.
Dawn's school-work balancing act is hardly unusual. Studies indicate that three out of four juniors and seniors in high school work part time. The teenager taking orders at McDonald's, bagging groceries at the supermarket or waiting on customers at the mall is most likely also a full-time student.
Not surprisingly, many employed teens get overtired and find their enjoyment and involvement in school and other activities are negatively affected. When psychologists Ellen Greenberger and Laurence Steinberg, authors of "When Teenagers Work," studied the impact of widespread teenage employment, they found teachers complaining that employed students had trouble staying awake in classes and completing homework. Working students, especially those putting in more than 20 hours a week, had poorer grades, were less involved in extracurricular activities and spent less time with their families. Many, especially seniors, admitted picking easier teachers and courses to protect their grades. Moreover, students with heavy work schedules stayed home from school more often and reported more psychological distress, physical complaints and higher rates of drug and alcohol use.
Given these potential pitfalls, is working during the school year necessary? For some teenagers, the answer is "yes." Their families depend on their income to help pay rent and put food on the table. Other teenagers work to save money for college or, if not college bound, to increase the chances of landing a decent job after high school. But the vast majority of working teens, an estimated 80 percent, decide to work primarily to pay for coveted consumer items, such as cars, CDs and tickets to music concerts.
Mooresville mom Cindy Clark is a firm believer in teenagers working, and both of her sons have worked during their teen years in various jobs including fast food, retail and swim instruction.
"I think they learn a great deal about people and the 'real' world," she says. "I know my boys have a new respect for waiters and sales clerks, and they treat them better since they have seen the other side of the counter. The experience is worth more than the minimum wage they are paid, but they also learn a bit about money. They earn the money they spend on gifts and entertainment. We also expect our kids to save a large amount of the money they make toward college," says Clark.
Growing up in a consumer-obsessed society where advertisements aimed at the "youth market" abound, it's not surprising that many teens are highly motivated to make money. As my students have often told me, making money affords relief from the necessity of "having to ask my parents for money for things I want that they don't approve of!"
Many parents, eager to promote their children's independence and gain respite from the endless pleas for more stuff, encourage their teenagers to work: "If you really can't live without those designer jeans, then get a job!" Once teenagers have jobs, parents often adopt a laissez-faire attitude, feeling that their children have the right to decide how many hours they'll work and how they'll spend their earnings.
While teenagers should have the choice to work, an "anything goes" parental approach doesn't serve them well. As with any major arena of children's lives, parents need to continue to offer guidance and limits to ensure work doesn't adversely affect their teen's academic progress and healthy development.
Set Limits on Work Hours
It's advisable for parents and teens to agree ahead of time on work hour limits. Numerous studies indicate that the negative effects of working are most apparent when teens work 15 or more hours per week during the school year. As Greenberger and Steinberg explain, "Our findings, and those of other investigators, suggest quite clearly that it is the amount of time youngsters spend in the labor force and not simply whether they work that is the critical factor affecting their behavior and development."
Bryna Shore Fraser, former director of the National Institute for Work and Learning, suggests that working eight to 10 hours a week is ideal. Parents of working teens need to closely monitor hours on the job. Teenagers may have a hard time saying "no" to an employer who pressures them to work more.
Decide on an Income-Allocation Plan
Teens who are given carte-blanche about spending their earnings are apt to experience a kind of "premature affluence" and develop unrealistic attitudes about money. Many end up with more disposable income than their parents enjoy after paying bills to cover living expenses. Experts advise developing an income-allocation plan before a teenager starts working. For example, parents and teens may agree that 25 percent of earnings go into a savings account for college expenses.
Greenberger and Steinberg also urge parents not to be reluctant to "speak up about the shallowness of conspicuous consumption and the importance of being able to delay gratification." And, of course, parents need to model responsible saving and spending habits, as well.
Research Jobs Relevant to Their Interests
Encourage teens intent upon working to research jobs consistent with their interests. Barbara Schneider, co-director of the Alfred P. Sloan Center of Family, Child and Work and author of "The Ambitious Generation," advises, "If the teen is interested in photography, he or she should inquire at a photography studio. If kids like animals, they should ask about becoming an assistant at a kennel."
Parents also can help teens check out available programs which combine classroom instruction with on-the-job training related to their career goals. And, for creative teens with an entrepreneurial bent, parents may want to encourage them to start their own business. In her book, "50 Great Businesses for Teens," Sarah Riehm argues that creating and managing a business is "potentially more interesting, flexible, financially rewarding and educational than traditional teen jobs, such as flipping hamburgers, sacking groceries or clerking for minimum wage at the mall." According to Riehm, even a failed business can be a valuable learning experience and is more impressive to a college admissions office than a stint at a burger joint.
Encourage Considering Alternative Activities
During my senior year of high school, I spent nearly every afternoon working on the school yearbook, where I dealt with the challenges of meeting deadlines, making editorial decisions and working with a variety of personalities. Looking back, although my job as editor was unpaid, the experience was priceless. I'm convinced that I learned much more than I would have selling junior sportswear at the local Bloomingdale's.
When financial necessity isn't a factor, it's important for parents to encourage teens to consider the value of alternatives to paid employment. Extracurricular activities and involvement in sports can expose teens to caring adult mentors, help them make friends, develop new skills and learn about cooperation and the rewards of working together toward valued goals. Special interest clubs can help youngsters discover unique talents and learn more about their own abilities. And volunteer and community service work can foster a sense of social responsibility and be personally rewarding and affirming.
As teenagers sort out identity issues inherent in the process of growing up, they also need a certain amount of downtime to reflect, daydream and process daily experiences. Research indicates that a moderate amount of solitude is related to positive psychological adjustment.
Parents can help teenagers make good decisions about their involvement in the work world and other activities by emphasizing that their education and healthy emotional and social development remain top priorities.
Discuss Warning Signs of Overload
A surefire way to launch a no-win power struggle between a parent and teen is to issue a dictum: "I forbid you to work during the school year." More helpful, according to Janet Levitan, a family therapist, is for a parent to sit down with a teenager and say, "Let's talk about how we'll know whether or not your taking on this job is working."
Be on the look out for the following warning signs, which may indicate the need to adjust a teen's work commitment:
• A drop in grades and/or loss of interest in school
• Disengagement from extracurricular interests and activities
• Significant reduction in time spent with family or friends
• Constant fatigue and insufficient rest
• Excessive preoccupation with money and material possessions
Ultimately, whatever the issue, it's vital to provide our teenagers with what Sandra Lommasson, a family counselor, calls "rubber fences." We must encourage our maturing children's growing independence, including their forays into the work world, within the context of caring, flexible limits.
"I feel pretty strongly that teens should have jobs," says Clark. "I'm raising my kids to go out in the world and be able to stand on their own."
According to the National Consumers League, these are the five worst jobs for young teens:
• Agriculture: fieldwork and harvesting — especially in fields where heavy machinery is used
• Traveling youth crews; selling candy, magazine subscriptions and other consumer goods on street corners or to homes in strange neighborhoods
• Construction — including work at heights and contact with electrical power
• Driver/Operator: Forklifts, tractors and ATV's
• Outside helper: Landscaping, groundskeeping and lawn service
Students Who Work
Katie Hensley, senior at Mallard Creek High School
Works about 10 to 15 hours a week (only weekdays — "I'm too busy on the weekends!") at Abercrombie at Concord Mills.
"I usually work five-hour shifts three days after school. I have three AP classes, but they are every other day so I have two days before or after work to get my homework done for those classes. I like the work; it's fun and we get a discount on the clothes. I also model for the store, and that's really a lot of fun. My paycheck is direct deposited into my bank account; I save some, but the rest is for spending money."
Andy Bilodeau, senior at Hopewell High School
Works about 15 hours a week at Dunkin' Donuts in Huntersville.
"I swim for Hopewell and year round for NOMAD, so I work just one day a week after school, and then I try to get a Saturday or Sunday. I like having a little bit of spending cash. My parents tell me to put a percentage of it in my savings account; the rest I use for football games, gas, dates and Smoothie King. This semester I have mostly elective classes, so I can get my homework done during school."
Lynn Slaughter is a freelance writer in Louisville, Ky.