Teaching Children the Value of Money
An age-by-age guide for turning "I wants" into teachable moments.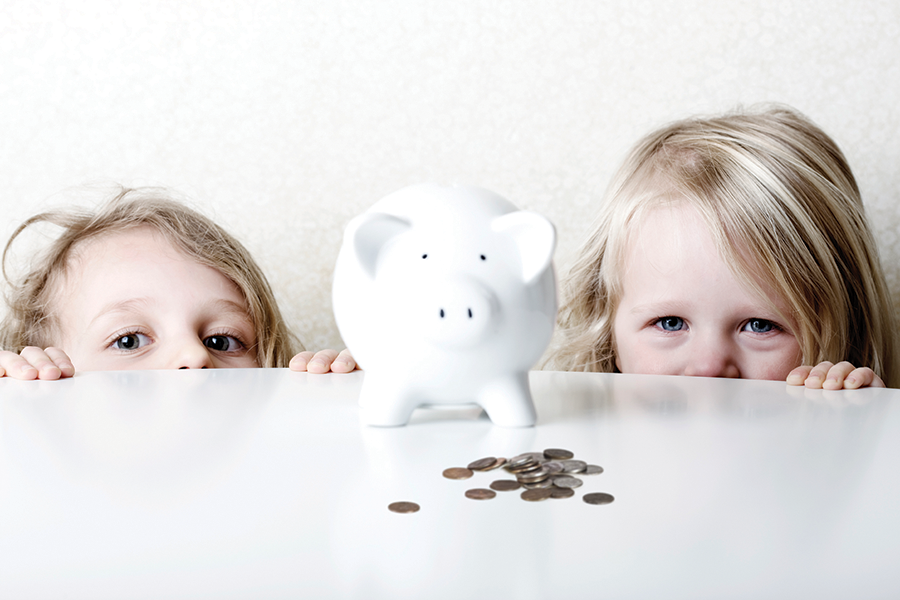 Once kids learn to talk, parents are likely to hear the phrase "I want!" on repeat. Children are quick to develop an acute desire for the latest trend or toy. Experts say that noticing and wanting what others have may begins in toddlerhood. But children are often slower to grasp the reality that the toys and activities they enjoy cost money, or the fact that money is earned through work. Helping children learn about the value of a dollar takes some effort and planning on the part of parents, but it's decidedly possible. Here's an age-by-age guide for turning "I wants" into teachable moments.
---
Ages 0-5
Penny Wise
The youngest children aren't too little to begin learning about money, says Rob Merdes, vice president and senior branch manager of Fidelity Investments' Raleigh Investor Center. In fact, toddlerhood is a great time to put the "gimmes" in check. When your tot accompanies you to the grocery store, she'll inevitably spot a shiny new thing she wants, strategically positioned at her eye level, of course. But you can fend off whining with a simple, "It's not on our list today, honey," or "It's not in the budget." And though little ones may not yet grasp currency denominations, they can begin to understand quantity, particularly with visual cues.
"Give your child a piggy bank, or a clear jar for saving, with a line marked on the side, and tell your child to fill the jar up to that line with his or her own money in order to get a specific toy. Put a picture of the toy on the jar as an incentive. This allows your child to see progress toward a goal," Merdes says.
---
Ages 6-12
Curious Kids
Grade-schoolers' increasing awareness of the world often leads to pointed questions about money and the family's finances. Even if you've talked with your kids about money, the first "So, are we rich?" inquiry can stop a parent in his or her tracks.
Instead of sputtering through a knee-jerk response, take a moment to collect your thoughts. It's important for a curious school-age child to know that his material needs will be met, without implying that the money, well, is bottomless. "We have enough" is a good starting point.
The school years present frequent opportunities for financial conversations between kids and parents. "One way to do this is to use real-life purchases as examples," Merdes says.
Explaining how a monthly paycheck breaks down and outlining monthly household bills can be a big eye-opener, he says. Explaining the differences between necessities and things you'd like to have, such as vacations, movies and other treats, can further the discussion.
---
Ages 13-18
Cash Connection
Working an after-school or summer job is a time-honored way for teens to learn the connection between hours at work and money in the bank. But today, fewer teens have that opportunity. Teen employment has fallen to its lowest level in four decades, and seven out of 10 teens don't hold summer jobs, according to the U.S. Bureau of Labor Statistics.
Teens who don't work for a paycheck can still learn about the value of a dollar through household chores, according to behavioral psychologist Richard Rende, author of "Raising Can-Do Kids: Giving Children the Tools to Thrive in a Fast-Changing World."
Though chores are declining — a recent Whirlpool study found that 82 percent of Americans grew up doing chores, but only 28 percent regularly assign chores to their children — parents can motivate teens to help out by agreeing on assigned jobs and a timeline for completion, handing out earned cash weekly or biweekly (like a paycheck), and showing appreciation for help around the house.
---
Malia Jacobson is an award-winning health and parenting journalist and mom of three.