Teaching Children the Gift of Giving
An age-by-age guide to raising kids who give from the heart.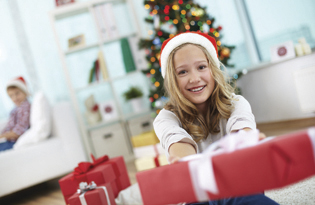 Parenthood gives the term "generosity" a whole new meaning, especially around the holidays. As parents, we enjoy giving to our children, even when it involves building a three-level dollhouse with a working elevator at 12:47 a.m. on Dec. 25. But our children may not always receive gifts with grace or give with a generous spirit. Here's an age-by-age guide to raising kids who give from the heart.
2-5 years
Gift Wrap
Don't expect toddlers and preschoolers to enjoy the annual ritual of shopping for and giving gifts to others, says parent educator and mom of five Vicki Hoefle, author of "Duct Tape Parenting." With a still-under-construction sense of empathy, young children simply don't yet understand the joy of giving because they can't conceptualize others' feelings.
Adults can help tots learn to enjoy giving gifts as much as they enjoy receiving them, though. "If young children watch important adults in their lives give gifts with joy, over time they will begin to model this behavior," says Hoefle. And don't reprimand a young child who tries to help you open a gift from him. Including the child in the gift-opening experiencing allows him to experience the joy of giving with an important adult in his life. Eventually, he'll begin to understand the sincere joy of giving a meaningful gift to someone he cares about.

6-12 years
Give and Take
As school-age kids become more aware of and interested in material possessions, parents can take steps to prevent an avalanche of "I want!" from burying the entire season. When kids start dreaming up their most-wanted gift list, promote a balanced sense of give-and-take by asking them to write down what they plan to give to others, enlisting siblings in secret missions to uncover a brother or sister's toy wishes, and asking kids to help plan a homemade gift to give to neighbors and teachers.
As school friendships blossom, holiday gifting can stir up hurt feelings. Who hasn't experienced the embarrassment of a one-sided gift exchange? If a child gives a gift to a friend but doesn't receive one in return, embrace the teachable moment, says Auria Chamberlain, a Greensboro parenting coach. "Begin with an open dialogue with the child, and acknowledge feelings of being upset. Help your child remember the joy she gets from the friendship, and remind her that a present isn't given with an expectation of getting one back."
13-18 years
Giving Spirit
Teens can and should take responsibility for planning and buying gifts with their own money, says Hoefle. In fact, doing so is central to becoming mature, thoughtful givers. Paying for the gifts teens give others, micromanaging what they buy or simply writing their name on a present they had no part in picking out undermines their investment — and enjoyment — in the holiday season.
Volunteering with teens is a fun, meaningful way to shift the holiday spotlight off gifts and onto helping others. A teen can helm an "adopt a family" project at home, school or church, or help bake cookies or sort clothes and toys to donate to a local shelter. Teens can plan a day to prepare holiday cards and care packages for overseas soldiers or less-fortunate members of their community, says Chamberlain. "Giving to charity weaves a deeper meaning into the holidays and helps kids appreciate all they've been given, whether the gifts are big or small."
Malia Jacobson is a nationally published journalist and mom of three. Her latest book is "Sleep Tight, Every Night: Helping Toddlers and Preschoolers Sleep Well Without Tears, Tricks, or Tirades."