Talking to Kids about Cancer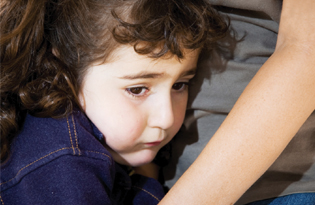 Telling a child that you have cancer can be an extremely challenging conversation. Many parents may be tempted to keep their cancer diagnosis secret to protect their children. Experts advise against this. Children are able to discern even small changes in their environment and, if it is not addressed, they may draw erroneous conclusions.
Let the child's school know what is going on. If your child seems to be having difficulty with your diagnosis, talk to a psychologist or recruit a favorite teacher. They can provide additional coping tips or might suggest some therapy.
How to Tell Your Child That You Have Cancer
• Wait until you have all of the details.
• Don't assume a child knows what cancer is.
• Let them know that cancer is not contagious.
• Make the conversation age appropriate.
• Don't be alarmed if it is a one-sided conversation.
Following are some age-specific tips for parents on how to break the news to children and how to help them understand what it means.
Under age 3: Even kids this young can sense a change. Use words in their vocabulary, like, "Mommy has a boo boo," or "Mommy needs medicine," to help them make sense of what is going on.
Preschoolers: At this age, children tend to focus on the concrete, like the side effects of drugs. Be sure to tell them that cancer is not contagious. Keep the conversation brief and be prepared to talk again.
Big kids: When talking to children ages 6-12, try to find language they can understand. For example, if they have studied cells in school, use that knowledge to talk about cancer. Provide details about the treatment plan and acknowledge your fears without wallowing in them. Be sure to let them know that, for the most part, they will be able to maintain their activities and interests.
Teens: Teenagers know a lot about cancer, so they will likely be worried about survival rates, treatment plans and side effects. Girls may ask about the hereditary nature of the disease. Remember that only 5 to 10 percent of breast cancers are inherited, and if your family does have an extensive history of breast or ovarian cancer, genetic testing is available.
Try to anticipate concerns and have that information available. After initially divulging the diagnosis, follow their lead. Ask what they would like to talk about. Be prepared for an emotional or even inappropriate response, either during the conversation or afterward. For teens that have a difficult time, encourage them to find an online or local support group.
Information Provided By: Susan G. Komen for the Cure Charlotte Affiliate.