Talking Politics With Kids
Educating the next generation on civic responsibility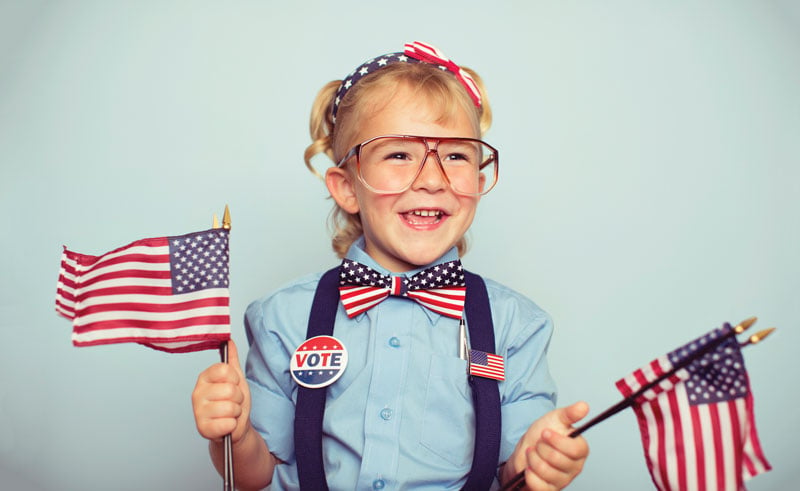 The 2016 presidential election is already action-packed with Hillary Clinton and Donald Trump taking center stage. Between the billboards, TV and radio ads, bumper stickers and conversations between adults, children are sure to notice and have their own questions about what the election process means for them.
While some parents feel that children elementary-age and younger shouldn't worry themselves with the different political parties and issues, others believe even children in preschool can benefit from early discussions about civic responsibility.
According to the recent "State of the Kid" survey in Highlights for Children magazine, 80 percent of the 2,000 children polled noted that they talk about the upcoming election in some capacity in their homes, while 20 percent say they don't talk about the election at all.
Whether or not you plan to discuss the candidates, issues or the November election with your family, chances are your children have some questions. Use these tips to navigate the discussions.
---
Age-Appropriate Conversations
Jonathan Breeden, a Raleigh-based family attorney with Breeden Law Office, says he was raised to value civic participation. Having run for office for the state House of Representatives in the past, he wants to instill the same values in his children, ages 6 and 4.
"I teach them that it's important to vote, to be good citizens and patriots, and to stand up for what's right when it matters. I'm a lifelong Republican and, of course, hope that my children will grow up to embrace my values, but I also teach them to be informed, think for themselves and make their own decisions," he says.
Amy Farrell, executive director of GenerationNation in Charlotte, a nonprofit that connects K-12 classroom learning with hands-on experiences to build civic literacy and leadership at a young age, says it's OK if children 4 years and younger don't understand all the nuances of the candidates. It's more about the process and getting children excited about being active and engaged citizens.
"We talk to them more about making informed choices, because this is how democracy works," Farrell says.
Election years also offer a great opportunity for parents to teach their children that it is OK to disagree with somebody, and how to do it with respect. Point out that there are two sides of every argument, and you need to listen to both sides of the argument before you make a decision, says Lynn Klett, a nurse practitioner with Piedmont Pediatrics in Greensboro.
"You can wait for them to come to you with questions," Klett says. "Or say something like 'Maybe you've heard your classmates talk about something their parents were talking about,' or 'Did you know we're about to vote for our next president?'"
---
The Branches of Government
When politics are already a topic of conversation, it is also a good time to teach children about the three branches of government and how they work together, as well as the importance of state and local government.
Discuss how and where laws are made (legislative branch), how they are carried out (executive branch), and how these laws are evaluated (judicial branch). Encourage your children to learn about the candidates and the offices they are running for, as well as other key issues in the election. If you find it is information overload for them, pick one issue you care about, such as education, environment, jobs or health care, and research the views of candidates on that particular issue.
The website kids.usa.gov explains the functions of the branches, and the roles of the president, vice-president and cabinet members in the executive branch.
Also be sure to talk about how locally elected officials make decisions that affect things in your town and county, plus how state-level politics work. Older children can research local county commissioners, state legislators and gubernatorial candidates.
With much discussion in the news about HB2, the coal-ash cleanup at the Dan River and public schools across North Carolina, there are ample opportunities to also discuss tolerance and inclusion, as well as environmental and educational policies in North Carolina.
---
Beware of Bias
Be sure children understand that people, including those they see on TV, have opinions, and that it is important to seek information from more than one source to hear different points of view.
"It's also important to teach children to question what they're reading or seeing on TV and to understand that not all information is equal. Media literacy is one of the most important skills that a child can learn in the 21st century with access to overwhelming streams of information," Breeden says.
Most communities have organizations that provide opportunities for kids to vote in mock elections, so they can get a first-hand look at the process. Once an election is over, there is still more you can talk about with your children.
"Keep track of the winning candidates," Farrell says. "Do they keep their campaign promises and make good decisions? Watch or attend government meetings, keep up with the news and contact elected officials about issues you care about."
---
Talking to Teens With Opposing Views
"Democracy is based on people who share, and reach consensus on, different ideas," Farrell says. "It's OK to disagree, but it's not OK to be mean or argue. Both people should have the opportunity to share their points of view, back up those views with facts, and listen to what the other person has to say."
Breeden agrees and says what he learned from discussing politics with his own parents as a teenager is to do it in a way that is respectful and never belittling of a teen's developing political consciousness.
Renee Roberson is a freelance writer and editor based in Huntersville, and mom to two inquisitive children.
---
When Can Children Vote?
According to the North Carolina State Board of Elections, a person must be 18 years old or will be 18 years old by the date of the next general election. If 17 years old, one may register no earlier than 60 days prior to the date of the primary election for the general election.
There are ways for students to get involved in the voting process prior to turning age 18. In the Charlotte area, GenerationNation has developed a curriculum with hands-on experiences designed to build civic literacy and engagement for educators, as well as opportunities for students to serve on a youth leadership council and various mock election opportunities. Learn more at generationnation.org.
First Vote NC has also developed an initiative that encourages students to participate in a 2016 simulation election. By providing schools resources, students can run a simulation election and compare election results with other students in their district and state. In addition, teachers can request toolkits to help them tie the voter platform to an array of democracy-focused lessons.
---
Teaching Civic Responsibility
Election season is a great time to discuss the importance of civic responsibility, opinions, causes and voting. Use these tips from child development center Kiddie Academy to get started.
Explain political parties. For younger children, the idea of a political party can be confusing. Discuss how each political party is a group of people who have similar opinions and elect a leader to represent them.
Pick a cause. Children of all ages can have strong opinions on local issues that directly affect them. Ask your child's opinion about a current topic of debate to get him thinking about the issues. It can be as simple as whether he prefers chocolate ice cream over vanilla, and why.
Cast your vote together. Take your child with you when you cast your vote. Set the example.