Taking the Plunge: Getting Involved in Youth Sports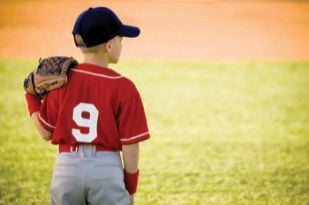 I'm not a sportswoman. I've never had any interest in participating in organized sports. My nose stuck in a book, I was always the last one picked by team captains in gym class. In baseball, I was the girl in far right field — beyond the bleachers, beyond the fence, beyond the lake — where the ball never ventured. So when two of my three children showed an interest, make that begged, to play an organized sport, I wasn't quite sure where to begin. But, with their encouragement we took the plunge and signed up my son, our middle child, to play recreational baseball.
In the end we made the right decision. In addition to promoting regular exercise, team sports allow children to develop a more positive self-esteem and to work with others in a group situation. "I think it is important for children to have balance in their lives, develop their bodies, learn how to cooperate with individuals on a team, learn team dynamics for recreational purposes and learn about themselves," says Dr. Frank Chang, the director of orthopaedics at The Children's Hospital of Denver and former U.S. Olympic Freestyle Ski Team physician, and medical director of the Handicapped Ski Program.
The Right Age to Get Started
But did we make the decision at the right time? Edward was in the fourth grade, and if the truth be told, we really waited too long to get him involved. "When I heard he had never played before, I was a bit concerned," said his coach. "I wasn't sure he could catch up and learn the skills to play at the level of the other players." Luckily, my son has natural talent. I'd swear he was born with a ball in his hand. At 2, he would throw a tennis ball against the stairs and, to my amazement, would catch it again.
When my first-grader Elizabeth, child number three, asked to play recreational soccer we agreed. Even at that early age, there were other girls who had several seasons of experience behind them.
So, just when is the right age to get your child involved in youth sports? According to the American Academy of Pediatrics, parents should wait until the child is at least 6 years old. Before that age, children do not understand the idea of teamwork. The Academy cautions, however, that all children are different. Two children of the same age may grow and mature at different rates. Children are also built differently.
These differences can affect a child's ability to perform certain tasks. The Academy recommends that you discuss your plans with your child's pediatrician or family physician. "Each young athlete presents a unique picture of health, growth, physical maturity and knowledge of basic skills," says the Academy. "A complete medical exam will highlight your child's strengths and weaknesses."
The Academy also cautions that a child should not be pushed into a sport that "he or she is not physically or emotionally ready to handle. But if the child has a strong interest in a sport, then it may be proper to allow participation — so long as common sense prevails."
Choosing a Sport
That strong interest, usually manifested as begging, may make the decision about which sport to play quite easy. On the other hand, if you have a child who wants to be an Olympic swimmer, a professional basketball player, a track star and a baseball player — depending upon which sport catches his or her fancy at any given time — your choice might be more difficult.
According to Dr. Richard Stratton of the Health and Physical Education Program at Virginia Tech, "The best program is one that is designed for the current physical, psychological and emotional level of the child — what is referred to as developmentally appropriate."
Your pediatrician can help you determine where your child stands developmentally, and recommend sports that fit your child's abilities and interests. Your doctor can also discuss the safety aspects of any given sport.
But, remember that there is no need to make just one choice. Your child can try a variety of sports and then choose the one that he or she finds the most satisfying. "I would like kids to experience a lot of sports when they are young, then choose a few that they are interested in," says Chang.
"Your child must be interested in the particular sport to have any chance for having a good experience in the activity," agrees Stratton. "Selecting a sport only because Mom or Dad or an older brother or sister had played that sport is not the way to go. If your child has no particular sport in mind, then you might try enrolling him or her in an all-sports program at a recreation department or similar facility. This type of program will give your child a taste of several different sports in a relatively non-competitive and stress-free environment."
The Over-Scheduled Family
Does that mean that you should let your child participate in all the sports he or she is interested or excels in? Certainly not. "Parents need to give kids perspective and help them see that they can't play four sports, play a musical instrument, make the grades and so on," cautions Chang.
As parents we must set limits, not only on the child, but on the family as a whole. I have seen families in which four children all played on different soccer teams each Saturday morning. Often, it was impossible for the two parents to attend all their children's games. In addition, I have seen the child who played two or more sports at the same time. Right after the baseball game, he scurried off to play in the soccer playoffs, followed by football practice the next day.
In deciding which sport to play, and when, each family must discuss family time and set limits. For my family this means limiting each child to one extracurricular or sports activity at a time. Even so, we find ourselves stretched thin when baseball season and soccer season overlap.
Finding the Right Team and Coach
Once you and your child have picked a sport to try, it's time to decide on a league or team. "There are different places for kids to participate based on their abilities," says Chang. "There are recreational leagues, competitive leagues and school leagues."
However, the Academy of Pediatrics cautions that it is important to make sure that children are grouped on teams by a narrow age range and skill level. "Only players of similar height, weight, ability and maturity should be matched to opponents in contact sports."
Finding a good coach is also part of the equation for a successful experience. According to Chang, "the coach should have a good understanding of the game, respect the athletes and have their health and welfare as the main priority. The coach should hold the development of team spirit, unity and cohesiveness as a priority. Each person on the team should be an important member and be developed. The coach should be positive and point out strengths before weaknesses. Parents should do that, too."
Stratton agrees. "You must ask questions of the coaches and program administrators. Ask them to describe the philosophy that guides their program. For example, is it win-loss focused or skill- learning focused?"
The Reluctant Participant
What about the child who doesn't really want to participate in organized sports? Anne, my oldest, has shown no interest in any sport, with the possible exception of a passing interest in golf. Should I encourage her to get out and play, or allow her to remain with her nose firmly planted in a book? Luckily for Anne, her mother understands the draw those pages have and the lackluster appeal of organized sports.
But, has my bias and subsequent decision hurt my daughter? I don't think so. Even though she hasn't joined any teams, she still rides her bicycle, in-line skates and chases her younger brother around the house. Exercise and team sports are not necessarily synonymous.
"There are kids who don't want to participate in sports," says Chang. "But those kids should be participating in physical-education programs. I see all kinds of parents out there. My opinion is that they shouldn't really push their kids, but try to find some [physical] activity that they can do together."
The Parental Equation
Ultimately, we, as parents, are the key to a good outcome. We need to help our children find balance in their lives. "In the long-term picture, enjoyment is more meaningful," says Chang. "Most [kids] are not going to be professional athletes. Probably, if they do their homework and pay attention in school it is going to take them further [than sports will].
"I think a lot of parents lose perspective. When parents ask me, 'What's wrong with my kid? How come he's not the best kid on the soccer team?' I tell the parents 'Your son is probably genetically going to be a nuclear scientist and not a professional soccer player.'"
There's nothing wrong with that. So, if your child is begging to join the swim team, soccer team or baseball league, go ahead, take the plunge! Just keep things in perspective.
Try It Out
A good way to sample a sports program for your child is to try out a free class. For example, Charlotte Sports Center offers the first session of their "Lil' Kickers' soccer program free. They also offer open houses for children to try out a new sport. When deciding on an extracurricular program of any type, be sure to ask if a free introductory class is offered.
Lynn Dean is a freelance writer and mother of three.