Take a Trip to Birmingham for Martin Luther King Day
The six-hour road trip is the perfect time to open important conversations about fundamental human rights.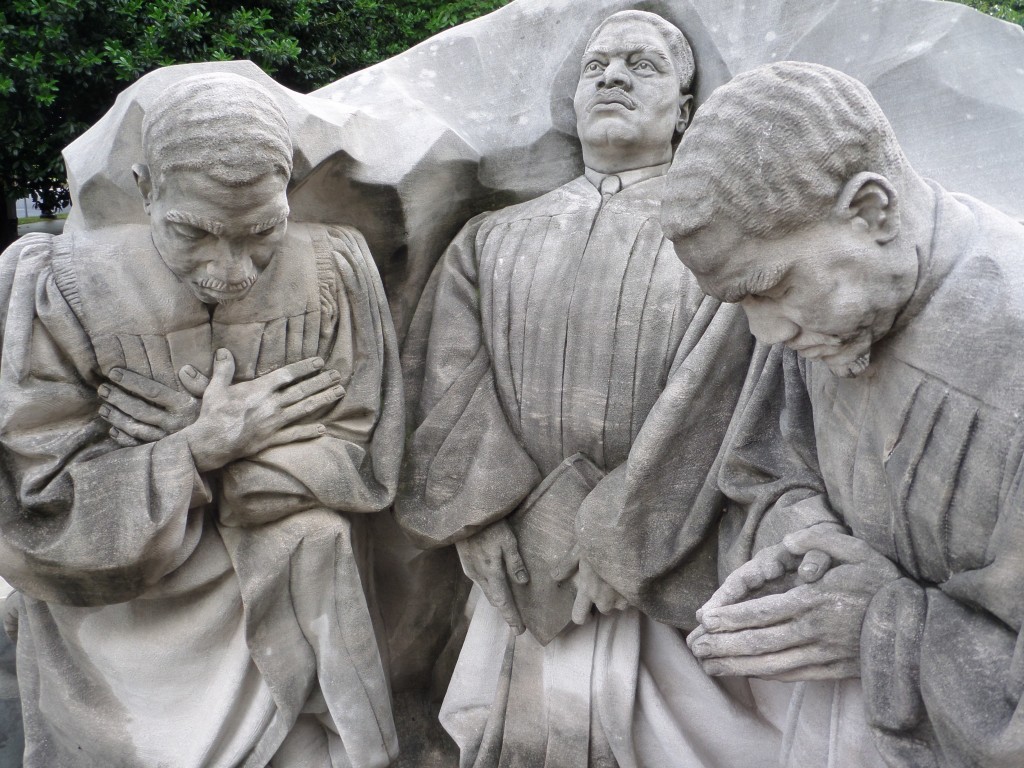 If you take your kids to Birmingham, Alabama for Martin Luther King Day, you're guaranteed to open some important conversations about fundamental human rights.
As a matter of fact, Alabama designates the holiday as "Robert E. Lee/Martin Luther King Birthday," which is a good conversation starter for the six-hour road trip. Supplement the trip with this audio book, "King for Kids" and you're on your way to a significant experience before you've even arrived.
Birmingham for MLK Day
Today's Birmingham is vibrant and forward-looking, while striving to embrace its stormy past as the epicenter of America's Civil Rights Movement. In that era, it was the most segregated city in the country.
If you visit on MLK Day you can choose to participate in community events and public service opportunities or walk the Birmingham Civil Rights Heritage Trail on your own. The trail marks significant locations with historical photographs and interpretive text.
I first visited in 2014 with very little memory of its history. Pulling my motorcycle into the heart of the center city, I chose a parking spot facing Kelly Ingram Park, which saw many human rights violations as the country wrestled with Jim Crow laws: police dogs attacked children; high pressure water hoses were used to literally roll unarmed protestors down the streets and sidewalks; and police indiscriminately used nightsticks on peaceful demonstrators. These acts are commemorated park statuary.
Facing the park is the 16th Street Baptist Church, which experienced one of the most infamous bombings of the Civil Rights Era—four little girls were killed in 1963. Factoid: former Secretary of State Condoleeza Rice lost a friend in that incident.
The park was completely renovated and rededicated as "A Place of Revolution and Reconciliation" in 1992, when the Birmingham Civil Rights Institute was opened. The institute adjoins the park.
Talking to children about race in America
There are lots of parallels to the Civil Rights Era in today's news cycle, which makes Birmingham's civil rights history a perfect gateway for a family values discussion.
As a mom I know that many of us want to shield our kids from painful subjects (especially when they involve the killing, maiming, and jailing of young people). Yet, if you don't talk about these things with your children and impart YOUR values, they'll pick up someone else's.
The Civil Rights Heritage Trail offers visitors of all ages with a point of entry for this crucial subject.
I suggest starting with the statue in Kelly Ingram Park that reminds us of The Children's Crusade. I talked about this in my interview with WBTV.
Ask for an excused absence
Since it's a day's travel to get there and another to get back you'll need more time than the three-day holiday weekend. Chances are you can get an excused absence from your child's school to visit, with or without a special assignment about Birmingham.
This lesson plan from the Birmingham Civil Rights Institute will be helpful to homeschooling families as well as those with children in schools. I wish I'd had a copy for my own visit.
What else to do in Birmingham
Today Birmingham is WAY more than its Civil Rights History, including the famous Barber Motorsports Park and Vintage Motorsport Museum. Trip Advisor voters put both at the top of the Birmingham list.
I had a ball at Vulcan Park, named for the statue of the Roman god of the forge. Vulcan was commissioned for the St Louis World's Fair (another cool historical event to discuss).
Vulcan is the largest cast iron statue in the world, stands 56 feet high, and is mounted on a 123-foot pedestal. You can take the stairs or an elevator to the top of the pedestal for a terrific view of the city.
Vulcan's buttocks have been the source of some heated public debates in this Southern city. Another great conversation starter for your family about classic art and why so many human figures are partially unclothed.
Inside the park you'll find a great hands-on history museum. Pack a picnic lunch and enjoy the grounds.
Bonus: Birmingham's BBQ. My favorite is Miss Myra's and if you eat there, be sure to ask for the white sauce!
Tell me about your visit
If you've visited Birmingham please share your experience by commenting below.