Sweetheart Cookies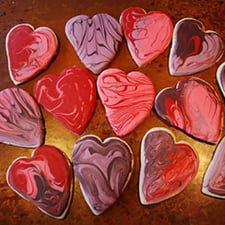 These perfect-for-the-season cookies make great gifts for friends and family, teachers, kids at school, office co-workers or anyone else with whom you'd like to share a bit of Valentine sweetness. Wrap them individually or by the plateful in transparent or rose-colored cellophane. Tie up with pretty ribbons and Cupid's little helper is all set for delivery.
Ingredients:
2 sticks butter
1 1/2 cups sugar
1/4 teaspoon salt
1 egg
1 teaspoon vanilla
2 1/2 cups all-purpose flour
Heart-shaped cookie cutters
1 16-ounce bag semisweet chocolate chips
Red, pink and white M&M's candies
Instructions:
1. Cream butter and sugar until light and fluffy.
2. Add salt, egg, and vanilla, and beat to combine until well blended.
3.Gradually blend in flour until fully incorporated.
4. Wrap dough in plastic wrap and chill one hour.
5. Roll dough out onto a parchment paper lined or lightly floured surface, to about 1/4 inch thickness; and use the cookie cutters to cut the dough into heart shapes.
6. Place the cookies on a parchment paper lined baking sheet. Bake in a preheated 375 degree oven 8-10 minutes. Cool cookies on a wire rack.
7. Place the chocolate chips in a glass bowl and microwave to melt, stirring until smooth. If you've never melted chocolate in your microwave before, know that the chocolate will hold its shape even when melted, so it won't look melted until you give it a stir. Start on high for 45 seconds to a minute, stir and then add on additional time as needed.
8. Dip the cooled cookies in the bowl of melted chocolate covering half of the cookie at a time. Alternatively, try painting the melted chocolate onto the cookies using a baker's spatula or table knife, then, while the chocolate is still warm, decorate them with the seasonal M&M's candies.
Heidi Billotto is a Charlotte culinary expert. See more at heidibillottofood.com.
More Valentine's Fun for Kids:


Valentine's Crafts and Activities