Sweet Snow at Sugar Mountain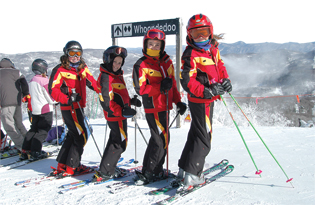 One of the great things about Charlotte is our proximity to the mountains! With all the recent winter storms, a skiing or snowboarding trip is irresistible and Sugar Mountain, with its 115 skiable acres, is the ticket. January snowfall dumped 22 inches, but even when snow is scarce, great conditions are still available with Sugar Mountain's snowmaking system working hard to keep manmade powder on the slopes for all to enjoy.
Located in Avery County, Sugar Mountain Resort boasts 20 slopes and trails for skiing and snowboarding at all levels. Beginners can use the magic carpet area and cruise down Easy Street while experts take one of five lifts to Whoopdedoo and zip down the slopes to the base lodge for a hot chocolate or snack.
If you're an old school skier like me, then you'll enjoy cruising the 1.5 mile run from the top, taking your time and enjoying the beautiful scenery of the surrounding, snow-covered mountains. Hot doggers and snowboard freestylers will be moving much faster, and you can join them, or just watch, as they dominate the terrain park. Send the older snowboarding kids there for an afternoon of grinding, jumping and aerials. If the temperatures are bearable, consider night skiing. It's a fun and different way to experience the slopes, especially for tweens and teens.
For the young set, ages 5-10, Sugar Bear Ski School helps young novices get accustomed to skiing, with package deals that include lift tickets, rental equipment, lessons, snack and lunch. Your kids will have so much fun hanging with the instructors at Sugar Bear Ski School, they might not want you to pick them up, so stay out on the slopes just a little longer. Shaun White wanna-bes, ages 7-14, will love the Polar Bear Snowboard School.
Tiny tots ages 4 and under get a free lift ticket just by going to the administration office upon arrival – with their parents, of course. While trying out the bunny slopes and hanging around the base lodge, keep an eye out for the friendly local mascot, Sugar Bear. This big polar bear is always ready with a high-five for a young skier or snowboarder.
Though we didn't try it, snowshoe tours are available for those who want to give it a go. Expert guides take you winding through pristine snow-covered forests, up challenging hills and across breathtakingly beautiful open fields. And there's so much more to do.
Children 3 years and up can slide down Sugar Mountain's 700 foot tubing run. The tubing slope is groomed and open at night, if you're looking for something to do after dinner. Check restrictions before you go, as children under 3 years are not allowed, and children 3-6 years old require an adult to ride with them in a tube. A 10,000 square foot ice skating rink adds to the entertainment for the whole family.
If you don't have your own equipment, you have the option to rent in town at one of the local shops or rent equipment conveniently located at the Sugar Mountain base lodge. We've tried both ways and find it is a personal preference.
HOT TIP!
Waivers are required for many activities if your children are 11 years old, or less. You can save valuable snow time by skipping the long line and filling out your waiver form in advance. Go to www.skisugar.com and download the waiver form, fill it out and bring it with you when purchasing any tickets for activities.
If You Go, You Need To Know …
Sugar Mountain
1009 Sugar Mountain Drive, Avery County, NC
www.skisugar.com
Rates vary on weekdays, weekends and holidays.
Rates (vary by session*)
Lift Tickets: $40-$66 adult
$31-$44 children 11 and under
Free for 4 and under
Tubing: $20-$25
Children 3-6 years old must ride with an adult.
Skate Sessions: $15
Related Links: 
> Mountainside Savings: Tips for Frugal Family Ski Vacations
> Tubing at Hawksnest
> Skiing, Snowboarding and Tubing Getaways in N.C.
> Appalachian Ski Mountain