Support Pediatric Heart Care this February at Mellow Mushroom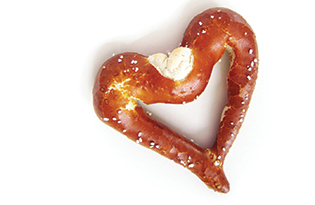 February is American Heart Health Month, and Charlotte-area Mellow Mushrooms are donating $2 for every heart pretzel sold throughout the month of February to Receptions for Research, Carolina Panther player Greg Olsen's foundation that supports pediatric heart care.
The heart pretzel is pizza dough twisted into the shape of a heart that is basted with honey butter and baked, then sprinkled with powdered sugar and topped with cherry and cream cheese frosting. Three hearts are $5.99; six for $8.99.
Receptions for Research: The Greg Olsen Foundation provides includes the program The HEARTest Yard, a family service program administered in conjunction with Levine Children's Hospital to provide families of babies affected by congenital heart disease with services, including in-home, private nursing care, physical therapy and speech therapy among other benefits. Olsen's 2-year-old son T.J. was born with a heart defect and has had three surgeries at Levine Children's Hospital, and Olsen and his wife are paying it forward to help other families through The HEARTest Yard.