Superfoods to the Rescue
Uncovering the real meaning behind 'superfoods'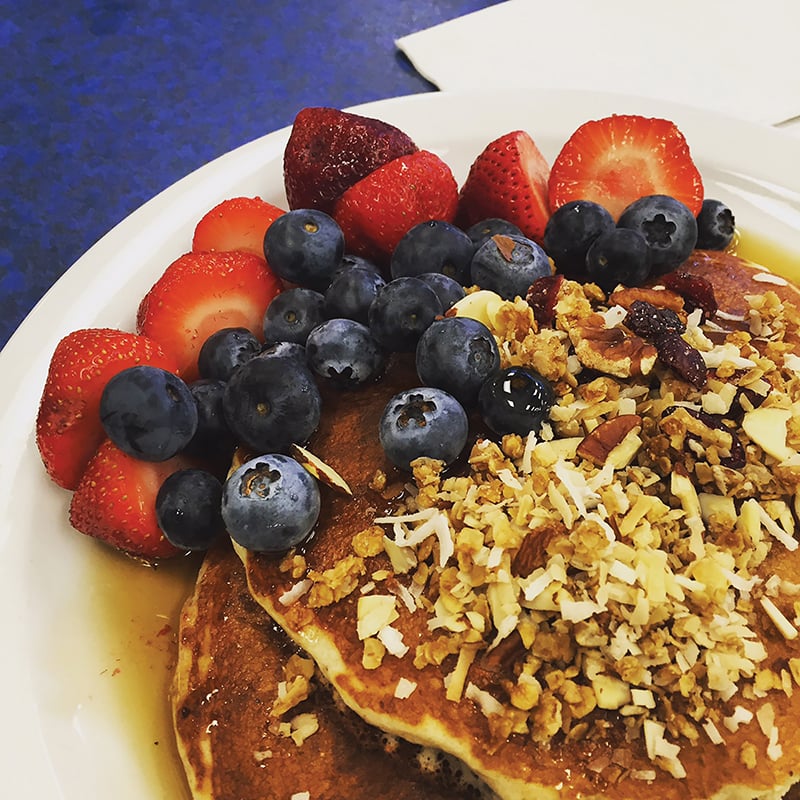 Bad news first: "Superfood" is a marketing term. There is no panacea food that can prevent cancer and heart disease, undo the damage caused by unhealthy foods, give you boundless energy and keep you trim.
But here's the good news: Experts agree there are hundreds of "super-good-for-you" foods, and making them a part of your everyday life may be easier — and more delicious — than you think.
Defining Super-Good-for-You
Before the term "superfood" became a marketing mantra, the 2003 bestseller, "SuperFoods Rx: Fourteen Foods That Will Change Your Life" by Dr. Steven G. Pratt, brought public attention to the term. Pratt identified 14 foods that "can stop the incremental deteriorations that lead to common ailments and diseases," including beans, blueberries, broccoli, goat yogurt, oats, oranges, pumpkin, salmon, soy, spinach, tea, tomatoes, turkey and walnuts.
Since then, many self-proclaimed experts and food companies have turned the concept of "superfoods" into a multimillion-dollar industry, touting the magical properties of exotic and expensive foods such as hempseed, cacao beans (raw chocolate), maca, spirulina and bee products. There are superfood cookbooks, supplements, juices and cafes.
While the European Union forbids use of the term "superfood" in food marketing unless it's supported by specific scientific claims, the U.S. Food and Drug Administration neither defines nor regulates use of the term. A marketer could slap "superfood" onto a juice label even if it contains only highly processed fruits and vegetables — and as much added sugar as a can of soda.
Proof is in the Pudding
Proving one food is more nutritious than another can be difficult. Even the U.S. Department of Health and Human Service's Office of Disease Prevention and Health Promotion's Dietary Guidelines have come under fire. This year, for the first time, the National Academy of Medicine will independently review the guidelines.
If scientists disagree on what "superfoods" are, no wonder there is so much flip-flopping dietary advice out there. Dr. Martin Kohlmeier, a primary investigator at the University of North Carolina's Nutrigenetics Laboratory in Kannapolis, calls nutrition research an "integrative process." His research focuses on nutrition for an individual's genetic needs. Nonetheless, he says there are certain foods that are healthy for everyone.
While he says he prefers to "avoid the media hype" surrounding the term "superfoods," he also says he has no problem with individuals assigning that term to nutrient-rich foods. "If you want to call kale or spinach or broccoli a superfood, I'm with you," he says, noting that many dark green vegetables contain vitamin K, which is vital to blood coagulation and activates proteins that protect against osteoporosis and calcification of arteries and heart valves. These vegetables also have large amounts of dietary fiber, potassium and magnesium.
Diversifying Your Diet
Despite the brilliance of foods like kale, Kohlmeier warns that it is impossible to get all the nutrients you need from just one food. "As a practical matter, people eat without expertise," he says. "It is safer to eat a wide variety. Lots of fruits and vegetables. Some whole grains. There are 'super-villains' out there, too. Limit animal foods and processed meat."
Kohlmeier recommends a diverse diet because nutritional needs vary according to genetic makeup. They also differ dramatically depending on lifestyle.
No one knows this better than Jennifer Brunelli, whose clients often require more than 6,000 calories a day. A registered dietician and founder of RDPro, Brunelli has spent the last two years whipping the Carolina Panthers football team into the fantastic physical shape that powered them to the 2016 Super Bowl. She had two requirements when she started her job with the Panthers: A new kitchen for the Panthers' stadium, and the chance to get to know each player as an individual.
Brunelli, like Kohlmeier, does not use the word "superfood," but says she's always looking to incorporate nutrient-rich, energizing foods into her athletes' diets, starting with breakfast, which may consist of salmon cakes with red bell pepper sauce, grits, sweet potato hash brown, eggs and fruit.
"The athletes love seafood," she says. "We offer some kind of fish or shellfish every day."
She's also a big believer in using spices to add substance and flavor. Her recipes include a lot of turmeric, cumin, cinnamon, garlic, cilantro and ginger.
Brunelli also works with high school athletes and encourages them to choose real, whole foods rather than experiment with trendy diets and supplements.
"Diet is absolutely different for serious teen athletes," she says. "There's more awareness on what's fueling you when you're an athlete. The better your diet, the better you play, and the longer you'll last in your sport."
No Silver Bullet
Cindy Silver, a registered dietician in Winston-Salem who has 25 years of experience, specializes in lifestyle planning and education.
"People are always looking for the silver bullet," she says, regarding "superfoods." "Eat some of those foods popular in media and advertisements, but realize that they are a subset of all the thousands of good choices out there. Food is a pleasure of life. Don't restrict yourself to four or five 'superfoods.'"
When Silver sits down with a client, she, like Brunelli, discusses lifestyle and goals. Then together they create a meal plan and, with meal plan in hand, Silver takes her client on a grocery store "tour."
"Purchases should come directly from the meal plan," Silver says. "Fill up the cart with fruits and veggies every shopping trip. Fresh, frozen or dried — it's all good."
Silver also suggests avoiding processed foods, or foods with added salt or sugar. Processing, she says, is often the biggest danger with any so-called "superfood." Instant whole grain oats, for example, are as unhealthy as overly processed white bread. A recent Harvard health study found that instant oats spike sugar levels in the bloodstream and promote insulin-resistance, obesity and diabetes.
Silver includes protein bars and protein shakes among her list of processed foods to avoid for kids. She notes that a pediatrician may recommend supplements with added protein for kids who are failing to thrive in terms of height and weight charts, and Brunelli says supplements might make sense for a professional-level athlete, but both agree that they are unnecessary for healthy children.
A typical child doesn't need the added protein, not to mention the sugar, transfats and caffeine that can be found in many protein bars and powders. And, Brunelli warns, if you're replacing a meal with these products, you're probably missing out on a variety of nutrients.
The experts' best advice? Lead by example. "Healthy eaters raise healthy eaters," Silver says.
Caitlin Wheeler is a freelance writer living in Durham.
Photos courtesy of Jennifer Brunelli, M.S., R.D., L.D.N.
.Super-Healthy-Eating Tips
• When you're in the mood for shakes or bars, both Jennifer Brunelli, a registered dietician and founder of RDPro in Charlotte, and Cindy Silver, a registered dietician in Winston-Salem, recommend a homemade version. Silver makes a simple smoothie with banana and milk and peanut butter, while Brunelli adds a little spinach, vanilla yogurt, and berries to her morning shake.
• Silver encourages parents to get their kids involved in menu planning. "A well-fed three-year-old is often a delight to take to the grocery store," she says. "Encourage them to pick a new fruit or vegetable each week. An older child can help by reading nutrition labels."
• "Add spices and other extras at home" to make healthy foods more appealing, Silver recommends.
Be Super Practical
Caroline Bretherton of Durham, who ran a catering company and a café in London's Notting Hill, has already appeared on the U.S.'s Food Network and the U.K.'s Taste Network. She has written six cookbooks — four since moving to Durham in 2012. She doesn't mind the term "superfood" if it's defined loosely to mean a broad range of nutrient-dense "real" foods.
The mother of two teenage boys, Bretherton takes a practical approach to providing healthy food for her family. She found it fairly easy to get her children to eat whatever she gave them when they were toddlers. But she notes that most parents hit a "dead spot" between the ages 3 and 10, when all a child wants is chicken tenders and pizza. "You have to work the good stuff back in," she says.
While Bretherton says it's easy to find "superfood" recipes on the Internet, they are usually wildly impractical for a busy parent. "All these cute blogs by single, twenty-somethings … " she laments. "They go to exhaustive lengths to replace every ingredient with an exotic alternative — then it takes hours and costs 20 dollars to make a batch of brownies. Really? Who has time for that?"
Bretherton prefers incorporating healthy choices where it makes the most sense. She throws a little kale into the shrimp curry her boys love, and makes granola with her boys' favorite nuts and dried fruit.
Her advice to busy parents: "Don't beat yourself up."
Bretherton teaches cooking classes at Southern Season in Chapel Hill. Her books include "Family Cookbook" and "Desserts".
Spicy Turkey Burgers With Avocado Cream
Recipe provided by Carolina Bretherton, author of "Family Cookbook" and "Desserts"
These Mexican-inspired burgers are a low-fat alternative to the usual beef burgers. The avocado cream makes a tasty replacement for commercially made ketchup or mayonnaise.
Serves: 4
Prep time: 10 minutes plus 30 minutes of chilling
Cook time: 10 minutes
Ingredients:
For the burgers:
1½ pound of minced turkey, dark meat for preference
½ cup of fresh white breadcrumbs
1 jalapeno, deseeded and finely chopped
4 tablespoon of cilantro, finely chopped
4 green onions, trimmed and finely chopped
Zest of 1 lime
Salt and pepper
2 tablespoons of light oil, such as sunflower or canola
For the avocado cream:
1 very ripe avocado
1 teaspoon of lime juice
2 heaped tablespoons of low-fat sour cream
Salt and pepper
To serve:
4 burger buns
Lettuce leaves, sliced tomatoes, etc.
Method:
1. Place all ingredients for the burgers together in a large bowl, season well with salt and pepper, and mix to combine. You may have to use your hands to make sure the mixture is thoroughly combined.
1. Use damp hands to form four equally sized balls of burger mixture. Place them onto a chopping board and pat them down on top and around the edges to create four patties. Do not compress the mixture too much or the burgers will be tough when cooked. Cover and chill for at least 30 minutes to allow them to firm up.
2. Heat the oil over medium heat in a large frying pan and fry the burgers for 3-4 minutes on each side until they are well-browned and cooked through.
3. While they are cooking, mash the avocado with the lime juice. When the mixture is completely smooth. mix in the sour cream and season well.
4. When the burgers are cooked, assemble them on the buns with lettuce and tomato, if you'd like, then add a spoonful of the avocado cream on top.