Super St. Patrick's Day Websites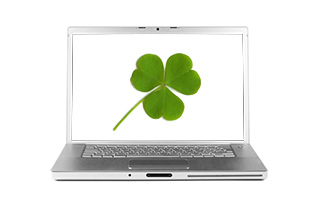 Top o' the mornin' to you, lads and lasses! Lay down your shillelagh (that's an Irish walking stick to you), step from the clovers and shamrocks and try your hand at St. Patrick's Day on the Internet. If your children love all things Irish, green or lucky, point your mouse to these kid-tested, parent-approved sites. A pot o' gold awaits you at the end of the rainbow when you hop on the World Wide Web this March.
Absolutely Green
http://www.geocities.com/Heartland/7134/Green/fgrchild.htm – All things are green at this cool and artsy Web site. Make a card or some cool "lucky" decorations. Play Leprechaun Checkers or Catch the Leprechaun, or try your hand at word searches and mazes. The site, suitable for elementary school aged children also has two cool St. Paddy's Day stories, guaranteed to mesmerize the entire clan.
St. Patrick's Fun at Kids Domain
http://www.kidsdomain.com/holiday/patrick/index.html – Click here for a variety of crafts, games, cards and more to celebrate March 17. Older kids will enjoy the recipes and cool party activities, while younger folk will enjoy coloring pages (with green, of course), printable puzzles and a list of fun books to enjoy on the holiday.
Paddymagic the Irish Bear
www.paddymagic.com – The holiday just isn't complete for preschoolers and young elementary school students without a stop at this magical site, brimming with games, stories and activities. Read an easy St. Patrick's Day history or lucky messages, watch cartoons or visit with Paddymagic at this well-maintained site, available in French, English or Spanish.
St. Patrick's Day with Billy Bear
http://www.billybear4kids.com/holidays/stpatty/fun.htm – Designed for younger children and elementary age students, this cyber site is full of word search puzzles, online maze games, color the leprechaun games, coloring book pages, Irish wallpapers and screensavers and well as the chance to "dress the leprechaun."
St. Patrick's Day at BryBack Manor
http://www.bry-backmanor.org/holidayfun/stpats.html – "You're the flash and sparkle in dark Irish eyes; you're the whimsy and charm of leprechaun guise." Find other St. Paddy's Day poems at this well-organized, fun site. Kids will also enjoy stories, Irish clip art, activity pages and a wealth of St. Patrick's Day links for all ages.
St. Patrick's Day
http://www.st-patricks-day.com/index.asp – This is a super stop for teens. Now in its 7th year, St-Patricks-Day.com, is one of the highest-ranking information Web sites for this internationally famous day. The objective of the recently re-launched site is to become the world's largest online resource for Irish nationals and Irish diaspora. Find information on Irish traditions, parades, events and more.
Irish Blessings and Jokes
http://www.ireland-information.com/irishjokes.htm – "Like the warmth of the sun and the light of the day, May the luck of the Irish shine bright on your way." Find jewels like this and more at this collective site of beautiful Irish blessings and toasts, along with sidesplitting jokes. Adopt a family blessing and make it yours this March 17.
St. Patrick's Festival, Dublin, Ireland
http://www.stpatricksday.ie/cms/index.html – This is the official site of Ireland's St. Patrick's Festival, a five-day party offering free entertainment and highlighting some of the best artistry the country has to offer. 2005 is a special year as the festival, set for March 16-20, celebrates its 10th birthday. Stop here for info on huge Dublin festival, get wallpaper, send e-cards or post photos. Families can also check out celebrations around Ireland and around the globe.
St. Patrick's Day Fun
www.bonus.com – Type in St. Patrick's Day in the search engine and up pops six fun things for all ages to play. Play "Your Lucky Day" where some people seem to have all the luck, except Mr. Carlson. Find out what happens when he meets Leon the Leprechaun and take your chance at telling a lucky story! Also try Rainbow Fun Crossword Puzzle or play a game of Lucky O's.
St. Patrick's Day Fingerplays
http://www.preschooleducation.com/spatrick.shtml – What could be more fun for little fingers than games and songs about this holiday chock full o' green? Try this to the tune of "I'm a Little Teapot": "I'm a little leprechaun dressed in green, The tiniest man, That you ever seen. If you ever catch me, it is told, I'll give you my pot of gold!" There are scads more like this at this creative site perfect for preschoolers.
Ireland Now
http://www.ireland-now.com – Did you know that Ireland is about the size of South Carolina and would fit in Texas a little over eight times? This is a great stop for research for older kids. Find out little known facts and traditions of the island of Ireland is divided in to two separate countries, which encompass four historical provinces. Get recipes, study maps, find great Irish names and learn about the history of this much divided country.