Sunflower Fields to Visit Near Charlotte
Keep on the sunny side of life and visit these sunflower fields a quick drive away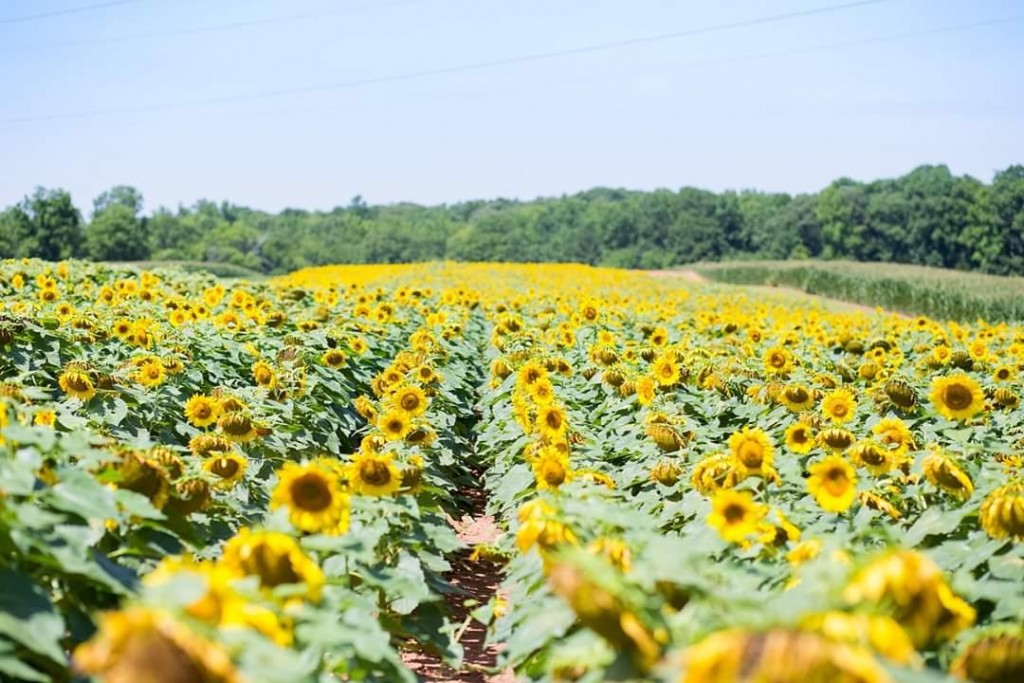 Find your joy in a sunflower field this summer and come away with bright memories, stellar pics and maybe a few blooms for the kitchen table. Be sure to review the restrictions regarding what you can and can't do in the fields and any COVID-19 guidelines before visiting. If you have a shutterbug in the family or want to get ahead of the game with fab pics for holiday cards, these venues offer amazing settings for envy-worthy snapshots to fill your social media page.
Please note some locations require a fee for professional photographers. Always call before visiting to confirm times and check the latest conditions.
Also known as the Brattonsville Tract because of its proximity to the community of Brattonsville, the Draper Tract consist of 806 acres managed mostly for small game hunting, hiking, biking, fishing and bird watching. But this time of year, the warm days of July bring a burst of yellow hues ready for you to explore! Peak sunflower blooms will be for the next 7 to 10 days so gear up and plan your visit. Feel free to take pics, but picking or in any way damaging sunflowers are prohibited as they are food for doves and other wildlife. Visitors are asked to be respectful and follow the rules on public fields and not to trespass on private fields.
Finally, keep in mind people from all over visit the beautiful sunflower display so you are encouraged to practice social distancing and wear a mask when needed. 1080 Draper Road, McConnells, SC, 29726. 864-427-5140.
If July passes you by without the chance to take in sunflowers, no need to worry, Bush-N-Vine to the rescue. Their golden flowers are scheduled to pop up in August and (weather permitting) stick around until September. Bush-N-Vine is open Monday through Friday 8 a.m.-6 p.m. and Saturdays 8-5 p.m. They are closed Sundays. Call or check the Facebook page for the latest updates.
If you are a professional photographer and would like to take pictures, you must purchase a single day permit for $50 or $300 for the year. You are considered a "professional" when you get paid or barter for the photos you take. Of course, if you are taking pics and selfies of family and friends for your own enjoyment, you do not need a permit but please check-in with the store to say hello and get any necessary information to make your day great! 1650 Filbert Hwy, York, SC 29745. 803-684-2732.
Your little under one hour and a 30-minute drive to Dogwood Farms in Belews Creek will be rewarded with over 10 acres of sunflower happiness. You can pick sunflowers for $1 per stem and add wildflowers to your bounty for $3 for a half dozen or $5 a dozen. The fee is $5 per person, children under 8 and veterans or active duty personal with a military ID are free and visitors 65 and older are $3. Leashed dogs are permitted.
Photographers and their clients are welcome on the farm with a charge of $25 per hour per shooting which covers the photographer's admission but does not include the client admission fees listed above. The farm is open 9 a.m. to sunset throughout the season. 8096 Belews Creek Rd, Belews Creek, NC 27009.
Courtney McLaughlin is a freelance writer in Charlotte and mom and who thinks fresh flowers are the perfect answer to any question.