Summer Water Safety Reminders
A few reminders on keeping safe near the water this summer.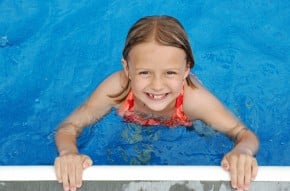 Summer is officially here. The summer solstice was June 21, and the close-to-100-degree temperatures are an obvious indicator that summer is in full swing. With summer comes adventures in the pool, lakes and at the beach. Before you strike out on the big adventures, here are a few reminders on keeping safe near the water.
Remember Your ABCs
Obvious as it may seem, the ABCs of water safety are good to remember.
A= Adult supervision is always needed.
B= Barriers. Make sure you have multiple layers of protection around your pool or spa.
C= Classes. Enroll your child in swim lessons and make sure as an adult you know CPR.
Keep an Eye Out
Remember adult supervision is always needed near any body of water. Don't let the phone distract you if you the designated water watcher – that is the person who is responsible for observing the children in or near the water. If you're at the pool with a friend, take turns being on duty so you get a minute to relax, but if you are on duty, be aware.
Stay Close
If your child can't swim, stay within an arm's reach of your child at all times. It takes no time for a child to get over their head an panic. My son did once, and luckily I was there, but it was fast and scary!
Always Wear a Life Jacket While Boating
With so many lakes nearby, boating is a fun activity for so many families, but don't let your guard down and let kids ride without life jackets. All children need a life jacket, and small children should wear a life jacket when playing by the water's edge. And "look before you leap." Lots of
kids like to jump off the side of a boat into the lake, but be sure it's not too shallow or there aren't any tree stumps or rocks hiding under the water.
Watch the Flags at the Beach
When at the beach and swimming in the ocean, pay attention to any flags regarding rip tides. Swimmers should know what to do in case of rip currents (swim parallel to the shore until out of the current, then swim back to the shore). In the wake of the recent shark attacks at Oak Island, I recommend (purely a personal recommendation) not swimming near piers. Piers are where people fish and that means the waters may be full of bait (or chum) to attract fish. Just steer clear.
Of course, remember sunscreen often, wear hats and sunglasses, and never ever leave a child in a hot car and don't leave it unlocked giving them the opportunity to possibly get in themselves and then not be able to get out (it's possible with preschoolers).