Summer Camps at Lake Norman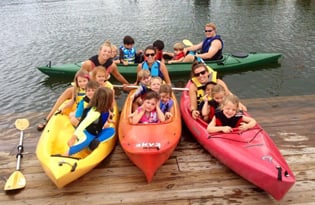 Summer camps are special for every kid, but on Lake Norman it means fun in the sun and on the water. One of the best ways of taking advantage of our geography is having your kids attend one of the very special camps that take place on our lovely shores. Read on to learn about two longtime Lake Norman favorites.
Sail, Ski or Float the Day Away
Looking for an all-around fun and exciting water experience for your tween or teen? The Davidson College Day Camp at the Lake provides a unique opportunity to soak up the sun while participating in activities such as swimming, sailing, canoeing, water skiing, tubing and games.
The camps for ages 10-14 (grades 5-9), which run Monday-Friday from 8:30 a.m. to 4:30 p.m. most weeks in the summer, aim to enrich campers' lives with fun water-based activities, as well as increase confidence and self-esteem.
The camps take place at Davidson College's lake campus, also home to Davidson College club sailing and crew teams. Instructors and counselors are handpicked from colleges and universities across the country, and provide a safe place to learn and practice new skills.
Perhaps the most rousing endorsements, though, come from campers who hope to return this summer. "I loved the lake and the sailing races. The counselors were cool and made the whole week fun, and the slushies were great," says Nikolaus Heiser, 11, who participated in the camp in 2013.
His brother, Jake, 12, agrees. "My counselor Will was hilarious and made the week so much fun. I loved the kayaks and sailing, and playing dock-ball was the best game in the world!"
Their mother, Heather, also had praise for the camp; she said that both boys were in bed and asleep by 7:30 p.m. because they were so worn out.
Davidson College Day Camp at the Lake
52 Lake Campus Drive, Davidson (Davidson College Lake Campus)
davidsonwildcats.com
Between Port and Starboard
If your child knows the difference between port and starboard (or wants to learn), The Peninsula Yacht Club is the place for them this summer.
The organization has offered water-related camps for years, and it's a great spot if you have kids who want to focus on sailing. Another plus: There are opportunities for children as young as 3, allowing them to get comfortable with the water at a young age.
Children ages 3-5, can enjoy arts and crafts, games, story time and a supervised water activity in the toddler pool, big pool or down at the lake each day at toddler camps.
"Kids [in the toddler program] get the chance to explore the water and Lake Norman while also playing games on the lawn, crafting, snacking and lunch," says Clair Knox, membership and social director.
Summer Day Camp is offered for ages 6 and older. Part of each day is spent participating in water sport activities on the lake, such as sailing, kayaking and canoeing, with lessons being taught by camp counselors.
In addition, campers participate in a variety of arts and craft activities, land games and a supervised free swim held at the club pool.
Strictly Sailing Camps for ages 6 and older focus strictly on personal sailing skills like tacking, wind direction and maneuverability, as well as sailing terms, parts of the boat and more. Each day ends with a craft that relates to sailing.
"Our Strictly Sailing camps are exceptional because the kids can go from zero boating experience to handling a small sailboat with a partner by the end of the week," says Knox. "Each sailing week ends with a regatta on Friday which the parents can come to and cheer on their new sailor."
The Peninsula Yacht Club also teams with local Cornelius shop Icy Wakes to provide Wakeboarding Camps.
Peninsula Yacht Club Camp
18501 Harbor Light Blvd, Cornelius
peninsulayacht.com
Amy Salvatore Reiss is a freelance writer and mother of two who lives in Davidson.

Read more:
Find more summer camp options in our Online Camp Fair »