Student Success Stories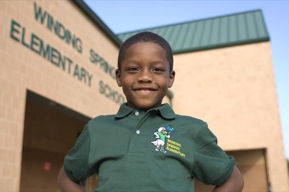 We spend a lot of time talking about the challenges we face at CMS. We want to share with our parents and the community how we're meeting these challenges. But we need to be equally diligent in sharing our success stories.
In mid-October, I gave a State of Our Schools speech, and in it I highlighted some of our most outstanding students. Their stories are so compelling that I want to share them with the readers of Charlotte Parent, too. These students illustrate the power of education, and the strength of CMS and the community that supports it.
At CMS, we want to produce students who can compete anywhere. Patrick Quinlivan is a good example. This Butler High senior placed in the top 10 at the World Irish Dancing Championships in Glasgow, Scotland, winning against dancers from Ireland, England, Scotland and America. He's also been invited to audition with the Riverdance troupe. Patrick has a grade point average of 4.15 and is a member of the National Honor Society. He's ready to compete with any graduate on this planet!
That's the standard we want to meet with every student.
We also want to give all of our students what they need. Because we are a large district we can provide specialized programs to students throughout CMS and our advanced programs — Horizons, International Baccalaureate and Advanced Placement courses — allow us to meet the needs of high fliers such as Elizabeth Shen.
CMS has been able to provide this remarkable student with the accelerated study that she needs since she enrolled in school. She skipped kindergarten and entered Smithfield Elementary in 2001. By third grade, she was in our Horizons program.
She attended Barringer Academic Center, where she earned a perfect score on her End-of-Grade reading test, won the school's Math Olympiad and geography bee and placed fifth nationally in a current events contest. Elizabeth skipped seventh grade, too, and now she's taking college-level calculus at East Meck.
A good school district — and CMS is that — can meet the needs of a high flier, an average kid and a child who might need some extra help. Kobe Whitley is a good example of how testing and teachers can work together to raise a student's performance.
Kobe is a first-grader at Winding Springs Elementary who struggled a little in pre-kindergarten and kindergarten. His teachers saw that he had trouble staying focused. But they also noticed that he was the first child to recognize his classmates' names.
So they tested Kobe and they found some developmental delays that they could address with extra help. They built his learning skills through kindergarten and measured his progress regularly. Today, Kobe's not just reading on grade level — he's in the top level of his class for reading.
Parental and community involvement are also essential to a successful educational journey. That's why we've reached out to parents, the faith community, business community, private and public organizations. When all of these things come together, they are transformative.
New doors open onto the world — and that's what happened this year for Tremone Jackson, a senior at the School of International Studies and Global Economics at Olympic High School. He is from Washington County in the eastern part of the state and last year, his parents sent him to Charlotte to live with his aunt and uncle. They wanted Tremone to have access to the educational opportunities of Charlotte-Mecklenburg Schools.
That's a big change, and Tremone struggled at first. But his principal and teachers encouraged him to get involved in an AIDS education project.
Tremone also got involved in sports, school government and extracurricular clubs — and he won an essay contest sponsored by an international group. The prize was a trip to Cambodia. Grant money from the Coalition of Essential Schools and the Bill and Melinda Gates Foundation paid for the trip and Tremone spent eight days in Cambodia.
Think about that. In less than two years, one of our students has traveled from Washington County to Charlotte to Cambodia! How did that happen? It was because of a family commitment to education, educators who worked with Tremone, corporate-sector generosity — and his own determination. All of these things came together to open the world to him.
When we say, "global competitiveness starts here," we mean it. We want to open the world to every student at CMS — and the stories of Patrick, Elizabeth, Kobe and Tremone are proof of the power and the importance of a successful school district.
Dr. Peter C. Gorman is the superintendent of Charlotte-Mecklenburg Schools and father of a fourth-grader.