Stop Growing Up
The little moments that Dad will never forget.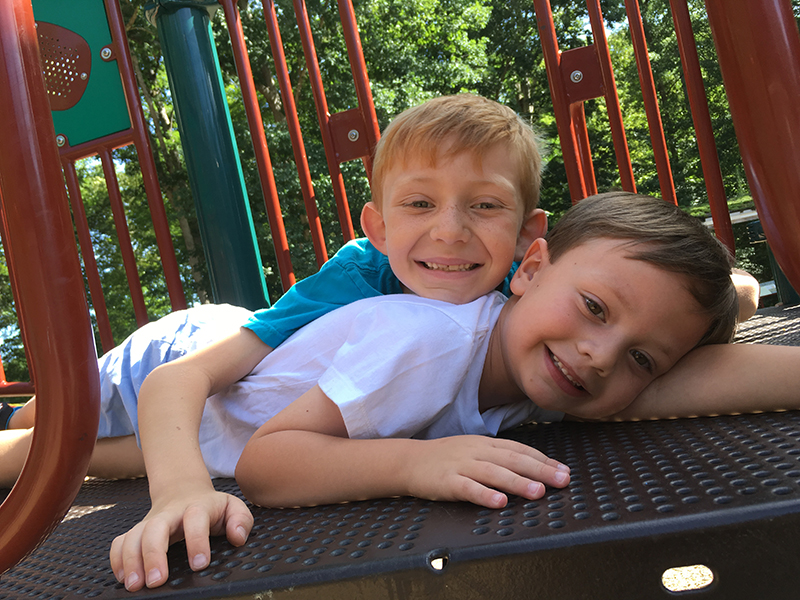 Sometimes after we've gone through the bedtime routine of dessert, books and baths, and the boys have gone to sleep, I sneak into my kids' rooms just to see them. I may just look at them while they sleep, and other times I lay down next to them. After the craziest days the world throws at me, nothing is better than seeing their sweet faces and little bodies. This summer, I started doing it more and more. This is especially the case with my youngest Chase, who is 5 and starts kindergarten at the end of August.
I'm coming to grips with the fact that I'll no longer have my little sidekick with me in the afternoon. I went through the same thing with his big brother Tyler, who is now 8, a few years ago. Now that both my boys are in school full-time, I'm going to be completely alone from the time I get out of work before noon and when they get home at 3:20 p.m. Some of those hours will be spent catching up on eight years of sleep and shows recorded in the DVR, but it won't be the same. Chase was my helper at the grocery store, my coffee-break buddy (he got doughnuts and juice), my assistant Lego builder and my snuggle on the couch bud. With fewer sports and friends outside of school, those three-plus hours every day were a great chance for him to have some one-on-one time with me without having to compete with Tyler for attention.
My insanely early hours at WCCB News Rising (2:30-11:30 a.m.) have allowed me a ton of time with my boys during the day, which has spoiled me. I'm still able to hop over to school and have lunch with them, make it to all the class parties and volunteer in the classroom. I'm still able to be at swim lessons, soccer games and whatever other extracurriculars they pick up. Other people with my job often go to bed by 6:30 p.m. at night so they can get seven or eight hours of sleep. I choose my kids over sleep, and would do it all over again.
When my sons were little, everyone would tell my wife and I to "enjoy every minute, they grow up fast." That may be even more true today with cell phones and social media. I love that my video-game loving 8-year-old Tyler still loves playing with Matchbox cars and stuffed animals, and that Chase loves "Sesame Street" as much now as he did two years ago. At the same time, Chase is less interested in the adorable "Paw Patrol" and more obsessed with "Power Rangers."
Moving on from certain shows, toys and little-boy activities is one thing, but it's going to be much tougher when they're too big for other things that I love. I'll really miss Chase's adorable, squeaky voice when it goes away. One of my favorite things is getting tackled when they come home from school or when I get back from being away. Tyler is already backing away from holding my hand.
In reality, I'm going to miss every little thing. I'm going to keep crawling into their beds until I get busted and they kick me out. The last time Chase caught me in his bed, he smiled, kissed me and in that tiny voice said, "Love you Daddy" before closing his eyes and going back to bed. Moments like that are the ones I'll never forget.
---
Derek James is a host on WCCB News Rising, and dad to sons Tyler, 8 and Chase, 5.