Stargazing at Carolina Planetarium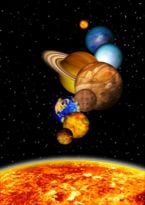 Children through the ages have stared into the night sky and wondered about the stars and the galaxies beyond. What's out there? Is there a man in the moon? Don't those stars look like a dipper?
You'll find some of the answers in this review of the Carolinas' best planetariums, both small and large, near and far, for your little astronomer's summer fun. Our mission? To help stargazers discover, explore and learn. And parents, you'll love the cool, dark auditoriums in the heat of summer. So take this guide and go … to seek out new life and new civilizations … to boldly go where no man has gone before!

---
James H. Lynn Planetarium
The Schiele Museum
1500 E. Garrison Blvd., Gastonia
www.schielemuseum.org
704-866-6900
Hours: Mon.-Sat. 9 a.m.-5 p.m., Sun. 1-5 p.m.
Planetarium show schedule: Sat. 11 a.m., 1 p.m., 2 p.m. and 3 p.m.; Sun. 2 p.m. and 3 p.m.; Tues.-Sat. 3:30 p.m. (Hubble program).
Admission: Adults, $7; seniors, students 18+ (w/ID), and ages 4-17, $4; children 3 and under, free. Special discounts for members and City of Gastonia residents.
Capacity: 150 seats
Visitors to the James H. Lynn Planetarium get a view of the night sky and its rotating planets, moons, galaxies, comets, nebulae, asteroids and black holes playing across the domed ceiling. Celestial images from the Mariner to Pathfinder expeditions transport visitors to another reality. Multimedia projectors and special effects offer a great learning experience and the older kids can take a trip into deep space with imagery captured by the Hubble Telescope.
June through August, enjoy a kid-friendly program called "Bear Tales and other Grizzly Stories." It's offered free (with museum admission) on the second and fourth Tuesday of each month and also during regular planetarium hours. In this show for the whole family, join Grandpa Ben on a family camping trip and learn about the constellations. Enjoy computer animation and planetary images in "The Planets: A Voyage Across Our Solar System From Mercury to Pluto." This celestial tour explores each planet, even the new extra-solar planets. "The Summertime Sky Show," a planetarium program for all ages, uses science, history and sky lore to reveal the summertime skies with up-to-the-minute news from the world of space exploration blended in a classic night sky presentation.

---
Settlemyre Planetarium
Museum of York County
4621 Mount Gallant Blvd., Rock Hill
803-329-2121
info@chmuseums.org
Hours: Mon.-Sat. 10 a.m.-5 p.m., Sun. 1-5 p.m.
Planetarium show schedule: Sat. 11 a.m., 2 p.m., 3 p.m. and 4 p.m.; Sun. 2 p.m., 3 p.m. and 4 p.m.
Admission: Adults, $5; seniors (60+), $4; Ages 4-17, $3; Members and children 3 and younger, free (accompanied by adult)
Capacity: 60 seats
Glenn Dantzler, the astronomy expert at Settlemyre Planetarium, leads guests on a journey that's out of this world. Visitors might encounter a Secret Cardboard Rocket, or meet Sam Snork or get a glimpse of the Carolina Skies while sitting in the small domed theater.
In the popular program the "Secret of the Cardboard Rocket," join two kids on an adventure of the imagination from the backyard to the Milky Way. The young astronauts consult a talking astronomy book on a journey to the planets that is educational and fun — perfect for children grades K through second grade.
Second- to fourth-graders can take a trip through the galaxy with "The Planet Patrol," joining Sam Snork and his assistant, Elmo, as they explore the Solar System from the frozen planet Pluto to the rock world of Mercury to the beauty of ringed Saturn. Since programs rotate bi-weekly in summer months, there are plenty of stars to see.
Serious astronomers will want to check in for the program titled "Carolina Skies" and get a tour of the current North Carolina night sky. They'll learn to identify constellations and planets, guided around the celestial atmosphere by the seasoned Settlemyre stargazers in residence.
The museum features a permanent exhibit with more than 200 full-mounted African animals, an interactive Catawba River exhibit, the Vernon Grant exhibit and a nature trail for a little outdoor fun.

---
SciWorks Planetarium
400 W. Hanes Mill Road, Winston-Salem
336-767-6730
www.sciworks.org/SciPlanetarium.html
Hours (June 1-Labor Day): Mon.-Sat. 10 a.m.-5 p.m.
Planetarium show schedule: 11 a.m., noon, 2 p.m., 3 p.m. and 4 p.m.
Admission: One planetarium show is included with admission to SciWorks. Adults, $10; students and seniors, $7; ages 2-5, $5; under 2, free.
Capacity: 120 seats
Ralph White, the coordinator of the planetarium and astrology at SciWorks, affectionately calls the planetarium "the coolest room in the building." The SciWorks Planetarium features more than 20 programs, each lasting 30-45 minutes. The night sky comes to life in the 50-foot dome, and the planetarium also has a laser light system for 15-minute laser demos. There are five of these dazzling laser shows: Monsters and Mermaids, Stars & Stripes Medley, Space and Beyond, Backstreet Boys and N'SYNC, and Holiday Medley.
The June Saturday planetarium schedule presents programs for all ages. "In My Backyard," a program geared for Pre-K through third-graders, is a clap-along adventure featuring children's entertainer Fred Penner. Children will count ladybugs, look at colors in the rainbow and locate the Big Dipper. "Secret of the Cardboard Rocket," appropriate for K through fourth-graders, takes kids on a ride through the solar system using their imagination. "Planet Patrol," takes planetary investigators on a journey to track down a mysterious signal to our solar system, visiting each planet in their search. It is appropriate for third- and fourth-graders.
Tune in to "WSKY, Radio Station of the Stars" for a call-in show that answers all of your astronomical questions. "Listeners" will also hear weather reports from planets. It is geared toward fourth-graders and above. "Summer Sky Tour" — a program for all ages, explores the stars and constellations in the North Carolina summer sky.

---
Natural Science Center's OmniSphere
4301 Lawndale Drive, Greensboro
336-288-3769
www.natsci.org/planetar/omnisphere.htm
Hours: Mon.-Sat. 9 a.m.-5 p.m. and Sun. 12:30-5 p.m.
Planetarium show schedule: 11 a.m. (Sat. only), 1 p.m., 2 p.m., 3 p.m. and 4 p.m.
Admission: OmniSphere tickets, for ages 4 and up only, are $5 in addition to the general admission fee to the center. Adults, $8; ages 3-13, $7; seniors, $7.
Capacity: 86 seats
The OmniSphere's daily shows come to life on a 40-foot dome using Konica Minolta's MediaGlobe-II digital projection system and color laser projection system.
"Kaluoka'hina, The Enchanted Reef" runs just 32 minutes and is the perfect show for children. The program explores the vastness of our planet's oceans and tells the story of a magic reef protected from humans finding it. Other shows include "Astronaut," a 23-minute program where viewers experience a rocket launch from inside an astronaut's body and see the many perils that lurk in space; and "Laser Pop," a music-laser show certain to appeal to teens. For a traditional planetarium show exploring the constellations, "Seasonal Stargazing" is a 30-40 minute experience that also includes a "live update" tour of what to look for that evening up in the sky.
Also coming this summer in July is the first-ever digital half-dome 3-D projection system specifically designed to fit the unique curvature of the dome application. Glenn Dobrogosz, the executive director of the Natural Science Center, says, "This is an amazing thing for Greensboro and the Triad." Once complete, the OmniSphere will be the only dome theater in the United States to offer half-dome 3-D, full-dome digital and full-dome laser, all in one venue.

---
Morehead Planetarium and Science Center
250 E. Franklin St., Chapel Hill
919-962-1236
www.moreheadplanetarium.org
Hours: Mon.-Thurs. 10 a.m.-5 p.m., Fri. 10 a.m.-5 p.m. and 6:30-9 p.m., Sat. 10 a.m.-5 p.m. and 6:30-9:30 p.m., Sun. 1-5 p.m.
Planetarium show schedule: NASA Digital Theater and exhibit galleries are available on the Morehead Planetarium Web site. No shows are scheduled on Mondays during the summer.
Admission: Planetarium admission is free for members with membership card. Non-member adults, $6; ages 3-12, students and senior citizens, $5. If you see more than one planetarium show in a day, second and all subsequent planetarium shows are $2. A reduced-admission coupon is available on the Morehead Planetarium Web site. Admission to NASA Digital Theater and exhibit galleries is free.
Capacity: 250 seats
Morehead Planetarium's Star Theater is a 250-seat auditorium with half-hour shows for children, including "Magic Tree House® Space Mission" and "Solar System Adventure." Based on the children's book series by Mary Pope Osborne, "Magic Tree House Space Mission" takes visitors on a journey to learn about the planets, moon, sun and stars. Younger children will enjoy traveling to outer space with Jack and Annie to answer six questions about the solar system left for them in a puzzling note signed "M." They will also discover what it's like to travel, eat and sleep in space, from an astronaut's firsthand account and space shuttle footage. While we don't want to spoil any surprises, be aware that a black hole makes an appearance, which might frighten very young children.
"Solar System Adventure," suitable for older children, takes viewers on a fast-paced tour across the cosmos to explore the nine planets, moons, comets and asteroids. From the frozen, newly reclassified dwarf planet Pluto to broiling Mercury and the sun, children will learn fascinating facts from NASA's latest explorations. Other shows for older children include "Life in the Universe," "Destination: Space" and "Carolina Skies."
Beginning June 17 through Aug. 24, Morehead Planetarium will show previous favorite programs, including "Sol & Company"; "Earth, Moon and Sun"; "Extinction!"; "Extreme Weather"; "Magic Tree House Space Mission"; and "Solar System Adventure," each at least one time per week. Visit the planetarium's online calendar for show descriptions, days and times.
Among the NASA Digital Theater presentations is "Science Live!" with experiments that demonstrate motion, energy and chemical reactions and "Science 360: Genetic Engineering," which examines genetic technology and how it affects our lives.
Morehead Planetarium has two exhibit galleries. Zoom In: Science at the Extremes juxtaposes telescope and microscope and takes a closer look at scientific discoveries of each. The Ancient Carolinians delves into the science of archaeology and examines ancient North Carolina artifacts.

---
Neuseway Planetarium
403 W. Caswell St., Kinston
252-939-3302
www.neusewaypark.com
Hours: Tues.-Sat. 9:30 a.m.-5 p.m., Sun. 1-5 p.m., closed Mon.
Planetarium show schedule: Tues.-Fri. 1 p.m. and 4 p.m.; Sat. 11 a.m., 1 p.m. and 3 p.m.; Sun. 2 p.m. and 4 p.m.
Admission: Free admission. Groups of 10 or more are charged $1 per person.
Capacity: 52 seats
Under its 24-foot dome, the Neuseway Planetarium offers a backyard astronomer's show that changes monthly to match the current North Carolina night sky. The show features a general overview of astronomy concepts and offers a quick education in locating the various constellations and the Milky Way. It also teaches visitors which planets are easily viewed in the evening sky and which are visible before sunrise.
Visitors learn about satellite paths and get a brief explanation about how satellites transmit radio, TV and cell-phone signals, along with the total number: more than 10,000 in Earth's orbit! The planetarium dome also serves as a video screen for short NASA videos about space during the presentation.
The Neuseway Planetarium is part of the Neuseway Nature Park, which also includes the Lenoir Memorial Hospital Health & Science Museum and the Exchange Nature Center. All are located next to each other on the outskirts of downtown Kinston, along the Neuse River and have free admission.
The Health & Science Museum features hands-on health and science exhibits, a giant Operation game and a crawl-through replica of the digestive system. The Exchange Nature Center puts visitors up close to a variety of plants, reptiles and animals indigenous to North Carolina, including birds, fish, turtles, snakes, chinchillas, bobcats and more. The center also has a touch tank filled with crabs, starfish and sea urchins. A few steps from the planetarium and nature park are a delightful playground and miniature replica of a coal-mining train that children and adults can ride. Tickets are $1 per person.
---
Janice Lewine is an editorial assistant for Carolina Parent. Myra Wright and Eve White are the editors of Piedmont Parent and Charlotte Parent, respectively.