Spring Into Camp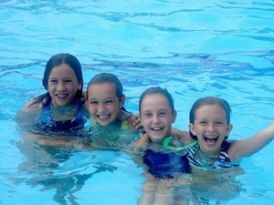 Springtime is decision time for planning summer fun. No doubt about it, everyone is talking about camp, and the time has come to sign up.
Day camps, overnight camps, half- and full-day programs are all in the giant grab bag of options for families in the Charlotte area. And who doesn't love camp? Kids learn independence and self-reliance. They meet other kids and make new friends, promoting social skills and self-esteem. In many camps, kids spend a good amount of time outdoors — a sure-fire cure for the ailment-du-jour: NDD (nature deficit disorder, in case you didn't know).
Our family has experimented with all kinds of camps. Some types have worked and some haven't, but we remain dedicated to the camp concept. Each year, we have consulted our son for some guidance about what he wants to do. We know his summer will be better if he has a say in selecting a camp that focuses on the things he is truly interested in trying.
In our day-camp experiences, we have signed up for boys-only, dinosaur themes, multi-sports, tennis, baseball, as well as a week of Vacation Bible School. Last year, we graduated to a traditional sleepover camp. So I consider myself a mom expert on camps.
Most moms will tell you day camp is great for their child … and for them! It is the perfect antidote for the
"I'm bored" summer response. When our son first became a camper, he finished his day of fun gleefully exhausted. His post-camp routine in his younger years was to come home, eat, watch some cartoons and crash — a working mom's dream.
These days, he goes away for a week at a time, and though it is an adjustment getting used to a lengthy separation, I am warming up to the idea. Meeting my friends for dinner, movies with my husband and sleeping in on Saturday — what more could a working mom want? I am inclined to say camp is a mom's best friend.
In this month's issue, we highlight the benefits of camp, especially for overweight children. In "Preventing Summer Weight Gain," page 28, Karen Taylor Lewis outlines some things to look for in order for a child to have a successful and healthy camp experience. For parents who have concerns about a summer spent indoors in front of a screen, many traditional camps offer a break from video game and computer monotony, and are all about getting kids outdoors for running, jumping, laughing and playing.
Before you start packing for camp, remember spring break is just around the corner. We know parents are just as eager as kids to find a way to squeeze a little vacation into their lives. By land, sea or air, the story on page 24 offers some great tips for finding vacation deals online that don't bust the family budget. Even Disney is offering a free park pass for volunteering as part of their Give a Day, Get a Day promotion.
There is so much fun waiting out there. Hit the road, the trail or the park and find an adventure!