Spring Break in West Virginia
West Virginia is one of Mother Nature's best playgrounds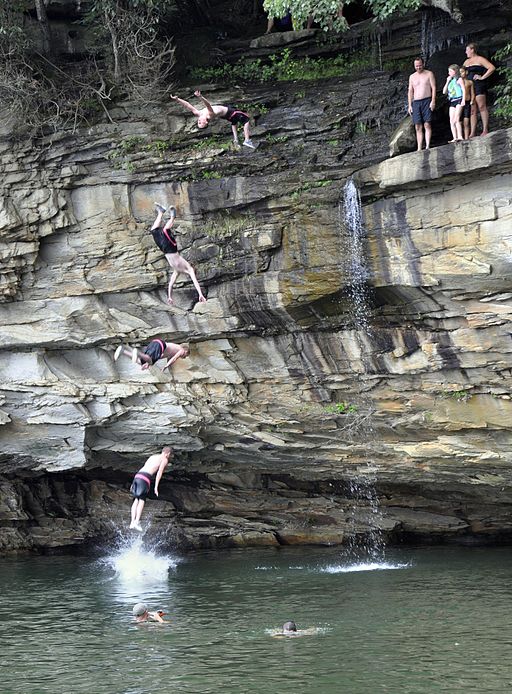 With CMS Spring Break straight ahead, take the kids for an adventure in West Virginia.
Here are three destinations sure to please, the New River Gorge, Summersville Lake, and Lewisburg's Chocolate Festival.
New River Gorge
Located between Beckley and Fayetteville, the New River Gorge Recreation Area has something for everyone.
What you choose to do at the Gorge is largely determined by your interests and physical abilities. Your options include hiking, fishing, water sports, hand gliding, zip lining, etc. This is a great page for exploring your options.
If nothing else, take a hike near the New River Gorge Bridge, a remarkable single-span arch bridge resting at 876 feet above the New River. You can even walk across the canyon on a 24 inch wide catwalk 850 feet above the river—provided you are at least 48 inches tall, 10 years or older and weigh less than 285 pounds.
Administered by the National Park Service the park was created to conserve and protect 53 miles of the New River as a free-flowing waterway. Two visitors centers:
Canyon Rim (304-574-2115), on US 19 just north of Fayetteville

Sandstone (304-466-9192), at Exit 139 on I-64
If you stay in Beckley, be sure to check out the Exhibition Coal Mine. Another great option is Fayetteville, West Virginia's unofficial culinary capital, with a wide-range of local dining options, shopping and lodging.
Summersville Lake
Completed in 1966, Summersville Dam provides a wealth of recreation both above and below. Pontoon boat rentals are available at Summersville Marina and paddle craft at Summersville Lake Retreat.
Summersville Lake is one of the world's most unique swimming holes, with crystalline waters and miles of steep sandstone cliffs that rise directly out of the waves. You'll find various boating and wake-riding opportunities, as well as SCUBA diving.
---
Lewisburg's Chocolate Festival
Historic Lewisburg was voted Coolest Little Town by Budget Traveler in 2011. It will remind you of Asheville in many ways. Located near The Greenbrier, (not a budget destination), it is one of four cities in the entire world with a Carnegie Hall.
April 8, 2017 is the 11th annual Chocolate Festival, a perfect way to kickoff spring break.
If you or one of the kids is a baker, enter the "All Things Chocolate" Bake Off. Not a baker? Perhaps more the eating type? Enter the Chocolate Mousse Eating Contest!
And here's a special treat for everyone—twice-daily screenings of "Willy Wonka and the Chocolate Factory" starring Gene Wilder.