Spotlight Families: The Fit Family Challenge is Just the Beginning
Successes and setbacks for our 2016 Fit Family Challenge spotlight families.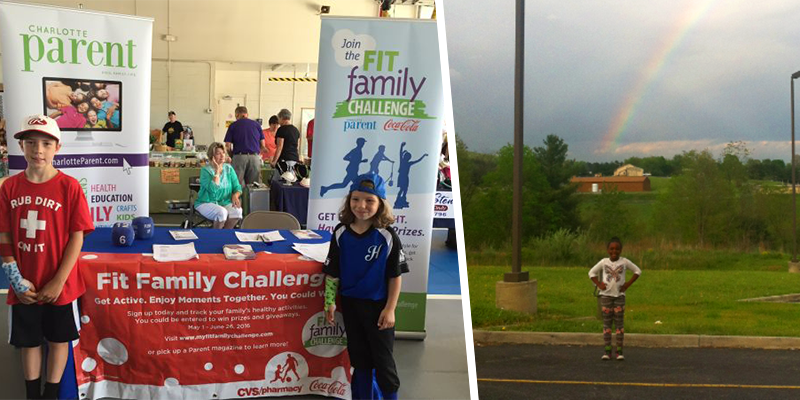 In April, the Howe and Hill families set family goals to create healthier lifestyles with the help of Charlotte Parent's Fit Family Challenge team of experts. Each family has seen successes and setbacks during the challenge, but each agrees that the challenge is just the beginning as they continue on their wellness journeys. Follow their journeys online in the Fit Family Challenge blog.
---
The Howe Family
At the start of the Fit Family Challenge, Jennifer, Todd, Tyler and Molly Howe set out to add more fruits and vegetables to their daily menus and overcome the urge to eat fast food on the run. Jennifer, 42, and her husband Todd, 40, each set a goal to lose 20 pounds, and the family set a goal to run a 5K together.
Where are they now?
The family of four ran the Color Vibe 5K, and Jennifer ran the Mother's Day 5K.
Todd has lost 16 pounds despite hurting a muscle at the Color Vibe 5K and developing Compartment Syndrome. He was hospitalized for four days, but remains focused on nutrition.
Jennifer has lost five pounds — in addition to 25 pounds lost since last fall — and is excited that she can wear her wedding band again, something she hasn't been able to do since the birth of her son Tyler, who is 9.
Molly, 6, signed up for the neighborhood swim team, and made a walk/run schedule for the family.
Molly and Tyler cut out soda and are drinking more water, and eating more fruits and vegetables without complaint. The family no longer hits the concessions stand at the kids' baseball games.
Todd and Jennifer pack lunch for work every day, and grocery shop online to avoid impulse buys.
---
The Hill Family
Ami Hill, 35, came into the challenge with a goal of finding more mental peace and to set an example for daughter Lena Hill-Sherfield, 9, that physical fitness doesn't have to be a chore.
Where are they now?
---
Renee Roberson lives in Huntersville with her husband and two children.