Sports Safety for Girls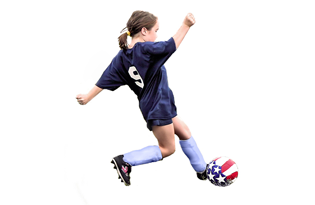 Growing evidence points to the need for special safety precautions for female athletes, particularly those participating in high-intensity contact sports like basketball and soccer. "There's good evidence that girls have two to three times the risk of anterior cruciate ligament injuries and a greater risk of knee injuries in general," says Dr. Lyle J. Micheli, director of sports medicine at Boston Children's Hospital and professor of orthopedics at Harvard Medical School.
Dr. Marci Goolsby, assistant sports medicine physician at New York's Hospital for Special Surgery, played high school and collegiate basketball without a traumatic knee or ACL injury, something she attributes to conditioning and strength training. She recommends that girls lift weights for strength, balance and injury protection. As with all athletes and all sports, proper technique, experienced coaching and skilled supervision are critical to safety.
Nutrition is particularly important to preteen and teenage girls who play sports. A girl who has reached puberty but isn't getting a period may have an energy imbalance; she needs to take in more calories to make up for energy spent during practice and games.
Added calories should be nutrient-dense. Chips and soda don't cut it, Goolsby says. If female athletes don't get enough calcium, their risk of stress fractures increases, so aim for 800 milligrams of calcium per day for kids ages 4-8 and 1,300 milligrams per day for ages 9-18.
Malia Jacobson is a freelance journalist and mom who writes frequently about children's health issues.