Sports Etiquette Tips for Kids and Adults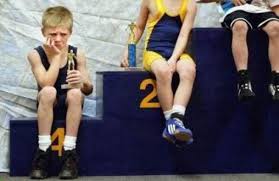 I'm always shocked when I see a parent at one of my son's soccer games yelling and saying rude things to his kid, the coaches, refs, and even at the kids from our team! Recently, one dad yelled to his son, 'Hit him harder – he's so little and weak he'll just fall over." And, this is soccer not boxing! This dad is teaching is son to bully, pick on kids smaller and weaker than him, to cheat, and to use intimidation instead of athletic ability to win.
Some kids also don't get what it means to be a goof sport. One mom was telling me that on her son's baseball team there are so many kids who make excuses when they mess up, they blame someone else for their mistakes, and then when another kid plays well, they just say something like "Oh, he was just lucky!"
We need to be the role model to our kids and show them what it means to be a good sport, to encourage others, to play hard and not cheat, and to not talk badly to others. Below are some sports etiquette tips to share with your kids and any others whom you think might need the reminder!
Sportsmanship: Etiquette Tips for On and Off the Field


Do not write or post anything negative via text, email, Twitter, Facebook or anywhere else that is negative about another teammate, player, coach or ref.  You want to make a name for yourself based on your athletic abilities not on what you write about someone else or do in private.
Refrain from saying anything negative in public about the other team, players, or coaches. When it gets out the only person who will look bad will be you.
Be a role model. If others look up to you because of your athletic ability, you have a responsibility to your team, and to yourself to "do the right thing."
Encourage others. Give your teammates complements when they do something well. Encourage them when they are not playing well.
Play fair. No one is a winner when you cheat.
Show respect. To the other team, your teammates, and your coaches. Be the better person first and you will become the better team as well.
Keep quiet! Remember that saying "If you can't say something nice don't say anythng at all"? Well… please take it to heart and don't yell or say rude things during games to ANYONE.
If you have any etiquette questions please email me at aimee@finesseworldwide.com or go to my website to look at the many videos I have on various etiquette topics. I am also running a children's etiquette workshop on November 2nd at Carmel Country Club from 2:00 – 5:00 for 5th – 7th graders. To sign up click HERE.